Connect to Twitter, Facebook or LinkedIn
From Support Wiki
One time selections must be made in ChamberMaster to associate ChamberMaster with your Twitter/Facebook/LinkedIn account and select which items should be published. Items such as Events, New, New Members, Hot Deals, and Job Postings may be posted to your accounts.
Click

Setup

in the left-hand menu.
Click

Social Network Publishing

.
Click the

Twitter Connect/Facebook Connect/LinkedIn

icon to connect your Twitter/Facebook/LinkedIn account to ChamberMaster.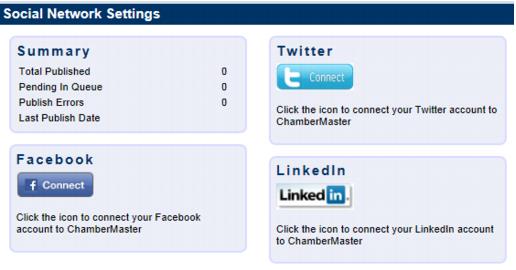 Figure 2-11 Social Network Publishing
| | |
| --- | --- |
| | Follow the on-screen prompts. |
In the

Settings

area, click the checkmarks to select the desired items to publish.
| | |
| --- | --- |
| | Select which calendar(s) should be published. |
| | |
| --- | --- |
| | Type the number of days that events should be published before the starting date of the event. |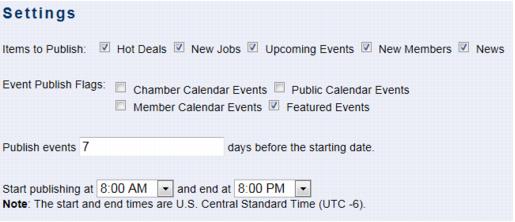 For LinkedIn users:

After connecting to LinkedIn, select one of your groups in the

Additional LinkedIn Options

section to indicate to the discussion group where posting will occur. Note: You must be the owner (creator) of the LinkedIn group in order to post to that group; group membership is not enough. This group must be selected prior to clicking "Post Test Message".
Click

Post Test Message

to initiate a check of the connection and to verify where the post will display.
Logo:
Load your association logo under
Setup->Organization Information
in order to have your logo display next to the Facebook posts. Without a logo uploaded, the post will display a "Powered by ChamberMaster" logo.
Event posting
: The
Search Description
field on
Events->General
tab determines the phrase that appears at the bottom of the Facebook post. This field is populating the event META data which should result in more favorable Search Engine ranking over time. Use descriptive, precise phrases in this field for best results. If no data is saved in this field, the first 160 characters of the Event Description is used for the Facebook post. Search engine ranking is not directly affected by this field. The Search Description field is available to those with
v2 or v3 public modules
.
Event image
: The
Main Event Photo
found on the
Events->General
tab under
Photos and Images
is being suggested to Facebook as the appropriate image to use in the event post.
Tips for all Social Network Users
Issues with posts not appearing are often solved by disconnecting from the social network service and then reconnecting again. These 3rd party companies will occasionally adjust their code which might cause our connection with them to be interrupted. Simply re-doing the connection often solves the problem.