Editing an Epayment Profile
From Support Wiki
Once you've enabled Customer Information Manager (CIM) with Authorize.Net, then you will have options to add, edit and delete epayment profiles on your member accounts that can be used for recurring billing.
Edit an Existing Epayment Profile
1. Login to ChamberMaster / MemberZone.
2.Click Members in the left-hand menu.
3. Select the desired member from the Members drop-down list.
4. Click the Account tab.
5. Open the Membership Fees and Dues area.
6. Click Assign Fee Items or click into the Name of an existing fee assignment.
7. Select Charge to ACH, debit or credit card.
8. Click the arrow to open the drop-down list and click Add/Edit epayment profile.


9. Make sure the representative name that you wish to edit is selected.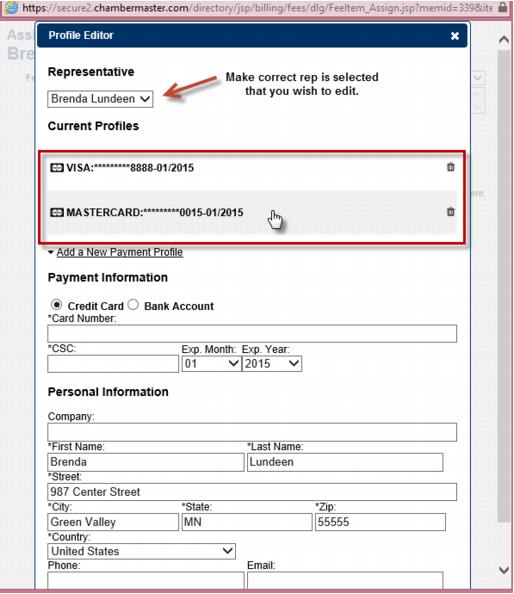 10. Click the profile that you wish to edit.
11. Enter the new information.
Since the information is not actually stored at this location and can never be seen by your staff, you must enter the complete information again. For credit cards this will include entering a new card number, CSC, and expiration date.
12. Click Update Profile.
Note: This same account information is available to the representative for them to edit in the Member Information Center under Account Settings ➝ Billing Payment Profiles.