Info Request-Create a general interest or travel lead group
From Support Wiki
---
Create a general interest or travel lead group
1.

Click

Groups

in the left-hand navigation bar.
3.

Complete the

Add a New Group

screen.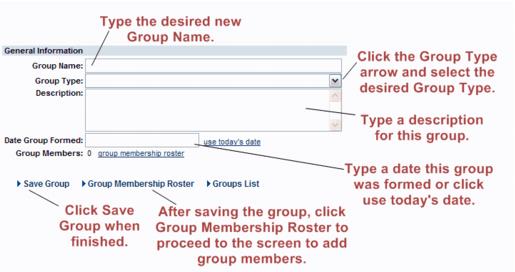 Figure 4-3
Add a New Group screen

Figure 4-4
Sample of a new group
Group Type
indicates a group category that may be used when sorting and locating your groups. ChamberMaster may have defined a group type of
Lead List Mailing Groups
that can be used for this purpose. However, you may wish to create your own group type that is assigned to all your lead list groups. Please refer to the
Groups
module documentation for instruction on creating a new group type.
5.

If desired, click

Group Membership Roster

to proceed to the screen to add group members and follow the steps in the next section.