May 2016 Release Notes
From Support Wiki
This month's software updates include additions to current features, tweaks to the interface and maintenance items.
Watch a recorded webinar that demonstrates the highlights of this release!
Advanced Custom Report Builder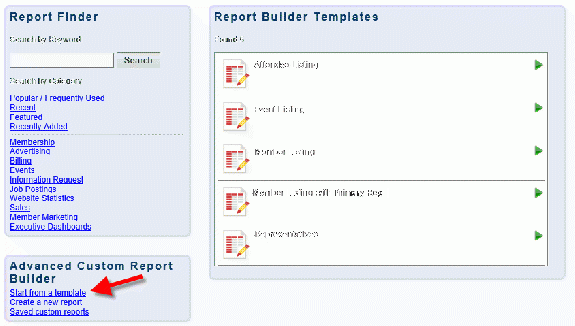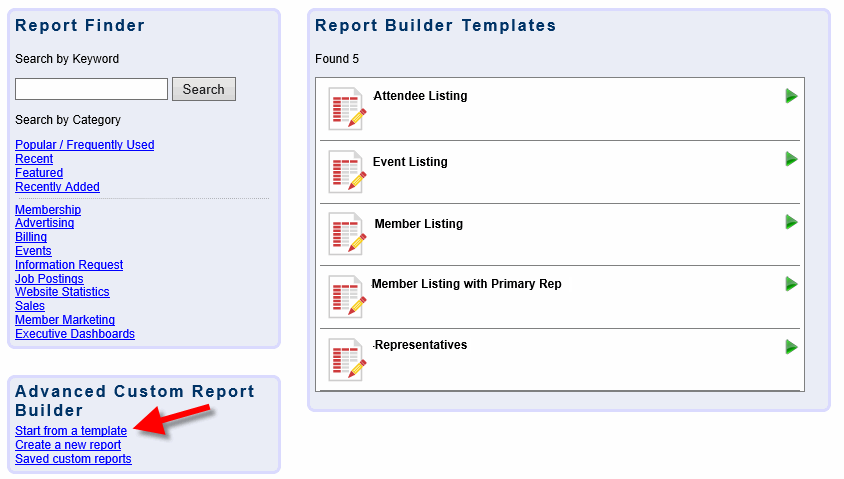 Build and save your own custom reports
Select from over 350 database fields
Filter with powerful criteria
Start from a template, add & remove fields and tweak criteria to get your results quickly
Find fields much easier - four main sections to pick from - Events, Groups, Members, Representatives
Field name options are

Consistent with back office naming
Alphabetized for locating easily
Grouped together when appropriate (e.g. all address fields displayed together)

Rename output column titles to something more friendly for your own purposes
Temporarily disable specific criteria filters without removing the filter - enable it later without rebuilding the query
Export to Excel or CSV
Create and send emails directly from report window
Create new groups or add resulting records to existing groups
Note: If you had previously created reports with the beta ReportBuilder, those reports will still work using the same beta field structure however you will not be able to use the Save As feature with the old beta reports. All new reports will use the new set of report fields. Heads up: Look for additional fields, templates and functions to be added in the future due to this newly laid foundation for our Advanced Custom Report Builder.
Reports Menu - New icons
With the announcement of the Advanced Custom Report Builder, three new icons now replace the single icon that previously represented all report types and a fourth generic icon represents the utility-type reports.

- Traditional Reports

- SmartReports

- Advanced Custom Reports

- Other miscellaneous reports and utilities
Check Member Engagement
A new report pulls all the member-submitted content together into one report.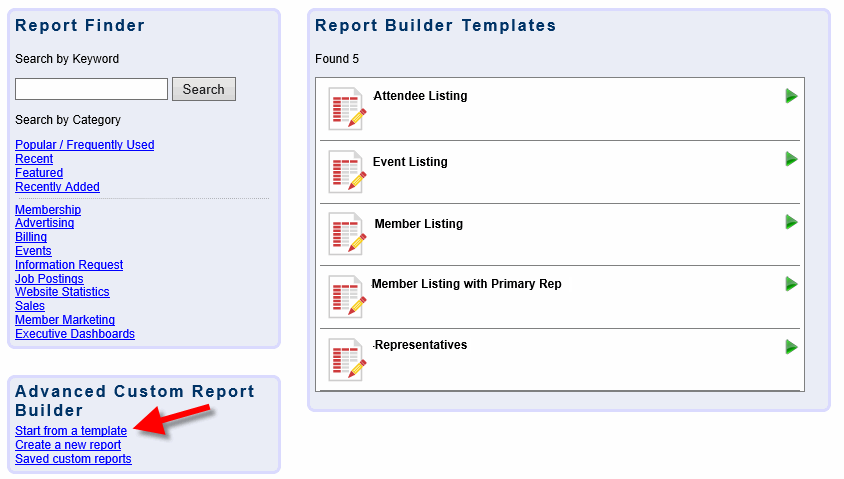 View the new Content Submitted by Members report to see whether your members are engaged enough to submit deals, jobs, marketspace items, news releases or events.
Find this report under Reports in the left-hand menu, click Recently Added.
Looking for ways to encourage posting of these items? Send out an email to your members using one of many different email templates we have created to encourage this.
When in the email editor, click Choose a Template and select Pre-Defined Templates. Scroll to the templates titled "Encourage..." (i.e. Encourage Job Postings, Encourage submitting News Release etc.)
New Default When Dropping a Member
When selecting to drop a member from Members-General tab, any deals or jobs that are currently active will now default to Disabled Status. This is a small change but it saves another keystroke for the majority who do not allow advertisement items from non-members to continue to display. For those that wish to persist the display of the non-member items, a simple change of the Status drop-down to Enabled will keep it posted.


Thank you for suggesting this change though the "Light Bulb" request area. Although we can't always get to everything as quick as we'd like to, your voice is heard! Requests are implemented based on greatest impact, most-requested, ability to integrate, and time-saving implication. Read more about our decision-making in the fine-print below.
New Cash Basis Reports
Introducing two new reports geared for those on a cash basis accounting system - Payment / Receipt by Member and Payment / Receipt by Account. Find these on the Billing->Reports tab in the Sales section. Only available for these with our Integrated Billing solution.
Payment / Receipt by Member
Easily see which member has contributed the most money during a given date range. This report includes all sales receipts and payments, both applied and unapplied, for the given date range. Use the Member Join Date filter to narrow the search to include only members that joined during the past year or your own date range criteria.
Payment / Receipt by Account
View account totals and details of all sales receipts and payments that have been applied.
The default view will list all general ledger accounts but narrow down to one or more accounts using the multi-select filter.
Other filters include by Item Collection Basis, by Fee Item Type or by Member Join Date.
Event Registration
Events that are submitted by members from the Member Information Center or by website visitors from the public event submission page will more efficiently handle text with special characters (e.g. "' ™©—¶ã) that has been copied from other sources . Previously these special symbols were often interpreted as ? when they appeared in the back office software.
Two locations in event registration where authenticated non-members or prospects were previously able to register for member-only events are locked down.
From the public page - authenticated users that use only their email address to register will not be allowed to register for member-only events when the "Allow Event Registrations" individual permission is deselected on their permission set.
In the MIC - the Register button will no longer display on member-only events for non-members or prospects who access the Member Information Center
If the attendee limit has been reached, a Sponsor-only registration may still be added from the Sponsors tab. (applies to the updated version of event registration)
Authenticated non-members and prospects will now receive the payment method options indicated under the "Allow Non-Members to register..." section instead of the Member payment methods. (applies to the updated version of event registration)
Note: For additional features and an updated look, update to the newer version of event registration which is available to all customers at no charge. How? View this
Billing
Credit memos transactions will display the Fee Item Description now instead of the Fee Item Name when available. If not available, then the Fee Item Name will be used as a second choice. This now matches how fee items and descriptions are handled on invoices and statements.
Member Information Center
Membership Badge - The Membership Badge menu item is now visible when the permission for Business Info is set on Read-Only. Previously it was visible only when Business Info was set on Read/Write. This allows organizations that don't allow editing of their member info to successfully access the Membership badge code for their website.
Setting up Staff Logins
Personal Information for a staff login account can now be edited and saved without being forced to create a login and password. The ability to assign a login/password became a separate step at the time when SmartCMS logins began being managed in this same area and is no longer tied to their Personal Information.
Setup
Define Business Categories has been renamed to Define Directory Categories and Business Directory Control Panel has been renamed to Directory Control Panel which better reflects the use of categories for all ChamberMaster and MemberZone customers whose members are not always 'businesses'.
Communication - Email
The subject line and body of an email will handle text with special characters consistently when copied in from other sources. (e.g. ™©—¶ã)
Regularly scheduled automatic emails are now set to resend at about ~10:00-10:30 am CT if for any reason they fail to send at their normal early morning time (~6 am CT). These emails include the MarketSpace newsletter, event reminder emails as requested by website visitors on the event page, and the Hot Deals eNewsletter. (went live 3/31/2016)
Scheduled emails: Reconfigured the process for handling scheduled emails so that it is more reliable in the event of unforeseen failures.(went live 3/24/2016)
Reports
A new report, Xero Accounting Invoice Export, is available that will create a list of invoices in a format that will import into Xero Accounting software.
Mobile Page views now also appear on the Members-Stats tab on the Member Page Views report in the Web Views / Statistics section under Available Reports. These stats are already available in the Member Information Center and when viewing the Member Home Page Views so this includes all same information now on the individual stat page.
Info Request and Contact Us pages
The public module pages /contact and /info were reworked to provide faster performance for those running on SmartCMS sites. (went live 3/24/2016)
News Releases
The title and body of a News Release article will handle text with special characters (e.g. ™©—¶ã).
Deals, Jobs and MarketSpace
Deals, Jobs, and MarketSpace items that are submitted by members from the Member Information Center (or jobs submitted by website visitors from the public jobs submission page) will more efficiently handle text with special characters (e.g. "' ™©—¶ã) that has been copied from other sources. Previously these special symbols were often interpreted as ? when they appeared in the back office software.
The Member Information Center has been updated to apply tax in the same manner as the back office software when Deals, Jobs and MarketSpace items are submitted with taxable fee items assigned. The checkout process will now honor the tax exempt status of the member and charge tax/VAT if status is set to No and not charge tax if status is set to Yes. add tax/VAT to the fee amount instead of reducing the fee amount by the tax amount and then adding the tax back in order to retain the original stated fee with tax included.
Staff can now modify the Publish date of a MarketSpace item that is a 'no charge' item.
Checkout cart
Updates were made to the checkout cart to improve performance and handling of transactions with specific noticeable improvement for those running large epayment batches.
A new nightly process now runs to regularly roll-off older shopping cart history to ensure the best performance for those making purchases.
Integrated Payment Processing
Learn how Integrated Payment Processing is a better way to process payments! Watch a brief webinar on what it is and how to get started.
The Transfers Enabled, Charges Enabled, Details Verified values under Setup->Billing Options and Settings will now reflect changes initiated by Stripe and not just when updates are submitted by the organization.
Additional validation code was added to the Account Setup area so that when identifying documents are uploaded, only acceptable formats are allowed - .JPG or .PNG files. Also modified the help text to indicate the same.
Customer/Payer information was added to the Bank Account Deposits/Transfer Details report under Billing->Reports->Payment Processing Reports / Management (went live on April 11)
Fixed an error that occurred during Account Setup if saving again after already entering your bank account. (went live on April 1)
The Details Verified value under Setup->Billing Options and Settings has been renamed to Verification Complete to better reflect the meaning of this value. If more information is required for verification, you will be notified by email. The status will automatically change to Verification Complete = true when your account has been marked verified by Stripe, Inc. An account may be fully operational and working without being Verified.
Mobile Apps
The MemberPlus member app and the ChamberMaster and MemberZone staff apps were all updated to support Android's latest mobile operating system, Android 6.0 Marshmallow. properly filter Featured Events
The Member Plus app logic was updated to fix an issue related to the display of the registration button for members and non-members.
The Staff app for ChamberMaster and MemberZone was updated to always show the entire list of reps and allow searching for the rep name when registering for an event from the app. The issue where certain events were missing was also fixed.
Gift Cards - Gift Local program
The menu item, Advertising->Gift Card Program Setup and Information, has been removed. GiftCards.com was recently acquired by Blackhawk Network who is no longer offering this program. No new gift cards will be able to be purchased after 5/17/2016 although the cards purchased previously will continue to work. You can read their press release here announcing their acquisition Current participants of this program were notified separately by email on 4/14/2016. No new participants are being accepted.
Member Forum
Member interaction is now being handled in the Community Activity Feed available inside the Member Information Center and is no longer offered through the use of the Member Forum module. Notification was made separately to customers that may have been affected and they were provided alternative options. In conjunction with this, the Forum has also been removed from your Dashboard.
Constant Contact
The Constant Contact nightly synchronization was updated to more efficiently handle synchronization issues such as time-outs and delays.
Support for SSL
Customers that wish to run their non-SmartCMS websites over SSL have ability to do that. See steps and information here.
Miscellaneous Maintenance
All software edition logos have been updated with a designation of 'v9' so the software version can easily be viewed.
Fixed an issue for legacy CQI customers that were experiencing synchronization and time-outs errors when running "Read all payment and invoice history".
Hit stats calculations have been reworked to properly count URLs that include the = symbol. During the time that hit stats excluded this symbol, searches made using the "Narrow results by" option were not included. This miscalculation resulted in an under-reporting of member page hit stats which occurred during the time frame of the past eight months, starting 8/27/2015 and was corrected 5/8/2016. Although we are not able to adjust prior historical hit stats to reflect these searches, we expect (given an average from one specific scenario with additional data) that the increase would likely be no more than 10%.