Set Default Web Display Options for Reps
From Support Wiki
Setting the default display preferences for reps will automatically apply these preferences to every new representative created in the database on an active or courtesy member. These settings determine how much of a rep's information will be displayed to the public in your website's Business Directory and in the Member Information Center. Set Default Web Display Options for Reps
In Setup, under Member Options, click Define Default Rep Preferences.
Select the checkbox next to each piece of information that should be displayed in the Public Directory and Member Information Center Directory. Leave a checkbox blank if that field should not be displayed.
These defaults will apply to all new reps you create with the exception of reps added via the Membership Application. Setting these defaults will not change the display preferences of current reps.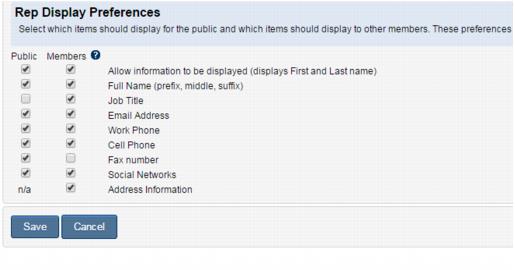 NOTE: An individual rep's preferences can be changed anytime.