Difference between revisions of "Events"
From Support Wiki
(→‎Assign Additional Fee Item)

(184 intermediate revisions by 3 users not shown)
Line 1:
Line 1:
−

==Getting Started==

+

=-

−

 

+

==Events ==

−

If you are just getting started with the Events module, watch this overview video and read [[Get the Big Picture]].

+
−

 

+
−

Otherwise, just scroll down for FAQ, Common Tasks, and this module's Help Documentation.

+
−

 

+
−

==Get the Big Picture==

+
−

 

+
−

*Events added to your calendar may be enhanced to include photos, sponsor logos and information, website links, and event description text that can be formatted as desired. Options also include online participant registration, special members only pricing, and an automatic email reminder to registered guests.

+
−

 

+
−

*Event information may be kept for internal purposes only, displayed on the public website calendar, and/or a calendar available only to chamber members. The public events website displays a graphical monthly calendar, a list of current events, all events for the month, chamber-designated Featured Events, and the ability to search for desired event by category, keyword, or month. A printable listing is also available that contains all pertinent event details.

+
−

 

+
−

*Invitations may be sent to potential participants and then automatically displayed on the participants list where their status may be changed from Invite Sent to Registered as RSVPs are received. From the participants list a roster sheet, name tags, or labels may be printed. Other output options include sending emails and downloading data to a comma separated value (.csv) file. Using a variety of filter options all output can be displayed by registration status, payment status, or according to self-selected filters.

+
−

 

+
−

::'''Note: '''When creating a new event, work with the tabs in order as displayed. For example, after completing the General tab, setup the fees (if applicable) on the Fees tab. The Sponsor tab would be next, the Guest List, and finally the Account tab. You may complete them out-of-order if desired but there is a logical flow if working from left to right.

+
−

 

+
−

*Event fees, designated for members or non-members, may be associated with each event. Individual invoices may be generated from the Events module for those requesting an invoice, and if credit card processing is set up then invoices/payments or sales receipts can be recorded automatically upon successful registration.

+
−

 

+
−

==Maintaining the Events Calendar==

+
 
 
 

Understanding the basics of how the Events module is organized will give a foundation for operation. Viewing existing events and learning to display only desired events will also be helpful. Then learn how to create, modify and manage events.

 

Understanding the basics of how the Events module is organized will give a foundation for operation. Viewing existing events and learning to display only desired events will also be helpful. Then learn how to create, modify and manage events.

 
+
 

*[[Events-Event_module_organization|Event module organization]]

 

*[[Events-Event_module_organization|Event module organization]]

 

*[[Working with the Calendar Tab]]

 

*[[Working with the Calendar Tab]]

Line 28:
Line 12:
 

*[[Events-Placement_Options|Placement options]]

 

*[[Events-Placement_Options|Placement options]]

 

*[[Events-Deleting_an_Event|Deleting an event]]

 

*[[Events-Deleting_an_Event|Deleting an event]]

−

*[[Events-Syncing_with_your_calendar|Syncing with your calendar]]

+

*[[Events-Syncing_with_your_calendar|Syncing with your calendar]]

 
 
 

===Event Module Organization===

 

===Event Module Organization===

−

<div xmlns="http://www.w3.org/1999/xhtml">

 
−

  <div style="font-family: Tahoma; font-size: 11pt; margin-bottom: 12pt;"><span id="wwpID0E0AGB0HA">To add, edit, and manage the Events calendar, click </span><span style="font-weight: bold;">Events</span> in the left-hand menu where you can select the desired event and desired tab.</div>

 
−

  <div style="font-family: &quot;Times New Roman&quot;; font-size: 11pt; margin-bottom: 12pt; margin-left: 36pt; text-align: justify;"><span id="wwpID0E06FB0HA">[[Image:Events-Event_module_organization-image4.png|main menu]]</span></div>

 
−

  <div style="color: #000000; font-family: &quot;Times New Roman&quot;; font-size: 10pt; font-weight: normal; margin-bottom: 12pt; margin-left: 54pt; text-align: justify;"><span style="font-size: 10pt;"><span id="wwpID0E05FB0HA">Figure 2-1</span></span> Main menu selection</div>

 
−

  <div style="font-family: &quot;Times New Roman&quot;; font-size: 11pt; margin-bottom: 12pt; margin-left: 36pt; text-align: justify;"><span id="wwpID0E04FB0HA">[[Image:Events-Event_module_organization-image5.png|events tabs]]</span></div>

 
−

  <div style="color: #000000; font-family: &quot;Times New Roman&quot;; font-size: 10pt; font-weight: normal; margin-bottom: 12pt; margin-left: 54pt; text-align: justify;"><span style="font-size: 10pt;"><span id="wwpID0E03FB0HA">Figure 2-2</span></span> Events module </div>

 
−

</div>

 
 
 
−

====Event Tabs====

+
 
+
 
+
 
+
 
+
 
+

 

 
+

 

 
+

===Event Tabs===

 

Within the Events Module there are nine tabs: General, Fees, Sponsors, Advanced, Guest List, Account, Files, and Tasks.

 

Within the Events Module there are nine tabs: General, Fees, Sponsors, Advanced, Guest List, Account, Files, and Tasks.

 
 
Line 66:
Line 50:
 

When creating a new event, work with the tabs in order as displayed. For example, after completing the General tab, setup the fees (if applicable) on the Fees tab. The Sponsor tab would be next, the Guest List, and finally the Account tab. You may complete them out-of-order if desired but there is a logical flow if working from left to right.

 

When creating a new event, work with the tabs in order as displayed. For example, after completing the General tab, setup the fees (if applicable) on the Fees tab. The Sponsor tab would be next, the Guest List, and finally the Account tab. You may complete them out-of-order if desired but there is a logical flow if working from left to right.

 
 
 
+
 
 
−

<html><style>.caption {font-weight:bold; font-size:12px}</style></html>

+

Events

−

[[Category: Events]]

+
 
 
−

===Working with the Calendar Tab===

+
 
+

the

 
 
−

The Calendar tab displays an Events calendar that may be displayed in five different views: list, day, week, month, and year view. As the name suggests, List view displays all events in a list format. The day, week, and month view will display all events falling within the specified date range. The year view displays a graphical calendar allowing chamber employees to advance quickly to a particular date.

 
 
 
−

The calendar may also be filtered to display only certain events matching the desired criteria. Click '''clear filters''' to display all events again.

 
 
 
−

====View the Internal Events Calendar====

+

======

 
+
 
+
 
+
 
+
 
+
 
 
−

<div style="margin-left: 18pt;margin-bottom: 0pt;">

+

===to Events===

−

  <table border="0" cellspacing="0" cellpadding="0" width="99%" summary="">

+
−

    <tr valign="baseline">

+
−

      <td style="width: 18pt"><div style="font-family: arial; font-size: 11pt;">1. </div></td>

+
−

      <td><div style="font-family: arial; font-size: 11pt;"><span id="wwpID0E0OFB0HA">Click </span><span style="font-weight: bold;">Events</span> in the left-hand menu.</div></td>

+
−

    </tr>

+
−

  </table>

+
−

</div>

+
−

<div style="margin-left: 18pt;margin-bottom: 0pt;">

+
−

  <table border="0" cellspacing="0" cellpadding="0" width="99%" summary="">

+
−

    <tr valign="baseline">

+
−

      <td style="width: 18pt"><div style="font-family: arial; font-size: 11pt;">2. </div></td>

+
−

      <td><div style="font-family: arial; font-size: 11pt;"><span id="wwpID0E0NFB0HA">On the </span><span style="font-weight: bold;">Calendar</span> tab, click the <span style="font-weight: bold;">Calendar View</span> arrow to select the desired view.</div></td>

+
−

    </tr>

+
−

  </table>

+
−

</div>

+
−

<div style="margin-left: 18pt;margin-bottom: 0pt;">

+
−

  <table border="0" cellspacing="0" cellpadding="0" width="99%" summary="">

+
−

    <tr valign="baseline">

+
−

      <td style="width: 18pt"><div style="font-family: arial; font-size: 11pt;">3. </div></td>

+
−

      <td><div style="font-family: arial; font-size: 11pt;"><span id="wwpID0E0MFB0HA">If necessary, click </span><span style="font-weight: bold;">Prev</span> and <span style="font-weight: bold;">Next</span> to decrease or advance the calendar.  Alternatively, you may click the calendar icon and select the desired month to view.</div></td>

+
−

    </tr>

+
−

  </table>

+
−

</div>

+
−

<p>&nbsp;</p>

+
−

<p>&nbsp;</p>

+
−

<div style="font-family: &quot;arial&quot;; font-size: 11pt; margin-bottom: 12pt; margin-left: 36pt; text-align: justify;"><span id="wwpID0E0LFB0HA">[[Image:Events-View_the_Internal_Events_Calendar-image6.png|calendar view]]</span></div>

+
−

<div style="color: #000000; font-family: &quot;arial&quot;; font-size: 10pt; font-weight: normal; margin-bottom: 12pt; margin-left: 54pt; text-align: justify;"><span style="font-size: 10pt;"><span id="wwpID0E0KFB0HA">Figure:</span></span> Events calendar</div>

+
 
 
−

====Filter the Internal Events Calendar (display only specified events)====

+
−

  <div style="color: #5F497A; font-family: Calibri; font-size: 9pt; margin-bottom: 12pt; margin-left: 18pt;"><span id="wwpID0E0IFB0HA">Tip:  After selecting the desired filter, you may want to select the </span><span style="font-weight: bold;">List</span> calendar view. List view will allow you to easily view all filtered events.</div>

+
 
+
 
+
 
+
 
+

 

 
+

===the ===

 
+

<div ="://../>

 

   <div style="margin-left: 18pt;margin-bottom: 0pt;">

 

   <div style="margin-left: 18pt;margin-bottom: 0pt;">

 

     <table border="0" cellspacing="0" cellpadding="0" width="99%" summary="">

 

     <table border="0" cellspacing="0" cellpadding="0" width="99%" summary="">

 

       <tr valign="baseline">

 

       <tr valign="baseline">

 

         <td style="width: 18pt"><div style="font-family: Calibri; font-size: 11pt;">1. </div></td>

 

         <td style="width: 18pt"><div style="font-family: Calibri; font-size: 11pt;">1. </div></td>

−

         <td><div style="font-family: Calibri; font-size: 11pt;"><span id="wwpID0E0HFB0HA">On the </span><span style="font-weight: bold;">Calendar</span> tab, click <span style="font-weight: bold;">filter options</span>.  [[Image:Events-Filter_the_Internal_Events_calendar_(display_onl-image7.png|filter options icon]]</div></td>

+

         <td><div style="font-family: Calibri; font-size: 11pt;"><span id=""></span><span style="font-weight: bold;"></span> -.</div></td>

 

       </tr>

 

       </tr>

 

     </table>

 

     </table>

Line 121:
Line 88:
 

       <tr valign="baseline">

 

       <tr valign="baseline">

 

         <td style="width: 18pt"><div style="font-family: Calibri; font-size: 11pt;">2. </div></td>

 

         <td style="width: 18pt"><div style="font-family: Calibri; font-size: 11pt;">2. </div></td>

−

         <td><div style="font-family: Calibri; font-size: 11pt;"><span id="wwpID0E0GFB0HA">Select the desired filter options.  See Figure 2-4 and Table 2-2 below.</span></div></td>

+

         <td><div style="font-family: Calibri; font-size: 11pt;"><span id="">-</span></div></td>

 

       </tr>

 

       </tr>

 

     </table>

 

     </table>

Line 129:
Line 96:
 

       <tr valign="baseline">

 

       <tr valign="baseline">

 

         <td style="width: 18pt"><div style="font-family: Calibri; font-size: 11pt;">3. </div></td>

 

         <td style="width: 18pt"><div style="font-family: Calibri; font-size: 11pt;">3. </div></td>

−

         <td><div style="font-family: Calibri; font-size: 11pt;"><span id="wwpID0E0FFB0HA">Click </span><span style="font-weight: bold;">Continue</span>.</div></td>

+

         <td><div style="font-family: Calibri; font-size: 11pt;"><span id="">-</span></div></td>

 

       </tr>

 

       </tr>

 

     </table>

 

     </table>

Line 137:
Line 104:
 

       <tr valign="baseline">

 

       <tr valign="baseline">

 

         <td style="width: 18pt"><div style="font-family: Calibri; font-size: 11pt;">4. </div></td>

 

         <td style="width: 18pt"><div style="font-family: Calibri; font-size: 11pt;">4. </div></td>

−

         <td><div style="font-family: Calibri; font-size: 11pt;"><span id="wwpID0E0EFB0HA">When finished viewing the filtered list of events, click </span><span style="font-weight: bold;">clear filters</span> to view all events.</div></td>

+

         <td><div style="font-family: Calibri; font-size: 11pt;"><span id=""></span></div></td>

 

       </tr>

 

       </tr>

 

     </table>

 

     </table>

 

   </div>

 

   </div>

−

   <div style="font-family: &quot;Times New Roman&quot;; font-size: 11pt; margin-bottom: 12pt; margin-left: 36pt; text-align: justify;"><span id="wwpID0E0DFB0HA">[[Image:Events-Filter_the_Internal_Events_calendar_(display_onl-image8.png]]</span></div>

+

   <div style="font-family: &quot;Times New Roman&quot;; font-size: 11pt; margin-bottom: 12pt; margin-left: 36pt; text-align: justify;"><span id="">[[Image:Events--.png]]</span></div>

−

   <div style="color: #000000; font-family: &quot;Times New Roman&quot;; font-size: 10pt; font-weight: normal; margin-bottom: 12pt; margin-left: 54pt; text-align: justify;"><span style="font-size: 10pt;"><span id="wwpID0E0CFB0HA">Figure 2-4 </span></span>Filter options</div>

+

   <div style="font-family: &quot;Times New Roman&quot;; font-size: ; margin-bottom: 12pt; margin-left: ; text-align: justify;"><span id="">Figure -</span></>

 
+

</div>

 
 
−

====Event Calendar Filters====

+

:Events

−

  <div style="font-family: &quot;Times New Roman&quot;; font-size: 11pt; margin-bottom: 12pt; margin-left: 18pt;"><span style="font-weight: bold;"><span id="wwpID0E0AFB0HA">Status </span></span></div>

+
−

  <div style="font-family: Calibri; font-size: 11pt; margin-bottom: 12pt; margin-left: 36pt;"><span style="font-weight: bold;"><span id="wwpID0E06EB0HA">Approved:</span></span>  chamber employees have approved this event; displays on all designated calendars</div>

+
−

  <div style="font-family: Calibri; font-size: 11pt; margin-bottom: 12pt; margin-left: 36pt;"><span style="font-weight: bold;"><span id="wwpID0E05EB0HA">Pending</span></span>:  an event submitted by a chamber member but waiting approval from a chamber employee</div>

+
−

  <div style="font-family: Calibri; font-size: 11pt; margin-bottom: 12pt; margin-left: 36pt;"><span style="font-weight: bold;"><span id="wwpID0E04EB0HA">Disabled</span></span>:  an event that may or may not be current but will not be displayed on the public calendar; used to temporarily disable an event</div>

+
−

  <div style="font-family: &quot;Times New Roman&quot;; font-size: 11pt; margin-bottom: 12pt; margin-left: 18pt;"><span style="font-weight: bold;"><span id="wwpID0E03EB0HA">Visibility:  </span></span>Select <span style="font-weight: bold;">Internal  Chamber Calendar</span>, <span style="font-weight: bold;">Chamber</span> <span style="font-weight: bold;">calendar</span>, <span style="font-weight: bold;">Public</span> <span style="font-weight: bold;">calendar</span>, or <span style="font-weight: bold;">Members</span> <span style="font-weight: bold;">calendar</span></div>

+
−

  <div style="font-family: Calibri; font-size: 11pt; margin-bottom: 12pt; margin-left: 36pt;"><span style="font-weight: bold;"><span id="wwpID0E02EB0HA">Internal Chamber Event Calenda</span></span>r – When this option is checked the event can be filtered separately on the internal calendar system when you go to Events &gt; Calendar tab and click on filter options.</div>

+
−

  <div style="font-family: Calibri; font-size: 11pt; margin-bottom: 12pt; margin-left: 36pt;"><span style="font-weight: bold;"><span id="wwpID0E01EB0HA">Display on Public Events Calendar</span></span> – When this option is checked the event will display on the website's calendar as well as the upcoming events list. This option must be selected in order for the event to show on your public website.</div>

+
−

  <div style="font-family: Calibri; font-size: 11pt; margin-bottom: 12pt; margin-left: 36pt;"><span style="font-weight: bold;"><span id="wwpID0E0ZEB0HA">Display on Members Only Calendar</span></span> – When this option is checked the event will display on the Member Information Center (Members Portal) after they log in. This option must be checked for the event to show on the members' calendar in the Member Center.</div>

+
−

  <div style="font-family: Calibri; font-size: 11pt; margin-bottom: 12pt; margin-left: 36pt;"><span style="font-weight: bold;"><span id="wwpID0E0YEB0HA">Display on Featured Events</span></span> – This option allows for this event to be listed as a featured event on the featured events list.</div>

+
−

  <div style="font-family: &quot;Times New Roman&quot;; font-size: 11pt; margin-bottom: 12pt; margin-left: 18pt;"><span style="font-weight: bold;"><span id="wwpID0E0XEB0HA">Category: </span></span>Select from all event categories</div>

+
−

  <div style="font-family: &quot;Times New Roman&quot;; font-size: 11pt; margin-bottom: 12pt; margin-left: 18pt;"><span style="font-weight: bold;"><span id="wwpID0E0WEB0HA">Location: </span></span>Select from all locations (if applicable)</div>

+
−

  <div style="font-family: &quot;Times New Roman&quot;; font-size: 11pt; margin-bottom: 12pt; margin-left: 18pt;"><span style="font-weight: bold;"><span id="wwpID0E0VEB0HA">Keyword: </span></span>Keyword must be a single word.  Multiple single words may be specified which returns all events with either word.  For example, keywords <span style="font-weight: bold;">ski</span> <span style="font-weight: bold;">swap</span> will display all events with ski OR swap in the title or description. </div>

+
 
 
−

===Selecting an Event===

+

======

−

  <div style="font-family: Tahoma; font-size: 11pt; margin-bottom: 12pt;"><span id="wwpID0E0TEB0HA">To edit event descriptions or dates, add photos, sponsors, participants or to modify any aspect associated with an event, the event must be selected and displayed in the </span><span style="font-weight: bold;">Events</span> drop-down list.  See Figure 2-5 below.</div>

+

:

−

  <div style="font-family: &quot;Times New Roman&quot;; font-size: 11pt; margin-bottom: 12pt; margin-left: 36pt; text-align: justify;"><span id="wwpID0E0SEB0HA">[[Image:Events-Selecting_an_Event-image9.png|events drop down]]</span></div>

+

to

−

  <div style="color: #000000; font-family: &quot;Times New Roman&quot;; font-size: 10pt; font-weight: normal; margin-bottom: 12pt; margin-left: 54pt; text-align: justify;"><span style="font-size: 10pt;"><span id="wwpID0E0REB0HA">Figure 2-5</span></span> Farmers Market selected</div>

+

and

 
+

-

 
+
 
 
−

====Select an Event Using the Drop Down List====

+
−

  <div style="margin-left: 18pt;margin-bottom: 0pt;">

+
−

    <table border="0" cellspacing="0" cellpadding="0" width="99%" summary="">

+

Event

−

      <tr valign="baseline">

+
−

        <td style="width: 18pt"><div style="font-family: Calibri; font-size: 11pt;">1. </div></td>

+

 

−

         <td><div style="font-family: Calibri; font-size: 11pt;"><span id="wwpID0E0PEB0HA">Within the </span><span style="font-weight: bold;">Events </span>module, click the drop-down arrow to the right of the Event name. See Figure 2-6.</div></td>

+
 
+

the left-

 
+
 
+
 
+
 
+
 
+

 

 
+

:-

 
+

 

 
+
 
+

 

 
+

:-.</div></td>

 
+

         <td><div style="font-family: ; font-size: 11pt;"><span id=""></span></div></td>

 

       </tr>

 

       </tr>

 

     </table>

 

     </table>

 

   </div>

 

   </div>

−

   <div style="margin-left: 18pt;margin-bottom: 0pt;">

+

   <div style="margin-left: ;margin-bottom: ;">

 

     <table border="0" cellspacing="0" cellpadding="0" width="99%" summary="">

 

     <table border="0" cellspacing="0" cellpadding="0" width="99%" summary="">

 

       <tr valign="baseline">

 

       <tr valign="baseline">

−

         <td style="width: 18pt"><div style="font-family: Calibri; font-size: 11pt;">2. </div></td>

+

         <td style="width: 18pt"><div style="font-family: ; font-size: 11pt;">.</div></td>

−

         <td><div style="font-family: Calibri; font-size: 11pt;"><span id="wwpID0E0OEB0HA">In the </span><span style="font-weight: bold;">Events</span> list, click the desired event name.</div></td>

+

         <td><div style="font-family: ; font-size: 11pt;"><span id="">the </span></div></td>

 

       </tr>

 

       </tr>

 

     </table>

 

     </table>

 

   </div>

 

   </div>

−

   <div style="font-family: &quot;Times New Roman&quot;; font-size: 11pt; margin-bottom: 12pt; margin-left: 36pt; text-align: justify;"><span id="wwpID0E0NEB0HA">[[Image:Events-Select_an_event_using_the_drop_down_list_box-image10.png|events drop down displayed]]</span></div>

+

   <div style="font-family: &quot;&quot;; font-size: 11pt; margin-bottom: 12pt; margin-left: ; text-align: justify;"><span id="">[[Image:Events--.png]]</span></div>

−

   <div style="color: #000000; font-family: &quot;Times New Roman&quot;; font-size: 10pt; font-weight: normal; margin-bottom: 12pt; margin-left: 54pt; text-align: justify;"><span style="font-size: 10pt;"><span id="wwpID0E0MEB0HA">Figure 2-6</span></span> Events drop down list</div>

+

   <div style="margin-left: ;margin-bottom: ;">

−

 

+
−

====Select an Event Using the Find Button====

+
−

  <div style="margin-left: 18pt;margin-bottom: 0pt;">

+
 

     <table border="0" cellspacing="0" cellpadding="0" width="99%" summary="">

 

     <table border="0" cellspacing="0" cellpadding="0" width="99%" summary="">

 

       <tr valign="baseline">

 

       <tr valign="baseline">

−

         <td style="width: 18pt"><div style="font-family: Calibri; font-size: 11pt;">1. </div></td>

+

         <td style="width: 18pt"><div style="font-family: ; font-size: 11pt;">.</div></td>

−

         <td><div style="font-family: Calibri; font-size: 11pt;"><span id="wwpID0E0KEB0HA">On the </span><span style="font-weight: bold;">Find</span> menu, click <span style="font-weight: bold;">Event.</span></div></td>

+

         <td><div style="font-family: ; font-size: 11pt;"><span id="">the , . </span></div></td>

 

       </tr>

 

       </tr>

 

     </table>

 

     </table>

 

   </div>

 

   </div>

−

   <div style="font-family: &quot;Times New Roman&quot;; font-size: 11pt; margin-bottom: 12pt; margin-left: 36pt; text-align: justify;"><span id="wwpID0E0JEB0HA">[[Image:Events-Select_an_event_using_the_Find_button-image11.png|find menu]]</span></div>

+

   <div style="font-family: &quot;&quot;; font-size: 11pt; margin-bottom: 12pt; margin-left: ; text-align: justify;"><span id="">[[Image:Events--.png]]</span></div>

−

   <div style="margin-left: 18pt;margin-bottom: 0pt;">

+

   <div style="margin-left: ;margin-bottom: ;">

 

     <table border="0" cellspacing="0" cellpadding="0" width="99%" summary="">

 

     <table border="0" cellspacing="0" cellpadding="0" width="99%" summary="">

 

       <tr valign="baseline">

 

       <tr valign="baseline">

−

         <td style="width: 18pt"><div style="font-family: Calibri; font-size: 11pt;">2. </div></td>

+

         <td style="width: 18pt"><div style="font-family: ; font-size: 11pt;">.</div></td>

−

         <td><div style="font-family: Calibri; font-size: 11pt;"><span id="wwpID0E0IEB0HA">If desired, in the </span><span style="font-weight: bold;">Event Name</span> box, type any part of the event name. (This will limit the list of displayed events to those matching your criteria<span style="font-size: 11.5pt;">.) </span></div></td>

+

         <td><div style="font-family: ; font-size: 11pt;"><span id="">-;</span></div></td>

 

       </tr>

 

       </tr>

 

     </table>

 

     </table>

 

   </div>

 

   </div>

−

   <div style="margin-left: 18pt;margin-bottom: 0pt;">

+
 
+

   <div style="margin-left: ;margin-bottom: ;">

 

     <table border="0" cellspacing="0" cellpadding="0" width="99%" summary="">

 

     <table border="0" cellspacing="0" cellpadding="0" width="99%" summary="">

 

       <tr valign="baseline">

 

       <tr valign="baseline">

−

         <td style="width: 18pt"><div style="font-family: Calibri; font-size: 11pt;">3. </div></td>

+

         <td style="width: 18pt"><div style="font-family: ; font-size: 11pt;">.</div></td>

−

         <td><div style="font-family: Calibri; font-size: 11pt;"><span style="font-size: 11.5pt;"><span id="wwpID0E0HEB0HA">In the </span></span><span style="font-size: 11.5pt; font-weight: bold;">Choose an Event </span><span style="font-size: 11.5pt;">list, click the desired event name.</span></div></td>

+

         <td><div style="font-family: ; font-size: 11pt;"><span id="">-;-;Event .</span></div></td>

 

       </tr>

 

       </tr>

 

     </table>

 

     </table>

 

   </div>

 

   </div>

−

   <div style="font-family: &quot;Times New Roman&quot;; font-size: 11pt; margin-bottom: 12pt; margin-left: 36pt; text-align: justify;"><span id="wwpID0E0GEB0HA">[[Image:Events-Select_an_event_using_the_Find_button-image12.png|find event menu]]</span></div>

+

   <div style="font-family: &quot;&quot;; font-size: 11pt; margin-bottom: 12pt; margin-left: ; text-align: justify;"><span id="">[[Image:Events--.png]]</span></div>

−

   <div style="color: #000000; font-family: &quot;Times New Roman&quot;; font-size: 10pt; font-weight: normal; margin-bottom: 12pt; margin-left: 54pt; text-align: justify;"><span style="font-size: 10pt;"><span id="wwpID0E0FEB0HA">Figure 2-7</span></span> Event Look-up window</div>

+

   <div style="margin-left: ;margin-bottom: ;">

−

  <div style="margin-left: 18pt;margin-bottom: 0pt;">

+
 

     <table border="0" cellspacing="0" cellpadding="0" width="99%" summary="">

 

     <table border="0" cellspacing="0" cellpadding="0" width="99%" summary="">

 

       <tr valign="baseline">

 

       <tr valign="baseline">

−

         <td style="width: 18pt"><div style="font-family: Calibri; font-size: 11pt;">4. </div></td>

+

         <td style="width: 18pt"><div style="font-family: ; font-size: 11pt;">.</div></td>

−

         <td><div style="font-family: Calibri; font-size: 11pt;"><span id="wwpID0E0EEB0HA">Click </span><span style="font-weight: bold;">Continue</span>.</div></td>

+

         <td><div style="font-family: ; font-size: 11pt;"><span id="">-</span></div></td>

 

       </tr>

 

       </tr>

 

     </table>

 

     </table>

 

   </div>

 

   </div>

−

 

+

==

−

====Select an Event Using the Calendar View====

+

==

−

   <div style="margin-left: 18pt;margin-bottom: 0pt;">

+

   <div style="margin-left: ;margin-bottom: ;">

 

     <table border="0" cellspacing="0" cellpadding="0" width="99%" summary="">

 

     <table border="0" cellspacing="0" cellpadding="0" width="99%" summary="">

 

       <tr valign="baseline">

 

       <tr valign="baseline">

−

         <td style="width: 18pt"><div style="font-family: Calibri; font-size: 11pt;">1. </div></td>

+

         <td style="width: 18pt"><div style="font-family: ; font-size: 11pt;">.</div></td>

−

         <td><div style="font-family: Calibri; font-size: 11pt;"><span id="wwpID0E0CEB0HA">In the </span><span style="font-weight: bold;">Events</span> module, click the <span style="font-weight: bold;">Calendar</span> tab.</div></td>

+

         <td><div style="font-family: ; font-size: 11pt;"><span id="">/-</span></div></td>

 

       </tr>

 

       </tr>

 

     </table>

 

     </table>

 

   </div>

 

   </div>

−

   <div style="margin-left: 18pt;margin-bottom: 0pt;">

+
 
+

   <div style="margin-left: ;margin-bottom: ;">

 

     <table border="0" cellspacing="0" cellpadding="0" width="99%" summary="">

 

     <table border="0" cellspacing="0" cellpadding="0" width="99%" summary="">

 

       <tr valign="baseline">

 

       <tr valign="baseline">

−

         <td style="width: 18pt"><div style="font-family: Calibri; font-size: 11pt;">2. </div></td>

+

         <td style="width: 18pt"><div style="font-family: ; font-size: 11pt;">.</div></td>

−

         <td><div style="font-family: Calibri; font-size: 11pt;"><span id="wwpID0E0BEB0HA">Advance the calendar to display the desired event.</span></div></td>

+

         <td><div style="font-family: ; font-size: 11pt;"><span id="">the event .</span></div></td>

 

       </tr>

 

       </tr>

 

     </table>

 

     </table>

 

   </div>

 

   </div>

−

   <div style="margin-left: 18pt;margin-bottom: 0pt;">

+
 
+

   <div style="margin-left: ;margin-bottom: ;">

 

     <table border="0" cellspacing="0" cellpadding="0" width="99%" summary="">

 

     <table border="0" cellspacing="0" cellpadding="0" width="99%" summary="">

 

       <tr valign="baseline">

 

       <tr valign="baseline">

−

         <td style="width: 18pt"><div style="font-family: Calibri; font-size: 11pt;">3. </div></td>

+

         <td style="width: 18pt"><div style="font-family: ; font-size: 11pt;">.</div></td>

−

         <td><div style="font-family: Calibri; font-size: 11pt;"><span id="wwpID0E0AEB0HA">Click on the desired event title.</span></div></td>

+

         <td><div style="font-family: ; font-size: 11pt;"><span id=""></span></div></td>

 

       </tr>

 

       </tr>

 

     </table>

 

     </table>

 
+
 
+
 
 
−

===Adding an Event===

+

 

−

When adding a new event, you simply fill in the requested information as the wizard walks you through three information screens. You will be asked to fill in the following information screens:

+

 

 
+
 
+
 
+

 

 
+

===Event ==

 
+
 
+

 

 
+

a event,

 
+

 

 
+
 
+
 
+
 
+
 
+
 
+
 
+
 
+
 
+

 

 
+
 
+
 
+

 

 
+

you in the

 
+
 
+
 
+

as the

 
+
 
+
 
+

 

 
+
 
+
 
+

 

 
+
 
+

 

 
+
 
+

 

 
+
 
+
 
+

you .

 
+
 
+

 

 
+
 
+

 

 
+
 
+
 
+
 
+
 
+

You

 
+

will

 
+
 
+

 

 
+
 
+

 

 
+
 
+

 

 
+
 
+
 
+

be to fill in:

 
 
 

*General Information

 

*General Information

Line 252:
Line 279:
 

*Fees/Billing Information

 

*Fees/Billing Information

 
 
−

When you click '''Finish''', your event is automatically added to the designated event calendar(s).

+
 
+
 
+
 
+
 
+
 
+

you

 
+

'''''', your eventis to the event

 
+

calendar

 
+
 
+
 
+

(s

 
+
 
+

)

 
+
 
+
 
+
 
+
 
+
 
+
 
+
 
+
 
+
 
+
 
+
 
+
 
+
 
+
 
+
 
+
 
+
 
+
 
+
 
+
 
+
 
+
 
+
 
+

.

 
 
−

You may add an event using one of two methods. Adding an event to the calendar may be done at any time using the '''Add''' menu and when by clicking the +sign when the '''Calendar''' tab is displayed, which uses the calendar to assist in date selection, or by nightly importing your iCal feed.

+
−

[[Category:Events]]

+
 
+

 

 
+

an event of .

 
+

 

 
+

event

 
+

to

 
+
 
+
 
+
 
+
 
+
 
+
 
+
 
+

 

 
+

the calendar at time the '''''' by the

 
+

 

 
+
 
+
 
+
 
+
 
+

the

 
+
 
+

 

 
+

 

 
+

''''''

 
+

 

 
+

tab, the .

 
+

[[:Events

 
+
 
+

]]  

 
 
−

====Add an Event====

+
−

<div style="margin-left: 18pt;margin-bottom: 0pt;">

+

 

 
+
 
+

 

 
+
 
+
 
+
 
+
 
+

 

 
+
 
+

 

 
+
 
+

 

 
+
 
+
 
+
 
+
 
+

 

 
+

====

 
+
 
+

Add

 
+
 
+
 
+
 
+
 
+
 
+
 
+
 
+

 

 
+

an

 
+
 
+

 

 
+
 
+

 

 
+
 
+

 

 
+
 
+

 

 
+
 
+

Event

 
+
 
+
 
+
 
+
 
+
 
+

 

 
+
 
+
 
+
 
+
 
+
 
+
 
+

 

 
+
 
+
 
+

 

 
+
 
+

 

 
+
 
+

 

 
+
 
+

 

 
+
 
+
 
+
 
+

 

 
+
 
+
 
+
 
+

 

 
+
 
+

 

 
+
 
+
 
+
 
+
 
+
 
+
 
+
 
+
 
+

 

 
+
 
+
 
+

 

 
+
 
+

 

 
+
 
+
 
+

 

 
+
 
+

 

 
+
 
+
 
+
 
+
 
+
 
+
 
+

 

 
+
 
+

 

 
+
 
+
 
+
 
+
 
+
 
+
 
+
 
+
 
+

 

 
+
 
+

 

 
+
 
+
 
+
 
+

 

 
+
 
+

 

 
+
 
+
 
+
 
+
 
+
 
+
 
+

 

 
+
 
+
 
+
 
+
 
+
 
+
 
+
 
+
 
+

 

 
+

 

 
+
 
+

 

 
+
 
+
 
+
 
+
 
+
 
+
 
+

 

 
+
 
+

 

 
+
 
+

 

 
+
 
+
 
+

 

 
+
 
+

 

 
+
 
+

 

 
+
 
+
 
+
 
+

 

 
+
 
+
 
+

 

 
+
 
+
 
+
 
+

 

 
+
 
+

 

 
+
 
+

 

 
+
 
+

 

 
+
 
+
 
+
 
+
 
+
 
+
 
+

 

 
+
 
+

 

 
+
 
+
 
+

 

 
+
 
+

 

 
+
 
+

 

 
+
 
+
 
+

 

 
+
 
+

 

 
+
 
+
 
+
 
+
 
+
 
+
 
+
 
+
 
+
 
+
 
+
 
+
 
+
 
+

 

 
+
 
+

 

 
+
 
+

 

 
+
 
+
 
+
 
+

====

 
+

<div style="margin-left: 18pt;margin-bottom: 0pt;">

 

     <table border="0" cellspacing="0" cellpadding="0" width="99%" summary="">

 

     <table border="0" cellspacing="0" cellpadding="0" width="99%" summary="">

 

       <tr valign="baseline">

 

       <tr valign="baseline">

 

         <td style="width: 18pt"><div style="font-family: Calibri; font-size: 11pt;">1. </div></td>

 

         <td style="width: 18pt"><div style="font-family: Calibri; font-size: 11pt;">1. </div></td>

−

         <td><div style="font-family: Calibri; font-size: 11pt;"><span id="wwpID0E0VDB0HA">On the </span><span style="font-weight: bold;">Add</span> menu, click <span style="font-weight: bold;">Event</span>.</div></td>

+

         <td><div style="font-family: Calibri; font-size: 11pt;"><span id="">On the </span><span style="font-weight: bold;"></span> , click .</div></td>

 

       </tr>

 

       </tr>

 

     </table>

 

     </table>

 

   </div>

 

   </div>

−

  <div style="font-family: &quot;Times New Roman&quot;; font-size: 11pt; margin-bottom: 12pt; margin-left: 36pt; text-align: justify;"><span id="wwpID0E0UDB0HA">[[Image:Events-Add_an_event-image13.png]]</span></div>

 
−

  <div style="color: #5F497A; font-family: Calibri; font-size: 9pt; margin-bottom: 12pt; margin-left: 36pt;"><span id="wwpID0E0TDB0HA">Optional: You may also click the + sign on the date of the event when on the </span><span style="font-weight: bold;">Events-&gt;Calendar</span> tab.  First, advance the calendar to display the desired date.  Then click the plus sign on that day.  The date field will automatically display your desired date.</div>

 
 

   <div style="margin-left: 18pt;margin-bottom: 0pt;">

 

   <div style="margin-left: 18pt;margin-bottom: 0pt;">

 

     <table border="0" cellspacing="0" cellpadding="0" width="99%" summary="">

 

     <table border="0" cellspacing="0" cellpadding="0" width="99%" summary="">

 

       <tr valign="baseline">

 

       <tr valign="baseline">

 

         <td style="width: 18pt"><div style="font-family: Calibri; font-size: 11pt;">2. </div></td>

 

         <td style="width: 18pt"><div style="font-family: Calibri; font-size: 11pt;">2. </div></td>

−

         <td><div style="font-family: Calibri; font-size: 11pt;"><span id="wwpID0E0SDB0HA">Complete the </span><span style="font-weight: bold;">General Information</span> fields and click <span style="font-weight: bold;">Next</span>.</div></td>

+

         <td><div style="font-family: Calibri; font-size: 11pt;"><span id=""></span><span style="font-weight: bold;"></span>.</div></td>

 

       </tr>

 

       </tr>

 

     </table>

 

     </table>

 

   </div>

 

   </div>

−

  <div style="font-family: &quot;Times New Roman&quot;; font-size: 11pt; margin-bottom: 12pt; margin-left: 36pt; text-align: justify;"><span id="wwpID0E0RDB0HA">[[Image:Events-Add_an_event-image14.png]]</span></div>

 
−

  <div style="color: #000000; font-family: &quot;Times New Roman&quot;; font-size: 10pt; font-weight: normal; margin-bottom: 12pt; margin-left: 54pt; text-align: justify;"><span id="wwpID0E0QDB0HA">Figure 2-8 General Information screen</span></div>

 
−

  <div style="font-family: Calibri; font-size: 11pt; margin-bottom: 12pt; margin-left: 36pt;"><span style="font-weight: bold;"><span id="wwpID0E0PDB0HA">Event Title:</span></span> This title will display in your Events drop-down list and also on the Event web page.</div>

 
−

  <div style="font-family: Calibri; font-size: 11pt; margin-bottom: 12pt; margin-left: 36pt;"><span style="font-weight: bold;"><span id="wwpID0E0ODB0HA">Start/End Date/Time: </span></span>Ensure that these dates are correct.  A different end date is only needed when a single event runs multiple days – like over the weekend. </div>

 
−

  <div style="font-family: Calibri; font-size: 11pt; margin-bottom: 12pt; margin-left: 36pt;"><span style="font-weight: bold;"><span id="wwpID0E0NDB0HA">All Day Event:</span></span> Deselect this checkbox if you desire to display exact times.  Time may also be specified in the Date/Time field on the next window.</div>

 
−

  <div style="font-family: Calibri; font-size: 11pt; margin-bottom: 12pt; margin-left: 36pt;"><span style="font-weight: bold;"><span id="wwpID0E0MDB0HA">Reminder:</span></span>  An automatically generated reminder email will be sent using content from details on the General tab of your event.  Preview the automatic reminder by clicking the <span style="font-weight: bold;">reminder </span>link.  The email is sent to all registrants on your Guest List with a status of Registered.  <span style="font-family: Calibri;">Only those with Plus or greater and </span><span style="color: #3366CC; font-family: Calibri; text-decoration: underline;">[[javascript:WWHDoNothingHREF();|SEO]]</span><span style="font-family: Calibri;"> modules will have this new feature.  The email "look and feel" may be modified with your own custom template if desired. Instructions for web designers are available at </span><span style="color: #3366CC; font-family: Calibri; text-decoration: underline;">[[http://kb.chambermaster.com/event-reminder/|http://kb.chambermaster.com/event-reminder/]]</span><span style="font-family: Calibri;"> </span></div>

 
−

  <div style="font-family: Calibri; font-size: 11pt; margin-bottom: 12pt; margin-left: 36pt;"><span style="font-weight: bold;"><span id="wwpID0E0LDB0HA">Recurrence:</span></span> An event occurring multiple times on your calendar may be duplicated by setting a recurrence.  See "<span>Create a recurring event</span>".</div>

 
−

  <div style="font-family: Calibri; font-size: 11pt; margin-bottom: 12pt; margin-left: 36pt;"><span style="font-weight: bold;"><span id="wwpID0E0KDB0HA">Approval Status:</span></span> Approved status will display this event on all calendar marked under "Visibility".  Status of Pending or Disabled will not display on the public calendar.</div>

 
−

  <div style="font-family: Calibri; font-size: 11pt; margin-bottom: 12pt; margin-left: 36pt;"><span style="font-weight: bold;"><span id="wwpID0E0JDB0HA">Visibility:</span></span> Check the calendars that should display this event.  Note: all events regardless of these checkboxes will display on the Events-&gt;Calendar tab.</div>

 
−

  <div style="font-family: Calibri; font-size: 11pt; margin-bottom: 12pt; margin-left: 54pt;"><span style="font-weight: bold;"><span id="wwpID0E0IDB0HA">Internal Chamber Event Calenda</span></span>r – When this option is checked the event can be filtered separately on the internal calendar system when you go to Events &gt; Calendar tab and click on filter options.</div>

 
−

  <div style="font-family: Calibri; font-size: 11pt; margin-bottom: 12pt; margin-left: 54pt;"><span style="font-weight: bold;"><span id="wwpID0E0HDB0HA">Display on Public Events Calendar</span></span> – When this option is checked the event will display on the website's calendar as well as the upcoming events list. This option must be selected in order for the event to show on your public website.</div>

 
−

  <div style="font-family: Calibri; font-size: 11pt; margin-bottom: 12pt; margin-left: 54pt;"><span style="font-weight: bold;"><span id="wwpID0E0GDB0HA">Display on Members Only Calendar</span></span> – When this option is checked the event will display on the Member Information Center (Members Portal) after they log in. This option must be checked for the event to show on the members' calendar in the Member Center.</div>

 
−

  <div style="font-family: Calibri; font-size: 11pt; margin-bottom: 12pt; margin-left: 54pt;"><span style="font-weight: bold;"><span id="wwpID0E0FDB0HA">Display on Featured Events</span></span> – This option allows for this event to be listed as a featured event on the featured events list.</div>

 
−

  <div style="font-family: Calibri; font-size: 11pt; margin-bottom: 12pt; margin-left: 54pt;"><span id="wwpID0E0EDB0HA"> </span></div>

 
−

  <div style="font-family: Calibri; font-size: 11pt; margin-bottom: 12pt; margin-left: 36pt;"><span style="font-weight: bold;"><span id="wwpID0E0DDB0HA">Event Category:</span></span> Select as many categories as desired for this event.  Website visitors may search for events by category on the public website.  The Administrator may add/remove categories, by clicking edit categories.</div>

 
 

   <div style="margin-left: 18pt;margin-bottom: 0pt;">

 

   <div style="margin-left: 18pt;margin-bottom: 0pt;">

 

     <table border="0" cellspacing="0" cellpadding="0" width="99%" summary="">

 

     <table border="0" cellspacing="0" cellpadding="0" width="99%" summary="">

 

       <tr valign="baseline">

 

       <tr valign="baseline">

 

         <td style="width: 18pt"><div style="font-family: Calibri; font-size: 11pt;">3. </div></td>

 

         <td style="width: 18pt"><div style="font-family: Calibri; font-size: 11pt;">3. </div></td>

−

         <td><div style="font-family: Calibri; font-size: 11pt;"><span id="wwpID0E0CDB0HA">Complete the </span><span style="font-weight: bold;">Descriptions/Appearance</span> fields and click <span style="font-weight: bold;">Next</span>. </div></td>

+

         <td><div style="font-family: Calibri; font-size: 11pt;"><span id=""></span><span style="font-weight: bold;">/</span>and click <span style="font-weight: bold;"></span>.</div></td>

 

       </tr>

 

       </tr>

 

     </table>

 

     </table>

 

   </div>

 

   </div>

−

   <div style="font-family: &quot;Times New Roman&quot;; font-size: 11pt; margin-bottom: 12pt; margin-left: 36pt; text-align: justify;"><span id="wwpID0E0BDB0HA">[[Image:Events-Add_an_event-image15.png]]</span></div>

+

   <div style="font-family: &quot;Times New Roman&quot;; font-size: 11pt; margin-bottom: 12pt; margin-left: 36pt; text-align: justify;"><span id="">[[Image:Events--.png]]</span></div>

−

   <div style="color: #000000; font-family: &quot;Times New Roman&quot;; font-size: 10pt; font-weight: normal; margin-bottom: 12pt; margin-left: 54pt; text-align: justify;"><span id="wwpID0E0ADB0HA">Figure 2-9 Descriptions/Appearance window</span></div>

+

   <div style="color: #000000; font-family: &quot;Times New Roman&quot;; font-size: 10pt; font-weight: normal; margin-bottom: 12pt; margin-left: 54pt; text-align: justify;"><span style="font-size: 10pt;"><span id="">Figure 2-</span></span> </div>

−

  <div style="font-family: Calibri; font-size: 11pt; margin-bottom: 12pt; margin-left: 36pt;"><span style="font-weight: bold;"><span id="wwpID0E06CB0HA">Event, Location, Date/Time, and Fee Description:  </span></span>click <span style="font-weight: bold;">edit</span> next to each area to access the editor where the information should be typed.  In the <span style="font-weight: bold;">Event Description</span>, use the editor to format the text as desired for display on the website.  Add Attachments (downloaded documents), insert website links, and add graphics using the selections in the editor menu as desired.</div>

+

===Registration ===

−

  <div style="font-family: Calibri; font-size: 11pt; margin-bottom: 12pt; margin-left: 36pt;"><span style="font-weight: bold;"><span id="wwpID0E05CB0HA">Website URL Text:</span></span> Type a word or phrase that will display as the link for the URL entered in the <span style="font-weight: bold;">Website URL</span>: field.  For example:  Type "Click here for more information" in the <span style="font-weight: bold;">Website URL Text</span>.  </div>

+
−

  <div style="margin-left: 18pt;margin-bottom: 0pt;">

+
−

    <table border="0" cellspacing="0" cellpadding="0" width="99%" summary="">

+
−

      <tr valign="baseline">

+
−

        <td style="width: 18pt"><div style="font-family: Calibri; font-size: 11pt;">4. </div></td>

+
−

        <td><div style="font-family: Calibri; font-size: 11pt;"><span id="wwpID0E04CB0HA">Complete the </span><span style="font-weight: bold;">Fees/Billing Information</span> fields and click <span style="font-weight: bold;">Finish</span>.  </div></td>

+
−

      </tr>

+
−

    </table>

+
−

  </div>

+
−

  <div style="font-family: &quot;Times New Roman&quot;; font-size: 11pt; margin-bottom: 12pt; margin-left: 36pt; text-align: justify;"><span id="wwpID0E03CB0HA">[[Image:Events-Add_an_event-image16.png]]</span></div>

+
−

  <div style="color: #000000; font-family: &quot;Times New Roman&quot;; font-size: 10pt; font-weight: normal; margin-bottom: 12pt; margin-left: 54pt; text-align: justify;"><span id="wwpID0E02CB0HA">Figure 2-10 Fees/Billing Information window</span></div>

+
−

  <div style="font-family: Calibri; font-size: 11pt; margin-bottom: 12pt; margin-left: 36pt;"><span style="font-weight: bold;"><span id="wwpID0E01CB0HA">Assign Fee Items:</span></span> If fees will be associated with this event, click Assign Fee Items.  In order to be assigned, fees must first be created by someone with Finance or Administrator permissions.  Fees can also be assigned later on the <span style="font-weight: bold;">Fees</span> tab of the event.</div>

+
−

  <div style="font-family: Calibri; font-size: 11pt; margin-bottom: 12pt; margin-left: 36pt;"><span style="font-weight: bold;"><span id="wwpID0E0ZCB0HA">Online Registration Options:</span></span>  If desired, select to allow members and/or non-members to register online for this event.  Selecting this checkbox will immediately display the <span style="font-weight: bold;">Register</span> button on the public event page.  This selection can also be turned on later on the <span style="font-weight: bold;">Fees</span> tab of the event.</div>

+
−

  <div style="color: #5F497A; font-family: Calibri; font-size: 9pt; margin-bottom: 12pt; margin-left: 36pt;"><span id="wwpID0E0YCB0HA">After creating a new event, work with the tabs in order as displayed.  For example, after completing the </span><span style="font-weight: bold;">General</span> tab, setup the fees (if applicable) on the <span style="font-weight: bold;">Fees</span> tab.  The <span style="font-weight: bold;">Sponsor</span> tab would be next, the <span style="font-weight: bold;">Guest List</span>, and finally the <span style="font-weight: bold;">Account</span> tab.  You may complete them out-of-order if desired but there is a logical flow if working from left to right.  The main concern would be to have the fees in place before registering guests and sponsors.</div>

+
 
 
−

====Importing Events from an iCal Feed====

+

to the , and the .

−

The iCal feed import provides an ability for customers to upload their iCal list (from the Cloud drive or other http url used with iPhones, iPads etc and other similar calendars) and import directly into the event calendar.  A URL is specified to the location of this iCal and then each night the events are synched.

+
−

To import iCal feeds into the event calendar

+
−

#Click '''Setup''' in the left-hand menu.

+
−

#Click '''Event Options and Settings'''

+
−

#Open the '''General Settings''' area.

+
−

#Click the '''+Add''' button in the iCal Import section.

+
−

#:[[File:Events-Importing events from an iCal feed-image17.png|framed|none]]

+
−

#Type the URL of the iCal feed.

+
−

#Click '''Save'''.

+
−

{|style="padding:5px; text-align:left; background-color: #d9edf7; padding:10px; width: 100%; margin-top:25px"

+
−

|-

+
−

|'''Note: '''Once an iCal has been added, the events on that calendar may take up to 24 hours to display on your event calendar.

+
−

|}

+
 
 
−

{|style="padding:5px; text-align:left; background-color: #d9edf7; padding:10px; width: 100%; margin-top:25px"

+
 
+
 
+

:

 
+

text-

 
+
 
+
 
+

 

 
+
 
+

-

 
+

 

 
+
 
+

 

 
+
 
+

 

 
+
 
+

 

 
+
 
+
 
+
 
+
 
+
 
+
 
+

color:#

 
+

-

 
+

 

 
+
 
+

 

 
+
 
+

 

 
+

"

 

|-

 

|-

−

|'''Note: '''Recurring events are not supported with the iCal import feature.

+
 
+
 
+

| ''':''' .

 

|}

 

|}

 
 
−

===Editing Event Information===

+

====<style=":"><span>

−

  <div style="font-family: Tahoma; font-size: 11pt; margin-bottom: 12pt;"><span id="wwpID0E0MCB0HA">Facts displayed about an event are based on information from the event's </span><span style="font-weight: bold;">General</span> tab.  The <span style="font-weight: bold;">Event Title</span>, <span style="font-weight: bold;">Start Date/Time</span>, <span style="font-weight: bold;">End Date/Time</span>, <span style="font-weight: bold;">Contact Information</span>, <span style="font-weight: bold;">Website URL</span>, <span style="font-weight: bold;">Recurrence</span>, and <span style="font-weight: bold;">Approval Status</span> may be modified here. </div>

+
−

  <div style="font-family: Tahoma; font-size: 11pt; margin-bottom: 12pt;"><span id="wwpID0E0LCB0HA">In addition to this basic information, the </span><span style="font-weight: bold;">Event Information</span> area contains the <span style="font-weight: bold;">Event Description</span>, <span style="font-weight: bold;">Location Description</span>, <span style="font-weight: bold;">Date/Time Description</span>, and <span style="font-weight: bold;">Fee Description</span>, which is typed into the built-in editor allowing formatting of the text such as bold, underline, font size and style changes.</div>

+

 

−

====Edit Event Information====

+

event

−

<div xmlns="http://www.w3.org/1999/xhtml">

+
−

  <div style="margin-left: 18pt;margin-bottom: 0pt;">

+
 
+
 
+

are

 
+

on

 
+
 
+
 
+
 
+

from the -

 
+
 
+

:

 
+

;

 
+

.   

 
+

"

 
+

"Event , "" , ""

 
+

,

 
+

"",

 
+
 
+

 

 
+

<span style=":"></span>=

 
+

-

 
+
 
+

 

 
+
 
+
 
+
 
+
 
+
 
+
 
+
 
+

:

 
+

; ,

 
+
 
+
 
+
 
+

and

 
+
 
+

 

 
+

<span style=":"></span>

 
+
 
+

be .

 
+

 

 
+
 
+

-

 
+
 
+
 
+
 
+

-

 
+
 
+

:

 
+

; :

 
+

=

 
+

to

 
+
 
+

this , the -the

 
+
 
+

 

 
+

<span style=":">Event</span>=

 
+

-

 
+

 

 
+
 
+

 

 
+

 

 
+

:

 
+

 

 
+

,

 
+

:

 
+
 
+
 
+
 
+
 
+

Description, and

 
+

-

 
+

: ,

 
+

the -

 
+

the

 
+

as ,

 
+

, .

 
+
 
+

 

 
+

====Edit Event ====

 
+

<div style="margin-left: 18pt;margin-bottom: 0pt;">

 

     <table border="0" cellspacing="0" cellpadding="0" width="99%" summary="">

 

     <table border="0" cellspacing="0" cellpadding="0" width="99%" summary="">

 

       <tr valign="baseline">

 

       <tr valign="baseline">

 

         <td style="width: 18pt"><div style="font-family: Calibri; font-size: 11pt;">1. </div></td>

 

         <td style="width: 18pt"><div style="font-family: Calibri; font-size: 11pt;">1. </div></td>

−

         <td><div style="font-family: Calibri; font-size: 11pt;"><span id="wwpID0E0JCB0HA">In the </span><span style="font-weight: bold;">Events</span> module, select the desired event.  See "<span>Selecting an Event</span>."</div></td>

+

         <td><div style="font-family: Calibri; font-size: 11pt;"><span id="">the </span><span style="font-weight: bold;"></span> , the desired event <span >Event </span> .</div></td>

 

       </tr>

 

       </tr>

 

     </table>

 

     </table>

Line 354:
Line 726:
 

       <tr valign="baseline">

 

       <tr valign="baseline">

 

         <td style="width: 18pt"><div style="font-family: Calibri; font-size: 11pt;">2. </div></td>

 

         <td style="width: 18pt"><div style="font-family: Calibri; font-size: 11pt;">2. </div></td>

−

         <td><div style="font-family: Calibri; font-size: 11pt;"><span id="wwpID0E0ICB0HA">On the </span><span style="font-weight: bold;">General</span> tab, modify the desired <span style="font-weight: bold;">Event Information</span> fields.  </div></td>

+

         <td><div style="font-family: Calibri; font-size: 11pt;"><span id="">desired </span></div></td>

 

       </tr>

 

       </tr>

 

     </table>

 

     </table>

Line 362:
Line 734:
 

       <tr valign="baseline">

 

       <tr valign="baseline">

 

         <td style="width: 18pt"><div style="font-family: Calibri; font-size: 11pt;">3. </div></td>

 

         <td style="width: 18pt"><div style="font-family: Calibri; font-size: 11pt;">3. </div></td>

−

         <td><div style="font-family: Calibri; font-size: 11pt;"><span id="wwpID0E0HCB0HA">Click </span><span style="font-weight: bold;">Save</span>.</div></td>

+

         <td><div style="font-family: Calibri; font-size: 11pt;"><span id="">Click </span><span style="font-weight: bold;">Save </span>.</div></td>

 

       </tr>

 

       </tr>

 

     </table>

 

     </table>

 

   </div>

 

   </div>

−

  <div style="color: #5F497A; font-family: Calibri; font-size: 9pt; margin-bottom: 12pt; margin-left: 36pt;"><span id="wwpID0E0GCB0HA">The </span><span style="font-weight: bold;">Location, Date/Time</span> and <span style="font-weight: bold;">Fee Descriptions</span> fields are highlighted (offset) on the public event page along the right-hand side of the screen.  </div>

 
−

  <div style="font-family: &quot;Times New Roman&quot;; font-size: 11pt; margin-bottom: 12pt; margin-left: 36pt; text-align: justify;"><span id="wwpID0E0FCB0HA">[[Image:Events-Edit_event_information-image18.png|event information]]</span></div>

 
−

  <div style="color: #000000; font-family: &quot;Times New Roman&quot;; font-size: 10pt; font-weight: normal; margin-bottom: 12pt; margin-left: 54pt; text-align: justify;"><span style="font-size: 10pt;"><span id="wwpID0E0ECB0HA">Figure 2-11</span></span> Editing Event Information</div>

 
−

</div>

 
 
 
−

====Photos and Images====

+

========

−

  <div style="font-family: &quot;Times New Roman&quot;; font-size: 11pt; margin-bottom: 12pt; margin-left: 18pt;"><span id="wwpID0E0CCB0HA">Photos, images, a map and a video may be added to the event page. </span></div>

+

  <div style="margin-left: 18pt;margin-bottom: 0pt;">

−

  <div style="font-family: &quot;Times New Roman&quot;; font-size: 11pt; margin-bottom: 12pt; margin-left: 18pt;"><span id="wwpID0E0BCB0HA">One photo may be added as a Main Event photo that is automatically positioned within the event description area, and/or multiple photos may be included in the Photo Gallery which displays in thumbnail size at the bottom of the event page but will be enlarged when a consumer clicks the image.  </span><span style="color: #000000; font-family: Garamond;">Images are automatically resized to accommodate the space allowed. Images must be .jpg or .gif.</span></div>

+
−

  <div style="font-family: &quot;Times New Roman&quot;; font-size: 11pt; margin-bottom: 12pt; margin-left: 18pt;"><span id="wwpID0E0ACB0HA">A map to the event location may be included by uploading your own .jpg or .gif image</span><span style="color: #000000; font-family: Garamond;"> or pointing to Google Maps.</span></div>

+
−

  <div style="font-family: &quot;Times New Roman&quot;; font-size: 11pt; margin-bottom: 12pt; margin-left: 18pt;"><span id="wwpID0E06BB0HA">One YouTube video may be displayed on the event description page as well.</span></div>

+
−

  <div style="font-family: &quot;Times New Roman&quot;; font-size: 11pt; margin-bottom: 12pt; margin-left: 36pt; text-align: justify;"><span id="wwpID0E05BB0HA">[[Image:Events-Photos_and_Images-image19.png]]</span></div>

+
−

  <div style="color: #000000; font-family: &quot;Times New Roman&quot;; font-size: 10pt; font-weight: normal; margin-bottom: 12pt; margin-left: 54pt; text-align: justify;"><span style="font-size: 10pt;"><span id="wwpID0E04BB0HA">Figure 2-12</span></span> Photos &amp; Images</div>

+
−

 

+
−

====Add a Main Event Photo or a New Gallery Photo====

+
−

  <div style="margin-left: 18pt;margin-bottom: 0pt;">

+
 

     <table border="0" cellspacing="0" cellpadding="0" width="99%" summary="">

 

     <table border="0" cellspacing="0" cellpadding="0" width="99%" summary="">

 

       <tr valign="baseline">

 

       <tr valign="baseline">

 

         <td style="width: 18pt"><div style="font-family: Calibri; font-size: 11pt;">1. </div></td>

 

         <td style="width: 18pt"><div style="font-family: Calibri; font-size: 11pt;">1. </div></td>

−

         <td><div style="font-family: Calibri; font-size: 11pt;"><span id="wwpID0E02BB0HA">On the </span><span style="font-weight: bold;">General </span>tab, click <span style="font-weight: bold;">Add Image </span>in the <span style="font-weight: bold;">Action </span>column of the <span style="font-weight: bold;">Image Type </span>that you wish to add in the <span style="font-weight: bold;">Photos &amp; Images </span>area.</div></td>

+

         <td><div style="font-family: Calibri; font-size: 11pt;"><span id="">On the </span><span style="font-weight: bold;"></span> tab, click in of the to . </div></td>

 

       </tr>

 

       </tr>

 

     </table>

 

     </table>

 

   </div>

 

   </div>

−

  <div style="font-family: &quot;Times New Roman&quot;; font-size: 11pt; margin-bottom: 12pt; margin-left: 36pt; text-align: justify;"><span id="wwpID0E01BB0HA">[[Image:Events-Add_a_Main_Event_Photo_or_a_New_Gallery_Photo-image20.png]]</span></div>

 
−

  <div style="font-family: &quot;Times New Roman&quot;; font-size: 11pt; margin-bottom: 12pt; margin-left: 36pt; text-align: justify;"><span id="wwpID0E0ZBB0HA">Figure 2-12a Clicking to add a photo </span></div>

 
 

   <div style="margin-left: 18pt;margin-bottom: 0pt;">

 

   <div style="margin-left: 18pt;margin-bottom: 0pt;">

 

     <table border="0" cellspacing="0" cellpadding="0" width="99%" summary="">

 

     <table border="0" cellspacing="0" cellpadding="0" width="99%" summary="">

 

       <tr valign="baseline">

 

       <tr valign="baseline">

 

         <td style="width: 18pt"><div style="font-family: Calibri; font-size: 11pt;">2. </div></td>

 

         <td style="width: 18pt"><div style="font-family: Calibri; font-size: 11pt;">2. </div></td>

−

         <td><div style="font-family: Calibri; font-size: 11pt;"><span id="wwpID0E0YBB0HA">Type the path and filename of the desired graphic file or click </span><span style="font-weight: bold;">Browse </span>to locate and click <span style="font-weight: bold;">Open </span>when desired graphic is located. </div></td>

+

         <td><div style="font-family: Calibri; font-size: 11pt;"><span id=""></span><span style="font-weight: bold;"></span>.</div></td>

 

       </tr>

 

       </tr>

 

     </table>

 

     </table>

 

   </div>

 

   </div>

−

   <div style="margin-left: 18pt;margin-bottom: 0pt;">

+

  

 
+
 
+
 
+

 

 
+
 
+

 

 
+
 
+

 

 
+
 
+

 

 
+
 
+
 
+
 
+
 
+
 
+
 
+
 
+
 
+
 
+
 
+
 
+
 
+
 
+
 
+
 
+
 
+
 
+
 
+
 
+
 
+
 
+
 
+
 
+
 
+

 

 
+
 
+
 
+

 

 
+
 
+
 
+
 
+
 
+
 
+

 

 
+
 
+
 
+
 
+
 
+
 
+

 

 
+
 
+
 
+
 
+
 
+
 
+
 
+
 
+

 

 
+
 
+
 
+
 
+
 
+
 
+
 
+
 
+
 
+
 
+
 
+

 

 
+
 
+
 
+
 
+
 
+
 
+
 
+
 
+
 
+
 
+
 
+
 
+
 
+

 

 
+
 
+

 

 
+
 
+
 
+
 
+

<div style="margin-left: 18pt;margin-bottom: 0pt;">

 

     <table border="0" cellspacing="0" cellpadding="0" width="99%" summary="">

 

     <table border="0" cellspacing="0" cellpadding="0" width="99%" summary="">

 

       <tr valign="baseline">

 

       <tr valign="baseline">

−

         <td style="width: 18pt"><div style="font-family: Calibri; font-size: 11pt;">3. </div></td>

+

         <td style="width: 18pt"><div style="font-family: Calibri; font-size: 11pt;">. </div></td>

−

         <td><div style="font-family: Calibri; font-size: 11pt;"><span id="wwpID0E0XBB0HA">Click </span><span style="font-weight: bold;">Upload Image</span>. </div></td>

+

         <td><div style="font-family: Calibri; font-size: 11pt;"><span id=""></span></div></td>

 

       </tr>

 

       </tr>

 

     </table>

 

     </table>

Line 409:
Line 854:
 

     <table border="0" cellspacing="0" cellpadding="0" width="99%" summary="">

 

     <table border="0" cellspacing="0" cellpadding="0" width="99%" summary="">

 

       <tr valign="baseline">

 

       <tr valign="baseline">

−

         <td style="width: 18pt"><div style="font-family: Calibri; font-size: 11pt;">4. </div></td>

+

         <td style="width: 18pt"><div style="font-family: Calibri; font-size: 11pt;">. </div></td>

−

         <td><div style="font-family: Calibri; font-size: 11pt;"><span id="wwpID0E0WBB0HA">Optional: If adding a Main Event photo, you may also complete the </span><span style="font-weight: bold;">Caption</span> field and then click <span style="font-weight: bold;">save caption</span>.</div></td>

+

         <td><div style="font-family: Calibri; font-size: 11pt;"><span id="">the </span><span style="font-weight: bold;"></span> .</div></td>

 

       </tr>

 

       </tr>

 

     </table>

 

     </table>

 

   </div>

 

   </div>

−

   <div style="font-family: &quot;Times New Roman&quot;; font-size: 11pt; margin-bottom: 12pt; margin-left: 36pt; text-align: justify;"><span id="wwpID0E0VBB0HA">[[Image:Events-Add_a_Main_Event_Photo_or_a_New_Gallery_Photo-image21.png]]</span></div>

+

   <div style="font-family: &quot;Times New Roman&quot;; font-size: 11pt; margin-bottom: 12pt; margin-left: 36pt; text-align: justify;"><span id="">[[Image:Events--.png]]</span></div>

−

   <div style="color: #000000; font-family: &quot;Times New Roman&quot;; font-size: 10pt; font-weight: normal; margin-bottom: 12pt; margin-left: 54pt; text-align: justify;"><span id="wwpID0E0UBB0HA">Figure 2-12b Selecting the desired image</span></div>

+

   <div style="color: #000000; font-family: &quot;Times New Roman&quot;; font-size: 10pt; font-weight: normal; margin-bottom: 12pt; margin-left: 54pt; text-align: justify;"><span id="">Figure -

−

   <div style="margin-left: 18pt;margin-bottom: 0pt;">

+

 

 
+
 
+

the

 
+

desired</span></div>

 
+

   <div style="

 
+
 
+

margin-left: 18pt

 
+

; margin-bottom: 0pt

 
+

;">

 

     <table border="0" cellspacing="0" cellpadding="0" width="99%" summary="">

 

     <table border="0" cellspacing="0" cellpadding="0" width="99%" summary="">

 

       <tr valign="baseline">

 

       <tr valign="baseline">

−

         <td style="width: 18pt"><div style="font-family: Calibri; font-size: 11pt;">5. </div></td>

+

         <td style="width: 18pt"><div style="font-family: ; font-size: 11pt;">. </div></td>

−

         <td><div style="font-family: Calibri; font-size: 11pt;"><span id="wwpID0E0TBB0HA">Click </span><span style="font-weight: bold;">Close Window</span>. </div></td>

+

         <td><div style="font-family: ; font-size: 11pt;"><span id=""></span></div></td>

 

       </tr>

 

       </tr>

 

     </table>

 

     </table>

 

   </div>

 

   </div>

−

   <div style="color: #5F497A; font-family: Calibri; font-size: 9pt; margin-bottom: 12pt; margin-left: 36pt;"><span id="wwpID0E0SBB0HA">Only one Main Event photo may be added which is automatically positioned within the event description area.  However, Gallery Photos may contain multiple images which display in thumbnail size at the bottom of the event page but will be enlarged when a consumer clicks the image.  Photos may also be added to the Event Description. Click Add/Edit Image while editing the description text.</span></div>

+

   <div style="margin-left: 36pt;margin-bottom: ;">

−

 

+
−

====Remove a Main Event Photo or a Gallery Photo====

+
−

  <div style="margin-left: 18pt;margin-bottom: 0pt;">

+
 

     <table border="0" cellspacing="0" cellpadding="0" width="99%" summary="">

 

     <table border="0" cellspacing="0" cellpadding="0" width="99%" summary="">

 

       <tr valign="baseline">

 

       <tr valign="baseline">

−

         <td style="width: 18pt"><div style="font-family: Calibri; font-size: 11pt;"><span style="font-family: Garamond; font-size: 11.5pt;">1. </span></div></td>

+

         <td style="width: 18pt"><div style="font-family: ; font-size: 11pt;"><span style="font-family: ; font-size: ;">. </span></div></td>

−

         <td><div style="font-family: Calibri; font-size: 11pt;"><span id="wwpID0E0QBB0HA">On the </span><span style="font-weight: bold;">General</span> tab, click <span style="font-weight: bold;">Remove Image</span> in the <span style="font-weight: bold;">Action</span> column of the <span style="font-weight: bold;">Image Type</span> that you wish to remove in the <span style="font-weight: bold;">Photos &amp; Images</span> area<span style="font-family: Garamond; font-size: 11.5pt;">.</span></div></td>

+

         <td><div style="font-family: ; font-size: 11pt; -: ;"><span ="">the </span><span style="font-weight: bold;"></span> .</div></td>

 

       </tr>

 

       </tr>

 

     </table>

 

     </table>

 

   </div>

 

   </div>

−

   <div style="font-family: &quot;Times New Roman&quot;; font-size: 11pt; margin-bottom: 12pt; margin-left: 36pt; text-align: justify;"><span id="wwpID0E0PBB0HA">[[Image:Events-Remove_a_Main_Event_Photo_or_a_Gallery_Photo-image22.png]]</span></div>

+

   <div style="margin-left: 36pt;margin-bottom: 12pt;">

−

  <div style="font-family: &quot;Times New Roman&quot;; font-size: 11pt; margin-bottom: 12pt; margin-left: 36pt; text-align: justify;"><span id="wwpID0E0OBB0HA">Figure 2-12c Removing an image </span></div>

+
−

 

+
−

====Change an existing Main Event Photo or Gallery Photo====

+
−

  <div style="margin-left: 18pt;margin-bottom: 0pt;">

+
 

     <table border="0" cellspacing="0" cellpadding="0" width="99%" summary="">

 

     <table border="0" cellspacing="0" cellpadding="0" width="99%" summary="">

 

       <tr valign="baseline">

 

       <tr valign="baseline">

−

         <td style="width: 18pt"><div style="font-family: Calibri; font-size: 11pt;">1. </div></td>

+

         <td style="width: 18pt"><div style="font-family: ; font-size: 11pt;"><style="font-family: Calibri; font-size: ;"><span></><>

−

        <td><div style="font-family: Calibri; font-size: 11pt;"><span id="wwpID0E0MBB0HA">On the </span><span style="font-weight: bold;">General </span>tab, click <span style="font-weight: bold;">Change Image </span>in the <span style="font-weight: bold;">Action </span>column of the <span style="font-weight: bold;">Image Type </span>that you wish to change in the <span style="font-weight: bold;">Photos &amp; Images </span>area. </div></td>

+

<><style="font-: ; font-: ;"><span =""></span><span style="font-weight: bold;"></span> area. </div></td>

 

       </tr>

 

       </tr>

 

     </table>

 

     </table>

 

   </div>

 

   </div>

−

   <div style="margin-left: 18pt;margin-bottom: 0pt;">

+

   <div style="margin-left:

 
+

; margin-bottom:

 
+

;">

 

     <table border="0" cellspacing="0" cellpadding="0" width="99%" summary="">

 

     <table border="0" cellspacing="0" cellpadding="0" width="99%" summary="">

 

       <tr valign="baseline">

 

       <tr valign="baseline">

−

         <td style="width: 18pt"><div style="font-family: Calibri; font-size: 11pt;">2. </div></td>

+

         <td style="width: 18pt"><div style="font-family: ; font-size: 11pt;">. </div></td>

−

         <td><div style="font-family: Calibri; font-size: 11pt;"><span id="wwpID0E0LBB0HA">Type the path and filename of the desired graphic file or click </span><span style="font-weight: bold;">Browse </span>to locate and click <span style="font-weight: bold;">Open </span>when desired graphic is located. </div></td>

+

         <td><div style="font-family: ; font-size: 11pt;"><span id="">the desired </span></div></td>

 

       </tr>

 

       </tr>

 

     </table>

 

     </table>

 

   </div>

 

   </div>

−

   <div style="margin-left: 18pt;margin-bottom: 0pt;">

+

   <div style="margin-left: ;margin-bottom: ;">

 

     <table border="0" cellspacing="0" cellpadding="0" width="99%" summary="">

 

     <table border="0" cellspacing="0" cellpadding="0" width="99%" summary="">

 

       <tr valign="baseline">

 

       <tr valign="baseline">

−

         <td style="width: 18pt"><div style="font-family: Calibri; font-size: 11pt;">3. </div></td>

+

         <td style="width: 18pt"><div style="font-family: ; font-size: 11pt;">. </div></td>

−

         <td><div style="font-family: Calibri; font-size: 11pt;"><span id="wwpID0E0KBB0HA">Click </span><span style="font-weight: bold;">Upload Image</span>. </div></td>

+

         <td><div style="font-family: ; font-size: 11pt;"><span id="">Click </span><span style="font-weight: bold;"></span> .</div></td>

 

       </tr>

 

       </tr>

 

     </table>

 

     </table>

 

   </div>

 

   </div>

−

   <div style="margin-left: 18pt;margin-bottom: 0pt;">

+

   <div style="margin-left: ;margin-bottom: ;">

 

     <table border="0" cellspacing="0" cellpadding="0" width="99%" summary="">

 

     <table border="0" cellspacing="0" cellpadding="0" width="99%" summary="">

 

       <tr valign="baseline">

 

       <tr valign="baseline">

−

         <td style="width: 18pt"><div style="font-family: Calibri; font-size: 11pt;">4. </div></td>

+

         <td style="width: 18pt"><div style="font-family: ; font-size: 11pt;">. </div></td>

−

         <td><div style="font-family: Calibri; font-size: 11pt;"><span id="wwpID0E0JBB0HA">Click </span><span style="font-weight: bold;">Close Window</span>. </div></td>

+

         <td><div style="font-family: ; font-size: 11pt;"><span id="">/</span></div></td>

 

       </tr>

 

       </tr>

 

     </table>

 

     </table>

 

   </div>

 

   </div>

−

 

+

===

−

====Add a Video====

+

==

−

   <div style="margin-left: 18pt;margin-bottom: 0pt;">

+

===

 
+

   <div style="margin-left: ;margin-bottom: ;">

 

     <table border="0" cellspacing="0" cellpadding="0" width="99%" summary="">

 

     <table border="0" cellspacing="0" cellpadding="0" width="99%" summary="">

 

       <tr valign="baseline">

 

       <tr valign="baseline">

−

         <td style="width: 18pt"><div style="font-family: Calibri; font-size: 11pt;">1. </div></td>

+

         <td style="width: 18pt"><div style="font-family: ; font-size: 11pt;"><style="font-family: Calibri; font-size: ;"><span></><>

−

        <td><div style="font-family: Calibri; font-size: 11pt;"><span id="wwpID0E0HBB0HA">On the </span><span style="font-weight: bold;">General </span>tab, click <span style="font-weight: bold;">Add Video</span> in the <span style="font-weight: bold;">Action </span>column in the <span style="font-weight: bold;">Photos &amp; Images </span>area. </div></td>

+

<><style="font-: ;"><span =""></span><span style="font-weight: bold;"></span>.</div></td>

 

       </tr>

 

       </tr>

 

     </table>

 

     </table>

 

   </div>

 

   </div>

−

   <div style="font-family: &quot;Times New Roman&quot;; font-size: 11pt; margin-bottom: 12pt; margin-left: 36pt; text-align: justify;"><span id="wwpID0E0GBB0HA">[[Image:Events-Add_a_video-image23.png]]</span></div>

+

   <div style="margin-left: 36pt;margin-bottom: ;">

−

  <div style="margin-left: 18pt;margin-bottom: 0pt;">

+
 

     <table border="0" cellspacing="0" cellpadding="0" width="99%" summary="">

 

     <table border="0" cellspacing="0" cellpadding="0" width="99%" summary="">

 

       <tr valign="baseline">

 

       <tr valign="baseline">

−

         <td style="width: 18pt"><div style="font-family: Calibri; font-size: 11pt;">2. </div></td>

+

         <td style="width: 18pt"><div style="font-family: ; font-size: 11pt;">. </div></td>

−

         <td><div style="font-family: Calibri; font-size: 11pt;"><span id="wwpID0E0FBB0HA">Type or paste the YouTube "share link" for the desired video into the Event Video field.</span></div></td>

+

         <td><div style="font-family: ; font-size: 11pt;"><span id="">desired the </span></div></td>

 

       </tr>

 

       </tr>

 

     </table>

 

     </table>

 

   </div>

 

   </div>

−

   <div style="margin-left: 18pt;margin-bottom: 0pt;">

+
 
+
 
+

   <div style="margin-left: ;margin-bottom: ;">

 

     <table border="0" cellspacing="0" cellpadding="0" width="99%" summary="">

 

     <table border="0" cellspacing="0" cellpadding="0" width="99%" summary="">

 

       <tr valign="baseline">

 

       <tr valign="baseline">

−

         <td style="width: 18pt"><div style="font-family: Calibri; font-size: 11pt;">3. </div></td>

+

         <td style="width: 18pt"><div style="font-family: ; font-size: 11pt;">. </div></td>

−

         <td><div style="font-family: Calibri; font-size: 11pt;"><span id="wwpID0E0EBB0HA">Click </span><span style="font-weight: bold;">Save</span>.</div></td>

+

         <td><div style="font-family: ; font-size: 11pt;"><span id="">Click </span><span style="font-weight: bold;"></span>. </div></td>

 

       </tr>

 

       </tr>

 

     </table>

 

     </table>

 

   </div>

 

   </div>

 
+
 
+
 
+
 
+
 
+
 
+
 
+
 
+
 
+
 
+
 
+
 
+
 
+
 
+
 
+
 
+
 
+
 
+
 
+
 
+
 
+
 
+
 
+
 
+
 
+
 
+
 
+
 
+
 
+
 
+
 
+
 
 
−

====Add a Map Image====

+

a . the tab the desired .

−

1. On the '''Web''' tab, click the desired Map Image option button in the '''Image Type''' column in the '''Web Photos & Images''' area.

+
 
 
 
+
 
 
−

::[[File:Events-Add_a_map_image-image24.png]]

+
 
+
 
+
 
+
 
+

:

 
+
 
+
 
+
 
+
 
+
 
+
 
+
 
+
 
+

:[[File:.]]

 
+
 
+
 
+
 
+
 
+
 
+
 
+
 
+
 
+
 
+
 
+
 
+
 
 
 
+
 
 
−

2. If selecting '''Uploaded Image''', then click '''Add Image''' in the '''Action''' column. Type the path and filename of the desired graphic file or click '''Browse''' to locate and click '''Open''' when desired graphic is located. Click '''Upload Image'''. Click '''Close Window'''.

+
 
+

, or to .

 
 
−

3. If selecting Google Maps or MapQuest, complete the address fields and then click '''Save'''.

+

'''''' .

 
 
−

====Add Custom Fields====

+

the '''''' tab

−

1. From the '''Advanced''' tab click to expand '''Custom Registration Fields''', then click '''Add a Field'''

+

''''''

 
+
 
+
 
+
 
+

''''''

 
+
 
+
 
 
 
+
 
 
−

::[[File:cfr1.png]]

+

:. ''''''

−

::'''Figure 1: Creating Custom Registration Fields'''

+
 
 
 
+
 
+
 
 
−

2. Create the custom registration field by completing the following:

+

a

−

:a. Field Name

+
−

:b. Public Display Text (optional)

+
−

:c. Select Data Type

+
 
 
 
+
 
+
 
+
 
+
 
 
−

::[[File:cfr2.png]]

+
−

::'''Figure 2: Custom Registration Instructions'''

+
 
 
 
+
 
+
 
+
 
 
−

:d. Designate whether or not custom field will be a publicly displayed field

+

a

−

:e. Designate whether or not custom filed is required

+
−

:f. (If data type is Drop Down List) Enter drop down selection items

+
 
 
 
+
 
 
−

::[[File:cfr3.png]]

+
−

::'''Figure 3: Custom Registration Instructions 2'''

+
 
+

:[[:.png]]  

 
+

'''

 
+
 
+
 
+

:

 
+

'''

 
 
−

===Create a recurring event===

+

===a ===

−

'''Video:''' Create a Recurring Event <html><a target="_blank" href="http://www.chambermaster.com/directory/include/help/Videos/Events/recurring/recurring%20event.htm"><img src="/images/3/31/Vid.png" /></a></html>

+
 
 
−

If your association has an event which occurs on a regular basis, save time by setting it up as a recurring event. Most the details of the original event will be applied to the recurring instances. A notable exception is Fees, which must be set for each instance.<ref>'''Which event details DO NOT get copied from original event to recurring instances?'''

+

, the the will be .

−

*Reminder to attendees

+

''''''

−

*Fees

+
−

*Discounts

+
−

*Attendees

+
−

*Attendees List

+
−

*Locations

+
−

*Custom Fields

+
−

*Event Notes</ref>

+
 
 
−

:'''Important:''' Once an event is listed as a recurring event, each event instance will be displayed on the calendar at the appropriate date/time where the instance may be modified on an individual basis or '''ALL''' instances may be changed at once by editing the original occurrence.

+

a

 
 
−

:'''Note: '''After an instance has been edited individually, it will no longer accept the changes from the original occurrence.

+

'''''' , will

 
+

the the

 
+
 
+
 
+

.  

 
 
 
+
 
 
−

::[[File:recurring.png]]

+

.  

 
 
−

:'''Figure:''' ''Recurrence'' options in the "Create a New Event" screen.

+

Create

 
 
−

[[Category: Events]]

+
 
 
−

<html><p>&nbsp;</p></html>

+
 
+

<><

 
+
 
+
 
+
 
+
 
+
 
+
 
+
 
+

></></>

 
 
−

====Set the recurrence of an event====

+

====event====

−

  <div style="margin-left: 18pt;margin-bottom: 0pt;">

+
−

    <table border="0" cellspacing="0" cellpadding="0" width="99%" summary="">

+
−

      <tr valign="baseline">

+
−

        <td style="width: 18pt"><div style="font-family: Calibri; font-size: 11pt;">1. </div></td>

+
−

        <td><div style="font-family: Calibri; font-size: 11pt;"><span id="wwpID0E0HAB0HA">On the </span><span style="font-weight: bold;">General</span> tab, click the <span style="font-weight: bold;">Recurrence</span> arrow and click the desired recurrence.</div></td>

+
−

      </tr>

+
−

    </table>

+
−

  </div>

+
−

  <div style="font-family: &quot;Times New Roman&quot;; font-size: 11pt; margin-bottom: 12pt; margin-left: 36pt; text-align: justify;"><span id="wwpID0E0GAB0HA">[[Image:Events-Set_the_recurrence_of_an_event-image31.png|recurrence]]</span></div>

+
−

  <div style="color: #000000; font-family: &quot;Times New Roman&quot;; font-size: 10pt; font-weight: normal; margin-bottom: 12pt; margin-left: 54pt; text-align: justify;"><span style="font-size: 10pt;"><span id="wwpID0E0FAB0HA">Figure 2-14</span></span> Recurrence</div>

+
−

  <div style="margin-left: 18pt;margin-bottom: 0pt;">

+
−

    <table border="0" cellspacing="0" cellpadding="0" width="99%" summary="">

+
−

      <tr valign="baseline">

+
−

        <td style="width: 18pt"><div style="font-family: Calibri; font-size: 11pt;">2. </div></td>

+
−

        <td><div style="font-family: Calibri; font-size: 11pt;"><span id="wwpID0E0EAB0HA">Complete the </span><span style="font-weight: bold;">Recurrence</span> fields for the selected recurrence.</div></td>

+
−

      </tr>

+
−

    </table>

+
−

  </div>

+
−

  <div style="font-family: &quot;Times New Roman&quot;; font-size: 11pt; margin-bottom: 12pt; margin-left: 36pt; text-align: justify;"><span id="wwpID0E0DAB0HA">[[Image:Events-Set_the_recurrence_of_an_event-image32.png|recurrence monthly]]</span></div>

+
−

  <div style="color: #000000; font-family: &quot;Times New Roman&quot;; font-size: 10pt; font-weight: normal; margin-bottom: 12pt; margin-left: 54pt; text-align: justify;"><span style="font-size: 10pt;"><span id="wwpID0E0CAB0HA">Figure 2-15</span></span> Monthly Recurrence fields</div>

+
−

  <div style="color: #5F497A; font-family: Calibri; font-size: 9pt; margin-bottom: 12pt; margin-left: 36pt;"><span id="wwpID0E0BAB0HA">If you are already on the </span><span style="font-weight: bold;">General</span> tab of the original event, you may click <span style="font-weight: bold;">edit specific</span> instance and click to select the desired instance to edit.</div>

+
 
 
−

====Edit a specific instance====

+
 
+
 
+
 
+
 
+
 
+
 
+

 

 
+

====

 
+

 

 
+
 
+

 

 
+
 
+

Edit

 
+
 
+
 
+
 
+

 

 
+
 
+

 

 
+

a

 
+

 

 
+
 
+
 
+
 
+
 
+

 

 
+
 
+
 
+
 
+
 
+
 
+
 
+

 

 
+
 
+

 

 
+
 
+
 
+
 
+
 
+
 
+
 
+
 
+
 
+

 

 
+
 
+

 

 
+
 
+

 

 
+
 
+
 
+
 
+
 
+

 

 
+
 
+
 
+

 

 
+
 
+

 

 
+
 
+

 

 
+
 
+

 

 
+
 
+

 

 
+
 
+

 

 
+
 
+

 

 
+
 
+
 
+
 
+
 
+
 
+
 
+
 
+

 

 
+
 
+

 

 
+
 
+

 

 
+
 
+
 
+
 
+
 
+
 
+
 
+
 
+

 

 
+
 
+

 

 
+
 
+
 
+

 

 
+
 
+

 

 
+
 
+
 
+
 
+
 
+

 

 
+
 
+
 
+
 
+
 
+

 

 
+
 
+
 
+
 
+
 
+
 
+
 
+
 
+
 
+

 

 
+
 
+

 

 
+
 
+
 
+
 
+
 
+
 
+

 

 
+
 
+

 

 
+
 
+
 
+
 
+
 
+
 
+

 

 
+

 

 
+
 
+
 
+
 
+

 

 
+
 
+

 

 
+
 
+
 
+
 
+
 
+
 
+

 

 
+
 
+
 
+

 

 
+
 
+

 

 
+
 
+
 
+
 
+
 
+
 
+
 
+
 
+

 

 
+

 

 
+
 
+

 

 
+
 
+
 
+
 
+
 
+
 
+
 
+

 

 
+
 
+

 

 
+
 
+

 

 
+
 
+
 
+
 
+
 
+
 
+
 
+
 
+
 
+
 
+
 
+
 
+
 
+
 
+
 
+
 
+
 
+

specific

 
+

 

 
+
 
+
 
+
 
+

 

 
+
 
+
 
+
 
+
 
+
 
+
 
+
 
+
 
+

 

 
+
 
+
 
+
 
+

 

 
+
 
+
 
+
 
+
 
+

 

 
+
 
+
 
+
 
+

 

 
+

 

 
+
 
+

 

 
+
 
+

 

 
+

 

 
+
 
+
 
+

 

 
+

 

 
+
 
+

 

 
+
 
+

 

 
+

 

 
+
 
+

 

 
+
 
+
 
+
 
+
 
+

 

 
+
 
+

 

 
+
 
+

 

 
+
 
+

 

 
+

 

 
+
 
+

 

 
+
 
+

 

 
+

 

 
+
 
+

 

 
+
 
+
 
+
 
+
 
+

 

 
+

 

 
+
 
+
 
+

 

 
+

 

 
+
 
+

 

 
+
 
+

 

 
+

 

 
+
 
+

 

 
+

 

 
+
 
+

 

 
+
 
+

 

 
+

 

 
+
 
+

 

 
+

 

 
+
 
+

 

 
+
 
+

 

 
+

 

 
+
 
+

 

 
+

 

 
+
 
+

 

 
+
 
+

 

 
+

 

 
+
 
+

 

 
+
 
+

 

 
+
 
+

 

 
+
 
+
 
+
 
+

 

 
+
 
+

 

 
+
 
+

 

 
+
 
+
 
+
 
+
 
+
 
+
 
+
 
+
 
+
 
+
 
+
 
+

 

 
+
 
+
 
+

 

 
+
 
+

 

 
+
 
+

 

 
+
 
+

 

 
+
 
+

 

 
+
 
+

 

 
+
 
+

 

 
+
 
+

 

 
+
 
+

 

 
+

 

 
+
 
+

 

 
+
 
+
 
+
 
+
 
+
 
+
 
+
 
+
 
+
 
+

 

 
+

 

 
+
 
+

 

 
+
 
+
 
+

===

 
+

=

 

   <div style="margin-left: 18pt;margin-bottom: 0pt;">

 

   <div style="margin-left: 18pt;margin-bottom: 0pt;">

 

     <table border="0" cellspacing="0" cellpadding="0" width="99%" summary="">

 

     <table border="0" cellspacing="0" cellpadding="0" width="99%" summary="">

 

       <tr valign="baseline">

 

       <tr valign="baseline">

 

         <td style="width: 18pt"><div style="font-family: Calibri; font-size: 11pt;">1. </div></td>

 

         <td style="width: 18pt"><div style="font-family: Calibri; font-size: 11pt;">1. </div></td>

−

         <td><div style="font-family: Calibri; font-size: 11pt;"><span id="wwpID0E0660HA">On the </span><span style="font-weight: bold;">Calendar</span> tab, advance to the date of the desired instance.</div></td>

+

         <td><div style="font-family: Calibri; font-size: 11pt;"><span id=""></span><span style="font-weight: bold;"></span> the </div></td>

 

       </tr>

 

       </tr>

 

     </table>

 

     </table>

Line 598:
Line 1,461:
 

       <tr valign="baseline">

 

       <tr valign="baseline">

 

         <td style="width: 18pt"><div style="font-family: Calibri; font-size: 11pt;">2. </div></td>

 

         <td style="width: 18pt"><div style="font-family: Calibri; font-size: 11pt;">2. </div></td>

−

         <td><div style="font-family: Calibri; font-size: 11pt;"><span id="wwpID0E0560HA">Click the title of the event.</span></div></td>

+

         <td><div style="font-family: Calibri; font-size: 11pt;"><span id="">Click the </span> </div></td>

 

       </tr>

 

       </tr>

 

     </table>

 

     </table>

Line 606:
Line 1,469:
 

       <tr valign="baseline">

 

       <tr valign="baseline">

 

         <td style="width: 18pt"><div style="font-family: Calibri; font-size: 11pt;">3. </div></td>

 

         <td style="width: 18pt"><div style="font-family: Calibri; font-size: 11pt;">3. </div></td>

−

         <td><div style="font-family: Calibri; font-size: 11pt;"><span id="wwpID0E0460HA">Modifications made will only affect this specific instance. (You may even delete a specific instance without affecting the others.)</span></div></td>

+

         <td><div style="font-family: Calibri; font-size: 11pt;"><span id=""></span></div></td>

 

       </tr>

 

       </tr>

 

     </table>

 

     </table>

 

   </div>

 

   </div>

−

 
−

====To edit all event instances====

 
−

  <div style="color: #5F497A; font-family: Calibri; font-size: 9pt; margin-bottom: 12pt; margin-left: 18pt;"><span id="wwpID0E0260HA">To edit all instances of the event, you may also click the original event on the Calendar to go directly to the original event.</span></div>

 
−

  <div style="font-family: Tahoma; font-size: 11pt; margin-bottom: 12pt;"><span style="font-weight: bold;"><span id="wwpID0E0160HA">Note:</span></span> After an instance has been edited individually, it will no longer accept the changes from the original occurrence.</div>

 
 

   <div style="margin-left: 18pt;margin-bottom: 0pt;">

 

   <div style="margin-left: 18pt;margin-bottom: 0pt;">

 

     <table border="0" cellspacing="0" cellpadding="0" width="99%" summary="">

 

     <table border="0" cellspacing="0" cellpadding="0" width="99%" summary="">

 

       <tr valign="baseline">

 

       <tr valign="baseline">

−

         <td style="width: 18pt"><div style="font-family: Calibri; font-size: 11pt;">1. </div></td>

+

         <td style="width: 18pt"><div style="font-family: Calibri; font-size: 11pt;">. </div></td>

−

         <td><div style="font-family: Calibri; font-size: 11pt;"><span id="wwpID0E0Z60HA">On the </span><span style="font-weight: bold;">Calendar</span> tab, click the title of any event instance of the desired event.</div></td>

+

         <td><div style="font-family: Calibri; font-size: 11pt;"><span id="">the </span><span style="font-weight: bold;"></span> click .</div></td>

 

       </tr>

 

       </tr>

 

     </table>

 

     </table>

 

   </div>

 

   </div>

 
+
 
+
 

   <div style="margin-left: 18pt;margin-bottom: 0pt;">

 

   <div style="margin-left: 18pt;margin-bottom: 0pt;">

 

     <table border="0" cellspacing="0" cellpadding="0" width="99%" summary="">

 

     <table border="0" cellspacing="0" cellpadding="0" width="99%" summary="">

 

       <tr valign="baseline">

 

       <tr valign="baseline">

−

         <td style="width: 18pt"><div style="font-family: Calibri; font-size: 11pt;">2. </div></td>

+

         <td style="width: 18pt"><div style="font-family: Calibri; font-size: 11pt;">. </div></td>

−

         <td><div style="font-family: Calibri; font-size: 11pt;"><span id="wwpID0E0Y60HA">In the </span><span style="font-weight: bold;">Recurrence</span> field, click the title of the original event.</div></td>

+

         <td><div style="font-family: Calibri; font-size: 11pt;"><span id="">the </span><span style="font-weight: bold;"></span> .</div></td>

 

       </tr>

 

       </tr>

 

     </table>

 

     </table>

 

   </div>

 

   </div>

−

   <div style="font-family: &quot;Times New Roman&quot;; font-size: 11pt; margin-bottom: 12pt; margin-left: 36pt; text-align: justify;"><span id="wwpID0E0X60HA">[[Image:Events-To_edit_all_event_instances-image33.png|recurrence original instance]]</span></div>

+

   <div style="font-family: ; font-size: ; margin-bottom: 12pt; margin-left: 36pt;"><span id=""></span><style="font-weight: ;"></span> <span style="font-: ;"><span> in <span style="font-weight: bold;"></span>.  <span style="font-weight: bold;"></span> the <span style="font-weight: bold;"></span> <span style="font-weight: ;">-</span></div>

−

  <div style="color: #000000; font-family: &quot;Times New Roman&quot;; font-size: 10pt; font-weight: normal; margin-bottom: 12pt; margin-left: 54pt; text-align: justify;"><span style="font-size: 10pt;"><span id="wwpID0E0W60HA">Figure 2-16</span></span> Edit the original event instance</div>

+
−

 

+
−

===Placement Options===

+
−

  <div style="font-family: Tahoma; font-size: 11pt; margin-bottom: 12pt;"><span id="wwpID0E0U60HA">An event may be displayed on three different calendars:  the Internal Chamber Events calendar, the Public Events calendar (web site), and/or the Members Only calendar.  A check on the Featured Events check box will display this event on the public web site calendar page in a highlighted area title "Featured Events."</span></div>

+
−

  <div style="color: #5F497A; font-family: Calibri; font-size: 9pt; margin-bottom: 12pt; margin-left: 18pt;"><span style="font-weight: bold;"><span id="wwpID0E0T60HA">Internal Chamber Events</span></span>.  All calendar events will automatically display for your Chamber staff on the <span style="font-weight: bold;">Calendar</span> tab no matter what selection is made for the Visibility check box but if selecting "Internal Chamber Event Calendar", you will be able to filter by this selection on the <span style="font-weight: bold;">Calendar</span> tab.</div>

+
−

  <div style="font-family: &quot;Times New Roman&quot;; font-size: 11pt; margin-bottom: 12pt; margin-left: 36pt; text-align: justify;"><span id="wwpID0E0S60HA">[[Image:Events-Placement_Options-image34.png|placement options]]</span></div>

+
−

  <div style="color: #000000; font-family: &quot;Times New Roman&quot;; font-size: 10pt; font-weight: normal; margin-bottom: 12pt; margin-left: 54pt; text-align: justify;"><span style="font-size: 10pt;"><span id="wwpID0E0R60HA">Figure 2-17</span></span> Placement Options</div>

+
−

====Select placement options====

+
 

   <div style="margin-left: 18pt;margin-bottom: 0pt;">

 

   <div style="margin-left: 18pt;margin-bottom: 0pt;">

 

     <table border="0" cellspacing="0" cellpadding="0" width="99%" summary="">

 

     <table border="0" cellspacing="0" cellpadding="0" width="99%" summary="">

 

       <tr valign="baseline">

 

       <tr valign="baseline">

−

         <td style="width: 18pt"><div style="font-family: Calibri; font-size: 11pt;">1. </div></td>

+

         <td style="width: 18pt"><div style="font-family: Calibri; font-size: 11pt;">. </div></td>

−

         <td><div style="font-family: Calibri; font-size: 11pt;"><span id="wwpID0E0P60HA">On the </span><span style="font-weight: bold;">General</span> tab, click the desired visibility check box(es).</div></td>

+

         <td><div style="font-family: Calibri; font-size: 11pt;"><span id=""></span><span style="font-weight: bold;"></span> the .</div></td>

 

       </tr>

 

       </tr>

 

     </table>

 

     </table>

Line 650:
Line 1,503:
 

     <table border="0" cellspacing="0" cellpadding="0" width="99%" summary="">

 

     <table border="0" cellspacing="0" cellpadding="0" width="99%" summary="">

 

       <tr valign="baseline">

 

       <tr valign="baseline">

−

         <td style="width: 18pt"><div style="font-family: Calibri; font-size: 11pt;">2. </div></td>

+

         <td style="width: 18pt"><div style="font-family: Calibri; font-size: 11pt;">. </div></td>

−

         <td><div style="font-family: Calibri; font-size: 11pt;"><span id="wwpID0E0O60HA">Click </span><span style="font-weight: bold;">Save</span>.</div></td>

+

         <td><div style="font-family: Calibri; font-size: 11pt;"><span id=""></span><span style="-: ;"></span>.</div></td>

 

       </tr>

 

       </tr>

 

     </table>

 

     </table>

 

   </div>

 

   </div>

−

  <div style="margin-left: 18pt;margin-bottom: 0pt;">

+

<div>

−

    <table border="0" cellspacing="0" cellpadding="0" width="99%" summary="">

+

========

−

      <tr valign="baseline">

+

<div ="://..//">

−

        <td style="width: 18pt"><div style="font-family: Calibri; font-size: 11pt;">3. </div></td>

+
−

        <td><div style="font-family: Calibri; font-size: 11pt;"><span id="wwpID0E0N60HA">If selecting </span><span style="font-weight: bold;">Display on Featured Events</span>, complete the <span style="font-weight: bold;">Featured Events</span> window by selecting <span style="font-weight: bold;">Sort Order </span>and desired <span style="font-weight: bold;">Order. </span>Then click <span style="font-weight: bold;">Save</span> and <span style="font-weight: bold;">Close</span>.</div></td>

+
−

      </tr>

+
−

    </table>

+
−

  </div>

+
−

  <div style="font-family: &quot;Times New Roman&quot;; font-size: 11pt; margin-bottom: 12pt; margin-left: 36pt; text-align: justify;"><span id="wwpID0E0M60HA">[[Image:Events-Select_placement_options-image35.png|featured events]]</span></div>

+
−

  <div style="color: #000000; font-family: &quot;Times New Roman&quot;; font-size: 10pt; font-weight: normal; margin-bottom: 12pt; margin-left: 54pt; text-align: justify;"><span style="font-size: 10pt;"><span id="wwpID0E0L60HA">Figure 2-18</span></span> Featured Events window</div>

+
−

====Select an event category====

+
 

   <div style="margin-left: 18pt;margin-bottom: 0pt;">

 

   <div style="margin-left: 18pt;margin-bottom: 0pt;">

 

     <table border="0" cellspacing="0" cellpadding="0" width="99%" summary="">

 

     <table border="0" cellspacing="0" cellpadding="0" width="99%" summary="">

 

       <tr valign="baseline">

 

       <tr valign="baseline">

 

         <td style="width: 18pt"><div style="font-family: Calibri; font-size: 11pt;">1. </div></td>

 

         <td style="width: 18pt"><div style="font-family: Calibri; font-size: 11pt;">1. </div></td>

−

         <td><div style="font-family: Calibri; font-size: 11pt;"><span id="wwpID0E0J60HA">On the </span><span style="font-weight: bold;">General</span> tab, click the desired <span style="font-weight: bold;">Event Category</span>(ies) check box(es).</div></td>

+

         <td><div style="font-family: Calibri; font-size: 11pt;"><span id=""></span><span style="font-weight: bold;"></span><span-</span></div></td>

 

       </tr>

 

       </tr>

 

     </table>

 

     </table>

Line 678:
Line 1,523:
 

       <tr valign="baseline">

 

       <tr valign="baseline">

 

         <td style="width: 18pt"><div style="font-family: Calibri; font-size: 11pt;">2. </div></td>

 

         <td style="width: 18pt"><div style="font-family: Calibri; font-size: 11pt;">2. </div></td>

−

         <td><div style="font-family: Calibri; font-size: 11pt;"><span id="wwpID0E0I60HA">Click </span><span style="font-weight: bold;">Save</span>.</div></td>

+

         <td><div style="font-family: Calibri; font-size: 11pt;"><span id="">Click </span><span style="font-weight: bold;"></span>.</div></td>

 

       </tr>

 

       </tr>

 

     </table>

 

     </table>

 

   </div>

 

   </div>

−

====Edit event categories====

 
−

  <div style="margin-left: 18pt;margin-bottom: 0pt;">

 
−

    <table border="0" cellspacing="0" cellpadding="0" width="99%" summary="">

 
−

      <tr valign="baseline">

 
−

        <td style="width: 18pt"><div style="font-family: Calibri; font-size: 11pt;">1. </div></td>

 
−

        <td><div style="font-family: Calibri; font-size: 11pt;"><span id="wwpID0E0G60HA">On the General tab, click edit categories in the Placement Options area.</span></div></td>

 
−

      </tr>

 
−

    </table>

 
−

  </div>

 
−

  <div style="font-family: &quot;Times New Roman&quot;; font-size: 11pt; margin-bottom: 12pt; margin-left: 36pt; text-align: justify;"><span id="wwpID0E0F60HA">[[Image:Events-Edit_event_categories-image36.png|event categories]]</span></div>

 
−

  <div style="color: #000000; font-family: &quot;Times New Roman&quot;; font-size: 10pt; font-weight: normal; margin-bottom: 12pt; margin-left: 54pt; text-align: justify;"><span style="font-size: 10pt;"><span id="wwpID0E0E60HA">Figure 2-19 </span></span>Event Categories</div>

 
−

  <div style="margin-left: 18pt;margin-bottom: 0pt;">

 
−

    <table border="0" cellspacing="0" cellpadding="0" width="99%" summary="">

 
−

      <tr valign="baseline">

 
−

        <td style="width: 18pt"><div style="font-family: Calibri; font-size: 11pt;">2. </div></td>

 
−

        <td><div style="font-family: Calibri; font-size: 11pt;"><span id="wwpID0E0D60HA">Make the desired modifications.  See Figure 2-20.</span></div></td>

 
−

      </tr>

 
−

    </table>

 
−

  </div>

 
−

  <div style="color: #5F497A; font-family: Calibri; font-size: 9pt; margin-bottom: 12pt; margin-left: 36pt;"><span id="wwpID0E0C60HA">Modifications made to categories affect all event listings.  Do not remove a category if another event is using that category definition.</span></div>

 
−

  <div style="font-family: &quot;Times New Roman&quot;; font-size: 11pt; margin-bottom: 12pt; margin-left: 36pt; text-align: justify;"><span id="wwpID0E0B60HA">[[Image:Events-Edit_event_categories-image37.png|edit event categories]]</span></div>

 
−

  <div style="color: #000000; font-family: &quot;Times New Roman&quot;; font-size: 10pt; font-weight: normal; margin-bottom: 12pt; margin-left: 54pt; text-align: justify;"><span style="font-size: 10pt;"><span id="wwpID0E0A60HA">Figure 2-20</span></span> Edit event categories</div>

 
 

   <div style="margin-left: 18pt;margin-bottom: 0pt;">

 

   <div style="margin-left: 18pt;margin-bottom: 0pt;">

 

     <table border="0" cellspacing="0" cellpadding="0" width="99%" summary="">

 

     <table border="0" cellspacing="0" cellpadding="0" width="99%" summary="">

 

       <tr valign="baseline">

 

       <tr valign="baseline">

 

         <td style="width: 18pt"><div style="font-family: Calibri; font-size: 11pt;">3. </div></td>

 

         <td style="width: 18pt"><div style="font-family: Calibri; font-size: 11pt;">3. </div></td>

−

         <td><div style="font-family: Calibri; font-size: 11pt;"><span id="wwpID0E0650HA">Click </span><span style="font-weight: bold;">Save Changes</span>.</div></td>

+

         <td><div style="font-family: Calibri; font-size: 11pt;"><span id=""></span></div></td>

 

       </tr>

 

       </tr>

 

     </table>

 

     </table>

 

   </div>

 

   </div>

−

 
−

===Deleting an Event===

 
−

  <div style="font-family: Tahoma; font-size: 11pt; margin-bottom: 12pt;"><span id="wwpID0E0450HA">If an event has been created by mistake, or you no longer wish to have the event appear, you may delete the event.  All history of participants, sponsors, and fees will also be deleted and no longer available in reports.</span></div>

 
−

====Permanently delete an event====

 
 

   <div style="margin-left: 18pt;margin-bottom: 0pt;">

 

   <div style="margin-left: 18pt;margin-bottom: 0pt;">

 

     <table border="0" cellspacing="0" cellpadding="0" width="99%" summary="">

 

     <table border="0" cellspacing="0" cellpadding="0" width="99%" summary="">

 

       <tr valign="baseline">

 

       <tr valign="baseline">

−

         <td style="width: 18pt"><div style="font-family: Calibri; font-size: 11pt;">1. </div></td>

+

         <td style="width: 18pt"><div style="font-family: Calibri; font-size: 11pt;">. </div></td>

−

         <td><div style="font-family: Calibri; font-size: 11pt;"><span id="wwpID0E0250HA">On the </span><span style="font-weight: bold;">General</span> tab, click <span style="font-weight: bold;">Delete</span> <span style="font-weight: bold;">Event</span>.  [[Image:Events-Permanently_delete_an_event-image38.png|delete event]]</div></td>

+

         <td><div style="font-family: Calibri; font-size: 11pt;"><span id=""></span><span style="font-weight: bold;"></span>.</div></td>

 

       </tr>

 

       </tr>

 

     </table>

 

     </table>

Line 727:
Line 1,546:
 

     <table border="0" cellspacing="0" cellpadding="0" width="99%" summary="">

 

     <table border="0" cellspacing="0" cellpadding="0" width="99%" summary="">

 

       <tr valign="baseline">

 

       <tr valign="baseline">

−

         <td style="width: 18pt"><div style="font-family: Calibri; font-size: 11pt;">2. </div></td>

+

         <td style="width: 18pt"><div style="font-family: Calibri; font-size: 11pt;">. </div></td>

−

         <td><div style="font-family: Calibri; font-size: 11pt;"><span id="wwpID0E0150HA">Click </span><span style="font-weight: bold;">OK</span>.</div></td>

+

         <td><div style="font-family: Calibri; font-size: 11pt;"><span id=""></span><span style="font-weight: bold;"></span> .</div></td>

 

       </tr>

 

       </tr>

 

     </table>

 

     </table>

 

   </div>

 

   </div>

−

  <div style="color: #5F497A; font-family: Calibri; font-size: 9pt; margin-bottom: 12pt; margin-left: 36pt;"><span id="wwpID0E0Z50HA">Note: The </span><span style="font-weight: bold;">Delete Event</span> selection is only available to those with Administrator Level permissions.</div>

 
−

 
−

===Syncing with your calendar===

 
−

  <div style="font-family: Tahoma; font-size: 11pt; margin-bottom: 12pt;"><span id="wwpID0E0X50HA">Event calendar feeds automatically synchronize your calendar with your events listed in your software. Many different applications support iCalendar, including </span><span>Microsoft Outlook 2007</span> and later (Exchange), Lotus Notes 8.5 and later, <span>Apple Calendar</span> (<span>iPhone and iPad</span>), and <span>Google Calendar</span> (Android and Gmail).</div>

 
−

  <div style="color: #5F497A; font-family: Cambria; font-size: 11pt; font-weight: bold; margin-bottom: 0pt; margin-left: 0pt;"><span id="wwpID0E0W50HA">Syncing with your calendar (basic instructions)</span></div>

 
 

   <div style="margin-left: 18pt;margin-bottom: 0pt;">

 

   <div style="margin-left: 18pt;margin-bottom: 0pt;">

 

     <table border="0" cellspacing="0" cellpadding="0" width="99%" summary="">

 

     <table border="0" cellspacing="0" cellpadding="0" width="99%" summary="">

 

       <tr valign="baseline">

 

       <tr valign="baseline">

−

         <td style="width: 18pt"><div style="font-family: Calibri; font-size: 11pt;">1. </div></td>

+

         <td style="width: 18pt"><div style="font-family: Calibri; font-size: 11pt;">. </div></td>

−

         <td><div style="font-family: Calibri; font-size: 11pt;"><span id="wwpID0E0V50HA">Click </span><span style="font-weight: bold;">Events</span> in the left-hand menu.</div></td>

+

         <td><div style="font-family: Calibri; font-size: 11pt;"><span id="">Click </span><span style="font-weight: bold;"></span> .</div></td>

 

       </tr>

 

       </tr>

 

     </table>

 

     </table>

 

   </div>

 

   </div>

−

  <div style="color: #5F497A; font-family: Calibri; font-size: 9pt; margin-bottom: 12pt; margin-left: 36pt;"><span id="wwpID0E0U50HA">Or find this same selection on the Dashboard Message Center next to the list of Upcoming Public Events.</span></div>

 
 

   <div style="margin-left: 18pt;margin-bottom: 0pt;">

 

   <div style="margin-left: 18pt;margin-bottom: 0pt;">

 

     <table border="0" cellspacing="0" cellpadding="0" width="99%" summary="">

 

     <table border="0" cellspacing="0" cellpadding="0" width="99%" summary="">

 

       <tr valign="baseline">

 

       <tr valign="baseline">

−

         <td style="width: 18pt"><div style="font-family: Calibri; font-size: 11pt;">2. </div></td>

+

         <td style="width: 18pt"><div style="font-family: Calibri; font-size: 11pt;">. </div></td>

−

         <td><div style="font-family: Calibri; font-size: 11pt;"><span id="wwpID0E0T50HA">Click the </span><span style="font-weight: bold;">Calendar</span> tab.</div></td>

+

         <td><div style="font-family: Calibri; font-size: 11pt;"><span id="">Click the </span><span style="font-weight: bold;"></span> . </div></td>

 

       </tr>

 

       </tr>

 

     </table>

 

     </table>

Line 757:
Line 1,570:
 

     <table border="0" cellspacing="0" cellpadding="0" width="99%" summary="">

 

     <table border="0" cellspacing="0" cellpadding="0" width="99%" summary="">

 

       <tr valign="baseline">

 

       <tr valign="baseline">

−

         <td style="width: 18pt"><div style="font-family: Calibri; font-size: 11pt;">3. </div></td>

+

         <td style="width: 18pt"><div style="font-family: Calibri; font-size: 11pt;">. </div></td>

−

         <td><div style="font-family: Calibri; font-size: 11pt;"><span id="wwpID0E0S50HA">Click "Sync with your own calendar."</span></div></td>

+

         <td><div style="font-family: Calibri; font-size: 11pt;"><span id="">Click </span></div></td>

 

       </tr>

 

       </tr>

 

     </table>

 

     </table>

 

   </div>

 

   </div>

−

  <div style="font-family: &quot;Times New Roman&quot;; font-size: 11pt; margin-bottom: 12pt; margin-left: 36pt; text-align: justify;"><span id="wwpID0E0R50HA">[[Image:Events-Syncing_with_your_calendar-image39.png]]</span></div>

 
 

   <div style="margin-left: 18pt;margin-bottom: 0pt;">

 

   <div style="margin-left: 18pt;margin-bottom: 0pt;">

 

     <table border="0" cellspacing="0" cellpadding="0" width="99%" summary="">

 

     <table border="0" cellspacing="0" cellpadding="0" width="99%" summary="">

 

       <tr valign="baseline">

 

       <tr valign="baseline">

−

         <td style="width: 18pt"><div style="font-family: Calibri; font-size: 11pt;">4. </div></td>

+

         <td style="width: 18pt"><div style="font-family: Calibri; font-size: 11pt;">. </div></td>

−

         <td><div style="font-family: Calibri; font-size: 11pt;"><span id="wwpID0E0Q50HA">Click the desired link and follow the prompts to synchronize with the default calendar on your system (if available). </span></div></td>

+

         <td><div style="font-family: Calibri; font-size: 11pt;"><span id="">the the .</span></div></td>

 

       </tr>

 

       </tr>

 

     </table>

 

     </table>

 

   </div>

 

   </div>

−

  <div style="font-family: &quot;Times New Roman&quot;; font-size: 11pt; margin-bottom: 12pt; margin-left: 54pt; text-align: justify;"><span id="wwpID0E0P50HA">[[Image:Events-Syncing_with_your_calendar-image40.png]]</span></div>

 
 

   <div style="margin-left: 18pt;margin-bottom: 0pt;">

 

   <div style="margin-left: 18pt;margin-bottom: 0pt;">

 

     <table border="0" cellspacing="0" cellpadding="0" width="99%" summary="">

 

     <table border="0" cellspacing="0" cellpadding="0" width="99%" summary="">

 

       <tr valign="baseline">

 

       <tr valign="baseline">

−

         <td style="width: 18pt"><div style="font-family: Calibri; font-size: 11pt;">5. </div></td>

+

         <td style="width: 18pt"><div style="font-family: Calibri; font-size: 11pt;">. </div></td>

−

         <td><div style="font-family: Calibri; font-size: 11pt;"><span id="wwpID0E0O50HA">To synchronize with a different calendar, copy and paste the desired URL into your calendar software in the location where feeds are accepted, often identified with "Subscribe", "Add Calendar", etc.</span></div></td>

+

         <td><div style="font-family: Calibri; font-size: 11pt;"><span id="">the </span></div></td>

 

       </tr>

 

       </tr>

 

     </table>

 

     </table>

 

   </div>

 

   </div>

−

  <div style="margin-left: 18pt;margin-bottom: 0pt;">

+

<div>

−

    <table border="0" cellspacing="0" cellpadding="0" width="99%" summary="">

+

 

−

      <tr valign="baseline">

+

====

−

        <td style="width: 18pt"><div style="font-family: Calibri; font-size: 11pt;">6. </div></td>

+
−

        <td><div style="font-family: Calibri; font-size: 11pt;"><span id="wwpID0E0N50HA">Your 3</span><span style="vertical-align: super;">rd</span> party calendar will automatically update every hour with any changes made to your events.</div></td>

+

 

−

      </tr>

+

-

−

    </table>

+

-

−

  </div>

+
−

  <div style="color: #5F497A; font-family: Cambria; font-size: 11pt; font-weight: bold; margin-bottom: 0pt; margin-left: 0pt;"><span id="wwpID0E0M50HA"> </span></div>

+
−

  <div style="color: #5F497A; font-family: Cambria; font-size: 11pt; font-weight: bold; margin-bottom: 0pt; margin-left: 0pt;"><span id="wwpID0E0L50HA">Additional Information:</span></div>

+

:.

−

  <div style="font-family: Tahoma; font-size: 11pt; margin-bottom: 12pt;"><span id="wwpID0E0K50HA">Populated date range: today - 365 days from now</span></div>

+
−

  <div style="font-family: Tahoma; font-size: 11pt; margin-bottom: 12pt;"><span id="wwpID0E0J50HA">Automatically updated: Every hour</span></div>

+

::

 
+
 
+
 
+
 
+
 
+

 

 
+
 
+

 

 
+

=<span style=":"></span>

 
+
 
+

to your

 
+

 

 
+

/"

 
+

:

 
+

#-: -

 
+

::

 
+

:

 
+

:

 
+
 
+
 
+

 

 
+

 

 
+

<span =""></span>=

 
+

---

 
+

 

 
+
 
+

 

 
+
 
+

 

 
+

:-

 
+

 

 
+

:

 
+

 

 
+
 
+

 

 
+
 
+

 

 
+
 
+

 

 
+
 
+
 
+

-

 
+

 

 
+
 
+

 

 
+
 
+

 

 
+
 
+
 
+
 
+

 

 
+
 
+

 

 
+
 
+

 

 
+
 
+

left</></>

 
+
 
+

::

 
+

-

 
+
 
+

:

 
+

 

 
+
 
+

 

 
+

date range: today - 365 days from now

 
+

 

 

====Sync Events with Outlook====

 

====Sync Events with Outlook====

 

<div style="font-family: &quot;arial&quot;; font-size: 11pt; margin-bottom: 11pt; margin-left: 18pt;"><span id="wwpID0E0H50HA">Outlook 2007 or greater will accept iCalendar feeds. Watch this video: </span><span style="color: #3366CC; font-size: 11pt; text-decoration: underline;">[https://micronet.viewscreencasts.com/c4f3324bb3cf4a65b50a6e7aa5b34756 How to Sync with Outlook]</span> [[File:Vid.png|link=https://micronet.viewscreencasts.com/c4f3324bb3cf4a65b50a6e7aa5b34756]]</div>

 

<div style="font-family: &quot;arial&quot;; font-size: 11pt; margin-bottom: 11pt; margin-left: 18pt;"><span id="wwpID0E0H50HA">Outlook 2007 or greater will accept iCalendar feeds. Watch this video: </span><span style="color: #3366CC; font-size: 11pt; text-decoration: underline;">[https://micronet.viewscreencasts.com/c4f3324bb3cf4a65b50a6e7aa5b34756 How to Sync with Outlook]</span> [[File:Vid.png|link=https://micronet.viewscreencasts.com/c4f3324bb3cf4a65b50a6e7aa5b34756]]</div>

Line 888:
Line 1,765:
 

<div style="font-family: &quot;arial&quot;; font-size: 11pt; margin-bottom: 12pt; margin-left: 54pt; text-align: justify;"><span id="wwpID0E0X40HA">[[Image:Events-Sync_Events_with_Outlook-image43.png]]</span></div>

 

<div style="font-family: &quot;arial&quot;; font-size: 11pt; margin-bottom: 12pt; margin-left: 54pt; text-align: justify;"><span id="wwpID0E0X40HA">[[Image:Events-Sync_Events_with_Outlook-image43.png]]</span></div>

 
 
−

====Synch your events with Google Calendar====

+

==Synch your events with Google Calendar==

 

   <div style="font-family: &quot;Times New Roman&quot;; font-size: 11pt; margin-bottom: 12pt; margin-left: 18pt;"><span id="wwpID0E0V40HA">Watch this video showing </span><span style="color: #3366CC; font-size: 12pt; text-decoration: underline;">[[https://micronet.viewscreencasts.com/c4f3324bb3cf4a65b50a6e7aa5b34756|how to synch with Google Calendar]]</span> [[Image:Events-Synch_your_events_with_Google_Calendar-image30.png|moviecamera]]</div>

 

   <div style="font-family: &quot;Times New Roman&quot;; font-size: 11pt; margin-bottom: 12pt; margin-left: 18pt;"><span id="wwpID0E0V40HA">Watch this video showing </span><span style="color: #3366CC; font-size: 12pt; text-decoration: underline;">[[https://micronet.viewscreencasts.com/c4f3324bb3cf4a65b50a6e7aa5b34756|how to synch with Google Calendar]]</span> [[Image:Events-Synch_your_events_with_Google_Calendar-image30.png|moviecamera]]</div>

 

   <div style="color: #5F497A; font-family: Cambria; font-size: 11pt; font-weight: bold; margin-bottom: 0pt; margin-left: 18pt;"><span id="wwpID0E0U40HA">To sync your events with Google Calendar</span></div>

 

   <div style="color: #5F497A; font-family: Cambria; font-size: 11pt; font-weight: bold; margin-bottom: 0pt; margin-left: 18pt;"><span id="wwpID0E0U40HA">To sync your events with Google Calendar</span></div>

Line 995:
Line 1,872:
 

   </div>

 

   </div>

 
 
−

====Synch your events with Apple iCalendar====

+

==Synch your events with Apple iCalendar==

 

<div style="color: #5F497A; font-family: arial; font-size: 11pt; font-weight: bold; margin-bottom: 0pt; margin-left: 18pt;"><span id="wwpID0E0530HA">To sync your events with Apple iCalendar</span></div>

 

<div style="color: #5F497A; font-family: arial; font-size: 11pt; font-weight: bold; margin-bottom: 0pt; margin-left: 18pt;"><span id="wwpID0E0530HA">To sync your events with Apple iCalendar</span></div>

 

<div style="margin-left: 18pt;margin-bottom: 0pt;">

 

<div style="margin-left: 18pt;margin-bottom: 0pt;">

Line 1,121:
Line 1,998:
 

[[Category:Events]]

 

[[Category:Events]]

 
 
−

====Synch your events with your iPad or iPhone====

+

==Synch your events with your iPad or iPhone==

 

   <div style="color: #5F497A; font-family: Cambria; font-size: 11pt; font-weight: bold; margin-bottom: 0pt; margin-left: 18pt;"><span id="wwpID0E0F30HA"> </span></div>

 

   <div style="color: #5F497A; font-family: Cambria; font-size: 11pt; font-weight: bold; margin-bottom: 0pt; margin-left: 18pt;"><span id="wwpID0E0F30HA"> </span></div>

 

   <div style="color: #5F497A; font-family: Cambria; font-size: 11pt; font-weight: bold; margin-bottom: 0pt; margin-left: 18pt;"><span id="wwpID0E0E30HA">To sync your events with your iPad or iPhone calendar</span></div>

 

   <div style="color: #5F497A; font-family: Cambria; font-size: 11pt; font-weight: bold; margin-bottom: 0pt; margin-left: 18pt;"><span id="wwpID0E0E30HA">To sync your events with your iPad or iPhone calendar</span></div>

Line 1,265:
Line 2,142:
 

   <div style="font-family: Calibri; font-size: 11pt; margin-bottom: 0pt; margin-left: 36pt; text-indent: -18pt;"><span id="wwpID0E0I20HA"> </span></div>

 

   <div style="font-family: Calibri; font-size: 11pt; margin-bottom: 0pt; margin-left: 36pt; text-indent: -18pt;"><span id="wwpID0E0I20HA"> </span></div>

 
 
−

==Event Fees and Billing==

+

==

−

Events that require a fee to participate can be managed through the Events module. Event fees, designated for members or non-members, may be associated with each event. If allowing online registration, members-only pricing is available to those with a members-only login name and password.

+

Event and

 
+

that a fee

 
+

Event , , .

 
+

registration ,

 
+
 
+

to

 
+

-

 
+

and

 
+
 
 
−

Staff control what payment options appear for members and non-members, with a separate set of options available for each. If integrated with QuickBooks or using the integrated billing module, individual invoices may be generated from the Events module for those requesting payment by invoice.

+
 
+
 
+

a

 
+

Eventsfor

 
+
 
 
−

Discounts based on age, date, or volume may be created for each event and applied when appropriate information is provided during registration.

+

==Create Event Fees with CQI (Legacy)==

−

 

+
−

The Account tab displays a running total of the event income activity in addition to a summary of guest list information.

+
−

 

+
−

Setting up and using event fees require the following steps:

+
−

*Create Event Fees

+
−

*Assign Event Fees

+
−

*Select Billing Preferences

+
−

*Create Discounts Options

+
−

*View Account Information

+
−

*Create Event Invoices

+
−

====Create Event Fees with CQI (Legacy)====

+
 

'''Note: '''CQI is a legacy product.  

 

'''Note: '''CQI is a legacy product.  

 
 
 

<div style="font-family: &quot;Times New Roman&quot;; font-size: 11pt; margin-bottom: 12pt; margin-left: 18pt;"><span id="wwpID0E0X10HA">The procedure that you use to create the event fee depends on whether you have the event fee already created in QuickBooks.</span></div>

 

<div style="font-family: &quot;Times New Roman&quot;; font-size: 11pt; margin-bottom: 12pt; margin-left: 18pt;"><span id="wwpID0E0X10HA">The procedure that you use to create the event fee depends on whether you have the event fee already created in QuickBooks.</span></div>

−

   <div style="color: #5F497A; font-family: Calibri; font-size: 9pt; margin-bottom: 12pt; margin-left: 18pt;"><span id="wwpID0E0W10HA">For questions related to QuickBooks integration see the QuickBooks section of online help or call MicroNet support at 1-800-825-9171.</span></div>

+

   <div style="color: #5F497A; font-family: Calibri; font-size: 9pt; margin-bottom: 12pt; margin-left: 18pt;"><span id="wwpID0E0W10HA">For questions related to QuickBooks integration see the QuickBooks section of online help or call support at 1-800-825-9171.</span></div>

 

   <div style="color: #808080; font-family: Cambria; font-size: 14pt; margin-bottom: 0pt; margin-left: 36pt; margin-top: 10pt;"><span id="wwpID0E0V10HA">To create an event fee (does not yet exist in QuickBooks)</span></div>

 

   <div style="color: #808080; font-family: Cambria; font-size: 14pt; margin-bottom: 0pt; margin-left: 36pt; margin-top: 10pt;"><span id="wwpID0E0V10HA">To create an event fee (does not yet exist in QuickBooks)</span></div>

 

   <div style="margin-left: 36pt;margin-bottom: 12pt;">

 

   <div style="margin-left: 36pt;margin-bottom: 12pt;">

Line 1,383:
Line 2,261:
 

       <tr valign="baseline">

 

       <tr valign="baseline">

 

         <td style="width: 18pt"><div style="font-family: &quot;Times New Roman&quot;; font-size: 11pt; text-align: justify;"><span style="font-family: Calibri; font-size: 10pt;">4. </span></div></td>

 

         <td style="width: 18pt"><div style="font-family: &quot;Times New Roman&quot;; font-size: 11pt; text-align: justify;"><span style="font-family: Calibri; font-size: 10pt;">4. </span></div></td>

−

         <td><div style="font-family: &quot;Times New Roman&quot;; font-size: 11pt; text-align: justify;"><span id="wwpID0E0F10HA">From the list of QuickBooks items and services click the check box in front of the </span><span style="font-weight: bold;">QuickBooks Fee Item </span>that you desire to add to ChamberMaster / MemberZone. </div></td>

+

         <td><div style="font-family: &quot;Times New Roman&quot;; font-size: 11pt; text-align: justify;"><span id="wwpID0E0F10HA">From the list of QuickBooks items and services click the check box in front of the </span><span style="font-weight: bold;">QuickBooks Fee Item </span>that you desire to add to ChamberMaster / . </div></td>

 

       </tr>

 

       </tr>

 

     </table>

 

     </table>

Line 1,479:
Line 2,357:
 

     </table>

 

     </table>

 
 
−

====Create Events Fees (Integrated Billing)====

 
−

<div style="font-family: &quot;Arial&quot;; font-size: 11pt; margin-bottom: 12pt; margin-left: 18pt;"><span id="wwpID0E0UZ0HA">If an event requires a fee in order to participate, the Event Fee must be created in before it can be assigned to the event. </span></div>

 
−

  <div style="color: #808080; font-family: Arial; font-size: 14pt; margin-bottom: 0pt; margin-left: 36pt; margin-top: 10pt;"><span id="wwpID0E0TZ0HA">To create an event fee</span></div>

 
−

  <div style="margin-left: 36pt;margin-bottom: 12pt;">

 
−

    <table border="0" cellspacing="0" cellpadding="0" width="99%" summary="">

 
−

      <tr valign="baseline">

 
−

        <td style="width: 18pt"><div style="font-family: &quot;Arial&quot;; font-size: 11pt; text-align: justify;"><span style="font-family: Arial; font-size: 10pt;">1. </span></div></td>

 
−

        <td><div style="font-family: &quot;Arial&quot;; font-size: 11pt; text-align: justify;"><span id="wwpID0E0SZ0HA">Click </span><span style="font-weight: bold;">Fee Items List</span> in the <span style="font-weight: bold;">Billing</span> module of the left-hand navigation bar.</div></td>

 
−

      </tr>

 
−

    </table>

 
−

  </div>

 
−

  <div style="font-family: &quot;Arial&quot;; font-size: 11pt; margin-bottom: 12pt; margin-left: 54pt; text-align: justify;"><span id="wwpID0E0RZ0HA">[[Image:Events-Create_Events_Fees_(Integrated_Billing)-image58.png]]</span></div>

 
−

  <div style="color: #000000; font-family: &quot;Arial&quot;; font-size: 10pt; font-weight: normal; margin-bottom: 12pt; margin-left: 72pt; text-align: justify;"><span style="font-size: 10pt;"><span id="wwpID0E0QZ0HA">Figure 3-2</span></span> Fee Items List selection</div>

 
−

  <div style="margin-left: 36pt;margin-bottom: 12pt;">

 
−

    <table border="0" cellspacing="0" cellpadding="0" width="99%" summary="">

 
−

      <tr valign="baseline">

 
−

        <td style="width: 18pt"><div style="font-family: &quot;Arial&quot;; font-size: 11pt; text-align: justify;"><span style="font-family: Arial; font-size: 10pt;">2. </span></div></td>

 
−

        <td><div style="font-family: &quot;Arial&quot;; font-size: 11pt; text-align: justify;"><span id="wwpID0E0PZ0HA">Click </span><span style="font-weight: bold;">Add Fee Items</span>.</div></td>

 
−

      </tr>

 
−

    </table>

 
−

  </div>

 
−

  <div style="font-family: &quot;Arial&quot;; font-size: 11pt; margin-bottom: 12pt; margin-left: 36pt; text-align: justify;"><span id="wwpID0E0OZ0HA">[[Image:Events-Create_Events_Fees_(Integrated_Billing)-image59.png]]</span></div>

 
−

  <div style="color: #000000; font-family: &quot;Arial&quot;; font-size: 10pt; font-weight: normal; margin-bottom: 12pt; margin-left: 54pt; text-align: justify;"><span style="font-size: 10pt;"><span id="wwpID0E0NZ0HA">Figure 3-3</span></span> Add fee item</div>

 
−

  <div style="color: #5F497A; font-family: Arial; font-size: 9pt; margin-bottom: 12pt; margin-left: 36pt;"><span id="wwpID0E0MZ0HA">The </span><span style="font-weight: bold;">Event Fee Display Name</span> is limited to 50 characters.  The <span style="font-weight: bold;">Event Fee Description</span> is limited to 100 characters.</div>

 
−

  <div style="margin-left: 36pt;margin-bottom: 12pt;">

 
−

    <table border="0" cellspacing="0" cellpadding="0" width="99%" summary="">

 
−

      <tr valign="baseline">

 
−

        <td style="width: 18pt"><div style="font-family: &quot;Arial&quot;; font-size: 11pt; text-align: justify;"><span style="font-family: Arial; font-size: 10pt;">3. </span></div></td>

 
−

        <td><div style="font-family: &quot;Arial&quot;; font-size: 11pt; text-align: justify;"><span id="wwpID0E0LZ0HA">Complete the </span><span style="font-weight: bold;">New Fee Item</span> screen making sure <span style="font-weight: bold;">Item Type</span> is changed to the <span style="font-weight: bold;">Event Fees</span> selection.</div></td>

 
−

      </tr>

 
−

    </table>

 
−

  </div>

 
−

  <div style="margin-left: 36pt;margin-bottom: 12pt;">

 
−

    <table border="0" cellspacing="0" cellpadding="0" width="99%" summary="">

 
−

      <tr valign="baseline">

 
−

        <td style="width: 18pt"><div style="font-family: &quot;Arial&quot;; font-size: 11pt; text-align: justify;"><span style="font-family: Arial; font-size: 10pt;">4. </span></div></td>

 
−

        <td><div style="font-family: &quot;Arial&quot;; font-size: 11pt; text-align: justify;"><span id="wwpID0E0KZ0HA">Click </span><span style="font-weight: bold;">Save &amp; Exit</span>.</div></td>

 
−

      </tr>

 
−

    </table>

 
−

  </div>

 
−

  <div style="color: #808080; font-family: Arial; font-size: 14pt; margin-bottom: 0pt; margin-left: 36pt; margin-top: 10pt;"><span id="wwpID0E0JZ0HA">To remove an event fee with integrated Billing</span></div>

 
−

  <div style="color: #5F497A; font-family: Arial; font-size: 9pt; margin-bottom: 12pt; margin-left: 36pt;"><span id="wwpID0E0IZ0HA">Removing an event fee also removes any association with an event and makes it unavailable in event reports as well.  Make sure that you no longer need access to this event fee before removing it.</span></div>

 
−

  <div style="margin-left: 36pt;margin-bottom: 12pt;">

 
−

    <table border="0" cellspacing="0" cellpadding="0" width="99%" summary="">

 
−

      <tr valign="baseline">

 
−

        <td style="width: 18pt"><div style="font-family: &quot;Arial&quot;; font-size: 11pt; text-align: justify;"><span style="font-family: Arial; font-size: 10pt;">1. </span></div></td>

 
−

        <td><div style="font-family: &quot;Arial&quot;; font-size: 11pt; text-align: justify;"><span id="wwpID0E0HZ0HA">Click </span><span style="font-weight: bold;">Setup</span> in the left-hand navigation bar.</div></td>

 
−

      </tr>

 
−

    </table>

 
−

  </div>

 
−

  <div style="margin-left: 36pt;margin-bottom: 12pt;">

 
−

    <table border="0" cellspacing="0" cellpadding="0" width="99%" summary="">

 
−

      <tr valign="baseline">

 
−

        <td style="width: 18pt"><div style="font-family: &quot;Arial&quot;; font-size: 11pt; text-align: justify;"><span style="font-family: Arial; font-size: 10pt;">2. </span></div></td>

 
−

        <td><div style="font-family: &quot;Arial&quot;; font-size: 11pt; text-align: justify;"><span id="wwpID0E0GZ0HA">Click </span><span style="font-weight: bold;">Fee Items List</span>.</div></td>

 
−

      </tr>

 
−

    </table>

 
−

  </div>

 
−

  <div style="margin-left: 36pt;margin-bottom: 12pt;">

 
−

    <table border="0" cellspacing="0" cellpadding="0" width="99%" summary="">

 
−

      <tr valign="baseline">

 
−

        <td style="width: 18pt"><div style="font-family: &quot;Arial&quot;; font-size: 11pt; text-align: justify;"><span style="font-family: Arial; font-size: 10pt;">3. </span></div></td>

 
−

        <td><div style="font-family: &quot;Arial&quot;; font-size: 11pt; text-align: justify;"><span id="wwpID0E0FZ0HA">Click the x at the end of the row of the desired fee to be removed.  </span></div></td>

 
−

      </tr>

 
−

    </table>

 
−

  </div>

 
−

  <div style="margin-left: 36pt;margin-bottom: 12pt;">

 
−

    <table border="0" cellspacing="0" cellpadding="0" width="99%" summary="">

 
−

      <tr valign="baseline">

 
−

        <td style="width: 18pt"><div style="font-family: &quot;Arial&quot;; font-size: 11pt; text-align: justify;"><span style="font-family: Arial; font-size: 10pt;">4. </span></div></td>

 
−

        <td><div style="font-family: &quot;Arial&quot;; font-size: 11pt; text-align: justify;"><span id="wwpID0E0EZ0HA">Click </span><span style="font-weight: bold;">OK</span>. </div></td>

 
−

      </tr>

 
−

    </table>

 
−

  </div>

 
−

  <div style="color: #808080; font-family: Arial; font-size: 14pt; margin-bottom: 0pt; margin-left: 36pt; margin-top: 10pt;"><span id="wwpID0E0DZ0HA">To edit an event fee</span></div>

 
−

  <div style="margin-left: 36pt;margin-bottom: 12pt;">

 
−

    <table border="0" cellspacing="0" cellpadding="0" width="99%" summary="">

 
−

      <tr valign="baseline">

 
−

        <td style="width: 18pt"><div style="font-family: &quot;Arial&quot;; font-size: 11pt; text-align: justify;"><span style="font-family: Arial; font-size: 10pt;">1. </span></div></td>

 
−

        <td><div style="font-family: &quot;Arial&quot;; font-size: 11pt; text-align: justify;"><span id="wwpID0E0CZ0HA">Click </span><span style="font-weight: bold;">Setup</span> in the left-hand navigation bar.</div></td>

 
−

      </tr>

 
−

    </table>

 
−

  </div>

 
−

  <div style="margin-left: 36pt;margin-bottom: 12pt;">

 
−

    <table border="0" cellspacing="0" cellpadding="0" width="99%" summary="">

 
−

      <tr valign="baseline">

 
−

        <td style="width: 18pt"><div style="font-family: &quot;Arial&quot;; font-size: 11pt; text-align: justify;"><span style="font-family: Arial; font-size: 10pt;">2. </span></div></td>

 
−

        <td><div style="font-family: &quot;Arial&quot;; font-size: 11pt; text-align: justify;"><span id="wwpID0E0BZ0HA">Click </span><span style="font-weight: bold;">Fee Items List</span>.</div></td>

 
−

      </tr>

 
−

    </table>

 
−

  </div>

 
−

  <div style="margin-left: 36pt;margin-bottom: 12pt;">

 
−

    <table border="0" cellspacing="0" cellpadding="0" width="99%" summary="">

 
−

      <tr valign="baseline">

 
−

        <td style="width: 18pt"><div style="font-family: &quot;Arial&quot;; font-size: 11pt; text-align: justify;"><span style="font-family: Arial; font-size: 10pt;">3. </span></div></td>

 
−

        <td><div style="font-family: &quot;Arial&quot;; font-size: 11pt; text-align: justify;"><span id="wwpID0E0AZ0HA">Click the title of the desired item to be modified. </span></div></td>

 
−

      </tr>

 
−

    </table>

 
−

  </div>

 
−

  <div style="margin-left: 36pt;margin-bottom: 12pt;">

 
−

    <table border="0" cellspacing="0" cellpadding="0" width="99%" summary="">

 
−

      <tr valign="baseline">

 
−

        <td style="width: 18pt"><div style="font-family: &quot;Arial&quot;; font-size: 11pt; text-align: justify;"><span style="font-family: Arial; font-size: 10pt;">4. </span></div></td>

 
−

        <td><div style="font-family: &quot;Arial&quot;; font-size: 11pt; text-align: justify;"><span id="wwpID0E06Y0HA">Make desired changes.</span></div></td>

 
−

      </tr>

 
−

    </table>

 
−

  </div>

 
−

  <div style="margin-left: 36pt;margin-bottom: 12pt;">

 
−

    <table border="0" cellspacing="0" cellpadding="0" width="99%" summary="">

 
−

      <tr valign="baseline">

 
−

        <td style="width: 18pt"><div style="font-family: &quot;Arial&quot;; font-size: 11pt; text-align: justify;"><span style="font-family: Arial; font-size: 10pt;">5. </span></div></td>

 
−

        <td><div style="font-family: &quot;Arial&quot;; font-size: 11pt; text-align: justify;"><span id="wwpID0E05Y0HA">Click </span><span style="font-weight: bold;">Save &amp; Exit.</span> </div></td>

 
−

      </tr>

 
−

    </table>

 
−

  </div>

 
−

  <div style="color: #808080; font-family: Arial; font-size: 14pt; margin-bottom: 0pt; margin-left: 36pt; margin-top: 10pt;"><span id="wwpID0E04Y0HA">Fee Item fields</span></div>

 
−

  <div style="font-family: Arial; font-size: 11pt; margin-bottom: 12pt; margin-left: 36pt;"><span style="font-weight: bold;"><span id="wwpID0E03Y0HA">Fee Item Name: </span></span>Title for the fee item; will be used to identify the fee item on within the event module.</div>

 
−

  <div style="font-family: Arial; font-size: 11pt; margin-bottom: 12pt; margin-left: 36pt;"><span style="font-weight: bold;"><span id="wwpID0E02Y0HA">Description:</span></span> Further description of the fee item; displays on the invoice</div>

 
−

  <div style="font-family: Arial; font-size: 11pt; margin-bottom: 12pt; margin-left: 36pt;"><span style="font-weight: bold;"><span id="wwpID0E01Y0HA">Account:</span></span> Select the desired account from your list of Chart of Accounts.</div>

 
−

  <div style="font-family: Arial; font-size: 11pt; margin-bottom: 12pt; margin-left: 36pt;"><span style="font-weight: bold;"><span id="wwpID0E0ZY0HA">Sales Tax: </span></span>Select whether this item should be taxed or not; if proper tax amounts are not displayed, modify this item by selecting Sales Tax from the Setup module.</div>

 
−

  <div style="font-family: Arial; font-size: 11pt; margin-bottom: 12pt; margin-left: 36pt;"><span style="font-weight: bold;"><span id="wwpID0E0YY0HA">Price:</span></span> Type the desired fee item amount </div>

 
−

  <div style="font-family: Arial; font-size: 11pt; margin-bottom: 12pt; margin-left: 36pt;"><span style="font-weight: bold;"><span id="wwpID0E0XY0HA">Item Type: </span></span>Select  </div>

 
−

  <div style="margin-left: 72pt;margin-bottom: 12pt;">

 
−

    <table border="0" cellspacing="0" cellpadding="0" width="99%" summary="">

 
−

      <tr valign="baseline">

 
−

        <td style="width: 18pt"><div style="font-family: &quot;Arial&quot;; font-size: 11pt;">[[Image:Events-rd_bullet.jpg|9px]]</div></td>

 
−

        <td><div style="font-family: &quot;Arial&quot;; font-size: 11pt;"><span id="wwpID0E0WY0HA">Member Fees and Dues  - available on </span><span style="font-weight: bold;">Member-&gt;Account</span></div></td>

 
−

      </tr>

 
−

    </table>

 
−

  </div>

 
−

  <div style="margin-left: 72pt;margin-bottom: 12pt;">

 
−

    <table border="0" cellspacing="0" cellpadding="0" width="99%" summary="">

 
−

      <tr valign="baseline">

 
−

        <td style="width: 18pt"><div style="font-family: &quot;Arial&quot;; font-size: 11pt;">[[Image:Events-rd_bullet.jpg|9px]]</div></td>

 
−

        <td><div style="font-family: &quot;Arial&quot;; font-size: 11pt;"><span id="wwpID0E0VY0HA">eCommerce Fees – available in the eCommerce module</span></div></td>

 
−

      </tr>

 
−

    </table>

 
−

  </div>

 
−

  <div style="margin-left: 72pt;margin-bottom: 12pt;">

 
−

    <table border="0" cellspacing="0" cellpadding="0" width="99%" summary="">

 
−

      <tr valign="baseline">

 
−

        <td style="width: 18pt"><div style="font-family: &quot;Arial&quot;; font-size: 11pt;">[[Image:Events-rd_bullet.jpg|9px]]</div></td>

 
−

        <td><div style="font-family: &quot;Arial&quot;; font-size: 11pt;"><span id="wwpID0E0UY0HA">Event Fees – available in the </span><span style="font-weight: bold;">Events</span> module</div></td>

 
−

      </tr>

 
−

    </table>

 
−

  </div>

 
−

  <div style="margin-left: 72pt;margin-bottom: 12pt;">

 
−

    <table border="0" cellspacing="0" cellpadding="0" width="99%" summary="">

 
−

      <tr valign="baseline">

 
−

        <td style="width: 18pt"><div style="font-family: &quot;Arial&quot;; font-size: 11pt;">[[Image:Events-rd_bullet.jpg|9px]]</div></td>

 
−

        <td><div style="font-family: &quot;Arial&quot;; font-size: 11pt;"><span id="wwpID0E0TY0HA">Group Fees – available in the </span><span style="font-weight: bold;">Groups</span> module</div></td>

 
−

      </tr>

 
−

    </table>

 
−

  </div>

 
−

  <div style="margin-left: 72pt;margin-bottom: 12pt;">

 
−

    <table border="0" cellspacing="0" cellpadding="0" width="99%" summary="">

 
−

      <tr valign="baseline">

 
−

        <td style="width: 18pt"><div style="font-family: &quot;Arial&quot;; font-size: 11pt;">[[Image:Events-rd_bullet.jpg|9px]]</div></td>

 
−

        <td><div style="font-family: &quot;Arial&quot;; font-size: 11pt;"><span id="wwpID0E0SY0HA">Non-Dues Fees – available on </span><span style="font-weight: bold;">Member-&gt;Account</span></div></td>

 
−

      </tr>

 
−

    </table>

 
−

  </div>

 
−

  <div style="margin-left: 72pt;margin-bottom: 12pt;">

 
−

    <table border="0" cellspacing="0" cellpadding="0" width="99%" summary="">

 
−

      <tr valign="baseline">

 
−

        <td style="width: 18pt"><div style="font-family: &quot;Arial&quot;; font-size: 11pt;">[[Image:Events-rd_bullet.jpg|9px]]</div></td>

 
−

        <td><div style="font-family: &quot;Arial&quot;; font-size: 11pt;"><span id="wwpID0E0RY0HA">Pledge Fees - available on </span><span style="font-weight: bold;">Member-&gt;Account</span></div></td>

 
−

      </tr>

 
−

    </table>

 
−

  </div>

 
−

  <div style="font-family: Arial; font-size: 11pt; margin-bottom: 12pt; margin-left: 36pt;"><span style="font-weight: bold;"><span id="wwpID0E0QY0HA">Status: </span></span>Select Active or Inactive (only Active items may be billed)</div>

 
−

  <div style="font-family: Arial; font-size: 11pt; margin-bottom: 12pt; margin-left: 36pt;"><span style="font-weight: bold;"><span id="wwpID0E0PY0HA">Frequency: </span></span>Only One-Time frequency is available for Event fees.</div>

 
−

  <div style="font-family: Arial; font-size: 11pt; margin-bottom: 12pt; margin-left: 36pt;"><span style="font-weight: bold;"><span id="wwpID0E0OY0HA">Collection Basis: </span></span>Select Cash or Accrual</div>

 
−

  <div style="font-family: Arial; font-size: 11pt; margin-bottom: 12pt; margin-left: 36pt;"><span style="font-weight: bold;"><span id="wwpID0E0NY0HA">Voluntary:</span></span> If desired, click "Treat this fee as voluntary".  Note: <span style="color: #000000; font-family: Arial; font-size: 8.5pt; font-style: italic;">Unpaid voluntary fees do not count against a member's account balance and are not automatically included on billing statements.</span></div>

 
−

  <div style="color: #000000; font-family: &quot;Arial&quot;; font-size: 10pt; font-weight: normal; margin-bottom: 12pt; margin-left: 72pt; text-align: justify;"><span id="wwpID0E0MY0HA">Chart 3-1 Fee Item fields</span></div>

 
−

 
−

===Assign Event Fees===

 
−

  <div style="font-family: Tahoma; font-size: 11pt; margin-bottom: 12pt;"><span id="wwpID0E0KY0HA">Once created, fees may be assigned to an event.  If desired, multiple fees may be assigned to one event giving the ability to have separate pricing for members and non-members, pricing for sponsors, or any desired additional fee item.</span></div>

 
−

  <div style="font-family: Tahoma; font-size: 11pt; margin-bottom: 12pt;"><span id="wwpID0E0JY0HA">Assigning event registration fees may be done </span><span style="text-decoration: underline;">during creation</span> of a new event by selecting <span style="font-weight: bold;">Assign Fee Items</span> on Step 3 of 3 or <span style="text-decoration: underline;">after creation</span> on the <span style="font-weight: bold;">Fees</span> tab.  When assigning fees after creation, event registration fees <span style="text-decoration: underline;">and</span> additional fees items may both be assigned.  Steps outlined below will specifically address assigning fees after creation but the same concepts can be applied to assigning fees during creation.</div>

 
−

  <div style="font-family: &quot;Times New Roman&quot;; font-size: 11pt; margin-bottom: 12pt; margin-left: 36pt; text-align: justify;"><span id="wwpID0E0IY0HA">[[Image:Events-Assign_Event_Fees-image60.png|Assign fee items - add wizard]]</span></div>

 
−

  <div style="color: #000000; font-family: &quot;Times New Roman&quot;; font-size: 10pt; font-weight: normal; margin-bottom: 12pt; margin-left: 54pt; text-align: justify;"><span style="font-size: 10pt;"><span id="wwpID0E0HY0HA">Figure 3-4</span></span> During creation</div>

 
−

  <div style="color: #5F497A; font-family: Calibri; font-size: 9pt; margin-bottom: 12pt; margin-left: 18pt;"><span id="wwpID0E0GY0HA">Only one event </span><span style="text-decoration: underline;">registration</span> fee may be selected per registrant.  One or more <span style="text-decoration: underline;">additional</span> fee items may be selected per registrant.</div>

 
−

  <div style="font-family: &quot;Times New Roman&quot;; font-size: 11pt; margin-bottom: 12pt; margin-left: 36pt; text-align: justify;"><span id="wwpID0E0FY0HA">[[Image:Events-Assign_Event_Fees-image61.png|Assign fee items - fees tab]]</span></div>

 
−

  <div style="color: #000000; font-family: &quot;Times New Roman&quot;; font-size: 10pt; font-weight: normal; margin-bottom: 12pt; margin-left: 54pt; text-align: justify;"><span style="font-size: 10pt;"><span id="wwpID0E0EY0HA">Figure 3-5</span></span> After creation</div>

 
−

 
−

====Assign Event Registration Fees====

 
−

<div style="color: #5F497A; font-family: Calibri; font-size: 9pt; margin-bottom: 12pt; margin-left: 18pt;"><span id="wwpID0E0CY0HA">Only one event registration fee may be selected per registrant.</span></div>

 
−

  <div style="margin-left: 18pt;margin-bottom: 0pt;">

 
−

    <table border="0" cellspacing="0" cellpadding="0" width="99%" summary="">

 
−

      <tr valign="baseline">

 
−

        <td style="width: 18pt"><div style="font-family: Calibri; font-size: 11pt;">1. </div></td>

 
−

        <td><div style="font-family: Calibri; font-size: 11pt;"><span id="wwpID0E0BY0HA">On the </span><span style="font-weight: bold;">Fees</span> tab, click <span style="font-weight: bold;">Assign Fee Items</span> in the <span style="font-weight: bold;">Event Registration Fees</span> area.</div></td>

 
−

      </tr>

 
−

    </table>

 
−

  </div>

 
−

  <div style="margin-left: 18pt;margin-bottom: 0pt;">

 
−

    <table border="0" cellspacing="0" cellpadding="0" width="99%" summary="">

 
−

      <tr valign="baseline">

 
−

        <td style="width: 18pt"><div style="font-family: Calibri; font-size: 11pt;">2. </div></td>

 
−

        <td><div style="font-family: Calibri; font-size: 11pt;"><span id="wwpID0E0AY0HA">Select the desired fee by clicking the </span><span style="font-weight: bold;">Fee Item Type</span> arrow.</div></td>

 
−

      </tr>

 
−

    </table>

 
−

  </div>

 
−

  <div style="margin-left: 18pt;margin-bottom: 0pt;">

 
−

    <table border="0" cellspacing="0" cellpadding="0" width="99%" summary="">

 
−

      <tr valign="baseline">

 
−

        <td style="width: 18pt"><div style="font-family: Calibri; font-size: 11pt;">3. </div></td>

 
−

        <td><div style="font-family: Calibri; font-size: 11pt;"><span id="wwpID0E06X0HA">Complete other desired fields.  See Figure 3-6.</span></div></td>

 
−

      </tr>

 
−

    </table>

 
−

  </div>

 
−

  <div style="color: #5F497A; font-family: Calibri; font-size: 9pt; margin-bottom: 12pt; margin-left: 18pt;"><span id="wwpID0E05X0HA">The </span><span style="font-weight: bold;">Event Fee Display Name</span> is limited to 50 characters.  The <span style="font-weight: bold;">Event Fee Description</span> is limited to 100 characters.</div>

 
−

  <div style="margin-left: 18pt;margin-bottom: 0pt;">

 
−

    <table border="0" cellspacing="0" cellpadding="0" width="99%" summary="">

 
−

      <tr valign="baseline">

 
−

        <td style="width: 18pt"><div style="font-family: Calibri; font-size: 11pt;">4. </div></td>

 
−

        <td><div style="font-family: Calibri; font-size: 11pt;"><span id="wwpID0E04X0HA">Click </span><span style="font-weight: bold;">Save &amp; Exit</span>. </div></td>

 
−

      </tr>

 
−

    </table>

 
−

  </div>

 
−

  <div style="font-family: &quot;Times New Roman&quot;; font-size: 11pt; margin-bottom: 12pt; margin-left: 36pt; text-align: justify;"><span id="wwpID0E03X0HA">[[Image:Events-Assign_event_registration_fees-image62.png|Assign fee items]]</span></div>

 
−

  <div style="color: #000000; font-family: &quot;Times New Roman&quot;; font-size: 10pt; font-weight: normal; margin-bottom: 12pt; margin-left: 54pt; text-align: justify;"><span style="font-size: 10pt;"><span id="wwpID0E02X0HA">Figure 3-6</span></span> Assign fee items</div>

 
−

 
−

====Assign Additional Fee Item====

 
−

One or more additional fee items may be selected per registrant.

 
−

 
−

#On the '''Fees''' tab, click '''Assign Fee Items''' in the '''Additional Fee Items''' area.

 
−

#Select the desired fee by clicking the '''Fee Item Type''' arrow.

 
−

#Complete other desired fields. See Figure 1.

 
−

#Click '''Save & Exit'''.

 
−

 
−

 
−

:[[File:aafie.png]]

 
−

:'''Figure 1: Assign Additional Fee Items

 
−

 
−

====Edit an Event Fee Once Assigned====

 
−

<div style="margin-left: 18pt;margin-bottom: 0pt;">

 
−

    <table border="0" cellspacing="0" cellpadding="0" width="99%" summary="">

 
−

      <tr valign="baseline">

 
−

        <td style="width: 18pt"><div style="font-family: Calibri; font-size: 11pt;">1. </div></td>

 
−

        <td><div style="font-family: Calibri; font-size: 11pt;"><span id="wwpID0E0TX0HA">On the </span><span style="font-weight: bold;">Fees</span> tab, click the title of the desired event fee in the <span style="font-weight: bold;">Event Registration Fees</span> area or the <span style="font-weight: bold;">Additional Fee Items</span> area.</div></td>

 
−

      </tr>

 
−

    </table>

 
−

  </div>

 
−

  <div style="margin-left: 18pt;margin-bottom: 0pt;">

 
−

    <table border="0" cellspacing="0" cellpadding="0" width="99%" summary="">

 
−

      <tr valign="baseline">

 
−

        <td style="width: 18pt"><div style="font-family: Calibri; font-size: 11pt;">2. </div></td>

 
−

        <td><div style="font-family: Calibri; font-size: 11pt;"><span id="wwpID0E0SX0HA">Make desired changes.</span></div></td>

 
−

      </tr>

 
−

    </table>

 
−

  </div>

 
−

  <div style="margin-left: 18pt;margin-bottom: 0pt;">

 
−

    <table border="0" cellspacing="0" cellpadding="0" width="99%" summary="">

 
−

      <tr valign="baseline">

 
−

        <td style="width: 18pt"><div style="font-family: Calibri; font-size: 11pt;">3. </div></td>

 
−

        <td><div style="font-family: Calibri; font-size: 11pt;"><span id="wwpID0E0RX0HA">Click </span><span style="font-weight: bold;">Save &amp; Exit</span>.</div></td>

 
−

      </tr>

 
−

    </table>

 
−

  </div>

 
−

 
−

====Remove an Event Fee Once Assigned====

 
−

<div style="margin-left: 18pt;margin-bottom: 0pt;">

 
−

    <table border="0" cellspacing="0" cellpadding="0" width="99%" summary="">

 
−

      <tr valign="baseline">

 
−

        <td style="width: 18pt"><div style="font-family: Calibri; font-size: 11pt;">1. </div></td>

 
−

        <td><div style="font-family: Calibri; font-size: 11pt;"><span id="wwpID0E0PX0HA">On the </span><span style="font-weight: bold;">Fees</span> tab, click to select the check box in front of the desired item to be deleted. </div></td>

 
−

      </tr>

 
−

    </table>

 
−

  </div>

 
−

  <div style="margin-left: 18pt;margin-bottom: 0pt;">

 
−

    <table border="0" cellspacing="0" cellpadding="0" width="99%" summary="">

 
−

      <tr valign="baseline">

 
−

        <td style="width: 18pt"><div style="font-family: Calibri; font-size: 11pt;">2. </div></td>

 
−

        <td><div style="font-family: Calibri; font-size: 11pt;"><span id="wwpID0E0OX0HA">Click </span><span style="font-weight: bold;">Remove Select Fee Items</span>.</div></td>

 
−

      </tr>

 
−

    </table>

 
−

  </div>

 
−

  <div style="color: #5F497A; font-family: Calibri; font-size: 9pt; margin-bottom: 12pt; margin-left: 18pt;"><span id="wwpID0E0NX0HA">Removing an event fee also removes any association with an event and makes it unavailable in event reports as well.  Make sure that you no longer need access to this event fee before removing it.</span></div>

 
−

  <div style="font-family: &quot;Times New Roman&quot;; font-size: 11pt; margin-bottom: 12pt; margin-left: 36pt; text-align: justify;"><span id="wwpID0E0MX0HA">[[Image:Events-Remove_an_event_fee_once_assigned-image63.png|remove fee item]]</span></div>

 
−

  <div style="color: #000000; font-family: &quot;Times New Roman&quot;; font-size: 10pt; font-weight: normal; margin-bottom: 12pt; margin-left: 54pt; text-align: justify;"><span style="font-size: 10pt;"><span id="wwpID0E0LX0HA">Figure 3-7</span></span> Removing an event fee</div>

 
−

 
−

===Select Billing Preferences===

 
−

<div style="font-family: Tahoma; font-size: 11pt; margin-bottom: 12pt;"><span id="wwpID0E0JX0HA">Desired billing preferences must be selected if fees have been assigned or to indicate online registration preferences.  Many of these preferences are available </span><span style="text-decoration: underline;">during creation</span> of an event on Step 3 of 3 or all selections may be made <span style="text-decoration: underline;">after creation</span> of an event on the <span style="font-weight: bold;">Fees</span> tab.  </div>

 
−

  <div style="color: #5F497A; font-family: Calibri; font-size: 9pt; margin-bottom: 12pt; margin-left: 18pt;"><span id="wwpID0E0IX0HA">If allowing online registration but you do not select any acceptable methods of payment, upon registration a message will be displayed to registrants that the chamber will be in contact with them regarding the registration fees for this event.</span></div>

 
−

  <div style="font-family: Tahoma; font-size: 11pt; margin-bottom: 12pt;"><span id="wwpID0E0HX0HA">Preferences include selection of online registration options for members and non-members, available payment methods, general invoice options and non-members invoice options (if applicable).  In addition email confirmation notices and email notification of registration may be specified if desired.</span></div>

 
−

  <div style="color: #5F497A; font-family: Calibri; font-size: 9pt; margin-bottom: 12pt;"><span id="wwpID0E0GX0HA">Note:  Custom text may be included on the confirmation email.  Put the desired custom text in the </span><span style="font-weight: bold;">Chamber Message</span> window in <span style="font-weight: bold;">Setup-&gt;Event Options and Settings</span> under the <span style="font-weight: bold;">Registration and Billing Preferences</span> area.</div>

 
−

  <div style="font-family: Tahoma; font-size: 11pt; margin-bottom: 12pt;"><span id="wwpID0E0FX0HA">Steps outlined below will specifically address selecting billing preferences after creation but the same selections are available when selecting billing preferences during creation.</span></div>

 
−

====Save Billing Preferences====

 
−

  <div style="margin-left: 18pt;margin-bottom: 0pt;">

 
−

    <table border="0" cellspacing="0" cellpadding="0" width="99%" summary="">

 
−

      <tr valign="baseline">

 
−

        <td style="width: 18pt"><div style="font-family: Calibri; font-size: 11pt;">1. </div></td>

 
−

        <td><div style="font-family: Calibri; font-size: 11pt;"><span id="wwpID0E0DX0HA">On the </span><span style="font-weight: bold;">Fees</span> tab, select the desired options in the <span style="font-weight: bold;">Billing Preferences </span>area.</div></td>

 
−

      </tr>

 
−

    </table>

 
−

  </div>

 
−

  <div style="margin-left: 18pt;margin-bottom: 0pt;">

 
−

    <table border="0" cellspacing="0" cellpadding="0" width="99%" summary="">

 
−

      <tr valign="baseline">

 
−

        <td style="width: 18pt"><div style="font-family: Calibri; font-size: 11pt;">2. </div></td>

 
−

        <td><div style="font-family: Calibri; font-size: 11pt;"><span id="wwpID0E0CX0HA">Click </span><span style="font-weight: bold;">Save Preferences</span>.</div></td>

 
−

      </tr>

 
−

    </table>

 
−

  </div>

 
−

  <div style="font-family: &quot;Times New Roman&quot;; font-size: 11pt; margin-bottom: 12pt; margin-left: 36pt; text-align: justify;"><span id="wwpID0E0BX0HA">[[Image:Events-Save_billing_preferences-image64.png]]</span></div>

 
−

  <div style="color: #000000; font-family: &quot;Times New Roman&quot;; font-size: 10pt; font-weight: normal; margin-bottom: 12pt; margin-left: 54pt; text-align: justify;"><span style="font-size: 9pt;"><span id="wwpID0E0AX0HA">Figure 3-8</span></span> Billing Preferences (integrated Billing example shown)</div>

 
−

  <div style="color: #000000; font-family: &quot;Times New Roman&quot;; font-size: 10pt; font-weight: normal; margin-bottom: 12pt; margin-left: 54pt; text-align: justify;"><span id="wwpID0E06W0HA">[[Image:Events-Save_billing_preferences-image65.png]]</span></div>

 
−

  <div style="color: #000000; font-family: &quot;Times New Roman&quot;; font-size: 10pt; font-weight: normal; margin-bottom: 12pt; margin-left: 54pt; text-align: justify;"><span style="font-size: 9pt;"><span id="wwpID0E05W0HA">Figure 3-9</span></span> Invoice Options section (QuickBooks integration Only)</div>

 
−

 
−

===Create Discount Options===

 
−

Any event may have special discounts available and applied to all or selected fees. Discounts based on age, date, or volume may be created for each event and applied when appropriate information is provided during registration or the discount criteria is met because of date or volume.

 
−

 
−

====Create an Age-Based discount====

 
−

#On the Fees tab, click '''Add Discount''' in the Discount Options area under the Age-Based Discounts section.

 
−

#Complete the Add Event Discount screen.

 
−

#Click '''Save'''.

 
−

#:[[File:Create_an_age-based_discount.png|framed|none|Age-based discounts]]

 
−

 
−

====Create an Early Registration Discount====

 
−

#On the Fees tab, click '''Add Discount''' in the Discount Options area under the Early Registration Discounts section.

 
−

#Complete the Add Event Discount screen.

 
−

#Click '''Save'''.

 
−

#:[[File:Create an early registration discount.png|framed|none|Early Registration discounts]]

 
−

 
−

====Create a Volume-Based Discount====

 
−

#On the Fees tab, click '''Add Discount''' in the Discount Options area under the Volume Discounts section.

 
−

#Complete the Add Event Discount screen.

 
−

#Click '''Save'''.

 
−

#:[[File:Create a volume-based discount.png|framed|none|Volume discounts]]

 
−

#:When members or visitors register, upon checkout they will see the volume discount specified in a Discount column.

 
−

#:[[File:Online Registration Volume Discount.png|framed|none|Online Registration Volume Discount Example]]

 
−

 
−

====Create Membership Type Discount====

 
−

See event discounts by membership type in action. [[File:Vid.png|link=http://www.screencast.com/t/3qzmyWoorsVy]]

 
−

#On the Fees tab, click '''Add Discount''' in the Discount Options area under the Membership Type Discounts section.

 
−

#Complete the Add Event Discount screen.

 
−

#Click '''Save'''.

 
−

#:[[File:Events-Create Membership Type Discount-image70.png|framed|none|Membership Type Discount Screen]]

 
−

'''Notes:'''

 
−

*Idea: Grant discounted, free, or included benefits to specific membership types.

 
−

*Total discounts used per event may be specified and a separate limit per registration is also available.

 
−

*For Plus edition or greater only.

 
−

 
−

====Create Promo Code Discount====

 
−

See event promo codes in action [[File:Vid.png|link=http://www.screencast.com/t/IueiQQ9eugDp]]

 
−

#On the Fees tab, click '''Add Discount''' in the Discount Options area under the Promo Code section.

 
−

#Complete the Add Event Discount screen.

 
−

#Click '''Save'''.

 
−

#:[[File:Events-Create Promo Code Discount-image71.png|framed|none|Event Promo code window]]

 
−

'''Notes:'''

 
−

*Idea: create a Promo Code on your Event Fees tab and then post your promo code on specific advertising so you can track the effectiveness of the ad or provide this promo code to a select group of attendees.

 
−

* Make sure to create different promo code for each discount.

 
−

*Create multiple codes for each event if desired.

 
−

*Limits on usage are available at the event level and registration level.

 
−

*For Plus edition or greater only.

 
−

 
−

'''Related Topics''' [[Invoice Discounts]]

 
−

 
−

===View Account Information===

 
−

  <div style="font-family: Calibri; font-size: 11pt; margin-bottom: 10pt; margin-left: 18pt; text-indent: -18pt;"><span id="wwpID0E0FV0HA">Running totals of income billed and paid, registrations, invitations, and a list of event sponsors for an event can be viewed on the </span><span style="font-weight: bold;">Account</span> tab.  Totals are automatically updated as entries are made.</div>

 
−

====View the Event Account Information====

 
−

<div style="margin-left: 18pt;margin-bottom: 0pt;">

 
−

    <table border="0" cellspacing="0" cellpadding="0" width="99%" summary="">

 
−

      <tr valign="baseline">

 
−

        <td style="width: 18pt"><div style="font-family: Calibri; font-size: 11pt;">1. </div></td>

 
−

        <td><div style="font-family: Calibri; font-size: 11pt;"><span id="wwpID0E0DV0HA">Select the desired event. </span></div></td>

 
−

      </tr>

 
−

    </table>

 
−

  </div>

 
−

  <div style="margin-left: 18pt;margin-bottom: 0pt;">

 
−

    <table border="0" cellspacing="0" cellpadding="0" width="99%" summary="">

 
−

      <tr valign="baseline">

 
−

        <td style="width: 18pt"><div style="font-family: Calibri; font-size: 11pt;">2. </div></td>

 
−

        <td><div style="font-family: Calibri; font-size: 11pt;"><span id="wwpID0E0CV0HA">Click the </span><span style="font-weight: bold;">Account</span> tab.</div></td>

 
−

      </tr>

 
−

    </table>

 
−

  </div>

 
−

  <div style="font-family: &quot;Times New Roman&quot;; font-size: 11pt; margin-bottom: 12pt; margin-left: 36pt; text-align: justify;"><span id="wwpID0E0BV0HA">[[Image:Events-View_the_event_account_information-image72.png]]</span></div>

 
−

  <div style="color: #000000; font-family: &quot;Times New Roman&quot;; font-size: 10pt; font-weight: normal; margin-bottom: 12pt; margin-left: 54pt; text-align: justify;"><span style="font-size: 10pt;"><span id="wwpID0E0AV0HA">Figure 3-13</span></span> Account summary</div>

 
−

 
−

===Create Event Invoices and Sales Receipts===

 
−

<div style="font-family: Tahoma; font-size: 11pt; margin-bottom: 12pt;"><span id="wwpID0E05U0HA">If integrated with QuickBooks or using the integrated billing module, individual invoices may be generated for members from the </span><span style="font-weight: bold;">Events</span> module for those requesting payment by invoice or for those registrants designated as such by chamber employees when completing registration.</div>

 
−

  <div style="font-family: Tahoma; font-size: 11pt; margin-bottom: 12pt;"><span id="wwpID0E04U0HA">If registration is accepted for individuals that are not chamber members, invoices may also be generated if desired.  Two options for creation of non-member invoices are available:  create a new member record (or QB Customer with QuickBooks integration) for each non-member participant or assign non-member invoices to a single member (or QB Customer with QuickBooks integration).</span></div>

 
−

  <div style="font-family: Tahoma; font-size: 11pt; margin-bottom: 12pt;"><span id="wwpID0E03U0HA">Creating invoices vary slightly dependent on which module you are using - - </span><span style="font-weight: bold;">QuickBooks</span> or <span style="font-weight: bold;">Billing</span>.  Follow the instructions in the appropriate section below for creating your event fees.</div>

 
−

====Create Event Invoices/Sales Receipts when QuickBooks is Integrated====

 
−

<div style="font-family: &quot;Times New Roman&quot;; font-size: 11pt; margin-bottom: 12pt; margin-left: 18pt;"><span id="wwpID0E01U0HA">Defaults may be set for these options but may also be changed right before creating the invoices. </span></div>

 
−

  <div style="color: #808080; font-family: Cambria; font-size: 14pt; margin-bottom: 0pt; margin-left: 36pt; margin-top: 10pt;"><span id="wwpID0E0ZU0HA">To change the event invoice defaults</span></div>

 
−

  <div style="margin-left: 36pt;margin-bottom: 12pt;">

 
−

    <table border="0" cellspacing="0" cellpadding="0" width="99%" summary="">

 
−

      <tr valign="baseline">

 
−

        <td style="width: 18pt"><div style="font-family: &quot;Times New Roman&quot;; font-size: 11pt; text-align: justify;"><span style="font-family: Calibri; font-size: 10pt;">1. </span></div></td>

 
−

        <td><div style="font-family: &quot;Times New Roman&quot;; font-size: 11pt; text-align: justify;"><span id="wwpID0E0YU0HA">Select the desired event.</span></div></td>

 
−

      </tr>

 
−

    </table>

 
−

  </div>

 
−

  <div style="margin-left: 36pt;margin-bottom: 12pt;">

 
−

    <table border="0" cellspacing="0" cellpadding="0" width="99%" summary="">

 
−

      <tr valign="baseline">

 
−

        <td style="width: 18pt"><div style="font-family: &quot;Times New Roman&quot;; font-size: 11pt; text-align: justify;"><span style="font-family: Calibri; font-size: 10pt;">2. </span></div></td>

 
−

        <td><div style="font-family: &quot;Times New Roman&quot;; font-size: 11pt; text-align: justify;"><span id="wwpID0E0XU0HA">Click the </span><span style="font-weight: bold;">Fees</span> tab.</div></td>

 
−

      </tr>

 
−

    </table>

 
−

  </div>

 
−

  <div style="margin-left: 36pt;margin-bottom: 12pt;">

 
−

    <table border="0" cellspacing="0" cellpadding="0" width="99%" summary="">

 
−

      <tr valign="baseline">

 
−

        <td style="width: 18pt"><div style="font-family: &quot;Times New Roman&quot;; font-size: 11pt; text-align: justify;"><span style="font-family: Calibri; font-size: 10pt;">3. </span></div></td>

 
−

        <td><div style="font-family: &quot;Times New Roman&quot;; font-size: 11pt; text-align: justify;"><span id="wwpID0E0WU0HA">Make the desired selections in the </span><span style="font-weight: bold;">Billing Preferences</span> area.  </div></td>

 
−

      </tr>

 
−

    </table>

 
−

  </div>

 
−

  <div style="color: #808080; font-family: Cambria; font-size: 14pt; margin-bottom: 0pt; margin-left: 36pt; margin-top: 10pt;"><span id="wwpID0E0VU0HA">To create event invoices/sales receipts</span></div>

 
−

  <div style="color: #5F497A; font-family: Calibri; font-size: 9pt; margin-bottom: 12pt; margin-left: 36pt;"><span id="wwpID0E0UU0HA">You may also create event invoices by clicking the </span><span style="font-weight: bold;">Event Invoices</span> tab after selecting the <span style="font-weight: bold;">QuickBooks</span> module in the left-hand navigation bar.</div>

 
−

  <div style="margin-left: 36pt;margin-bottom: 12pt;">

 
−

    <table border="0" cellspacing="0" cellpadding="0" width="99%" summary="">

 
−

      <tr valign="baseline">

 
−

        <td style="width: 18pt"><div style="font-family: &quot;Times New Roman&quot;; font-size: 11pt; text-align: justify;"><span style="font-family: Calibri; font-size: 10pt;">1. </span></div></td>

 
−

        <td><div style="font-family: &quot;Times New Roman&quot;; font-size: 11pt; text-align: justify;"><span id="wwpID0E0TU0HA">Select the desired event.</span></div></td>

 
−

      </tr>

 
−

    </table>

 
−

  </div>

 
−

  <div style="margin-left: 36pt;margin-bottom: 12pt;">

 
−

    <table border="0" cellspacing="0" cellpadding="0" width="99%" summary="">

 
−

      <tr valign="baseline">

 
−

        <td style="width: 18pt"><div style="font-family: &quot;Times New Roman&quot;; font-size: 11pt; text-align: justify;"><span style="font-family: Calibri; font-size: 10pt;">2. </span></div></td>

 
−

        <td><div style="font-family: &quot;Times New Roman&quot;; font-size: 11pt; text-align: justify;"><span id="wwpID0E0SU0HA">Click the </span><span style="font-weight: bold;">Account</span> tab.</div></td>

 
−

      </tr>

 
−

    </table>

 
−

  </div>

 
−

  <div style="margin-left: 36pt;margin-bottom: 12pt;">

 
−

    <table border="0" cellspacing="0" cellpadding="0" width="99%" summary="">

 
−

      <tr valign="baseline">

 
−

        <td style="width: 18pt"><div style="font-family: &quot;Times New Roman&quot;; font-size: 11pt; text-align: justify;"><span style="font-family: Calibri; font-size: 10pt;">3. </span></div></td>

 
−

        <td><div style="font-family: &quot;Times New Roman&quot;; font-size: 11pt; text-align: justify;"><span id="wwpID0E0RU0HA">If registrations have specified a payment method of "invoice" and the invoice has not yet been created, a selection will appear indicating the number of invoices that need to be created.  Or if credit card payment has been accepted and Credit Card Payment Tracking Options are set to create either an invoice/payment or sales receipt, a selection will appear indicating the number of entries that need to be created.</span></div></td>

 
−

      </tr>

 
−

    </table>

 
−

  </div>

 
−

  <div style="color: #5F497A; font-family: Calibri; font-size: 9pt; margin-bottom: 12pt; margin-left: 54pt;"><span id="wwpID0E0QU0HA">If the </span><span style="font-weight: bold;">Create Entries Now</span> button does not appear, there are no transactions to be created at this time.</div>

 
−

  <div style="font-family: &quot;Times New Roman&quot;; font-size: 11pt; margin-bottom: 12pt; margin-left: 36pt; text-align: justify;"><span id="wwpID0E0PU0HA">[[Image:Events-Create_Event_Invoices_2fSales_Receipts_when_QuickB-image73.png]]</span></div>

 
−

  <div style="color: #000000; font-family: &quot;Times New Roman&quot;; font-size: 10pt; font-weight: normal; margin-bottom: 12pt; margin-left: 54pt; text-align: justify;"><span style="font-size: 10pt;"><span id="wwpID0E0OU0HA">Figure 3-14</span></span> Create Entries Now (QuickBooks example shown)</div>

 
−

  <div style="margin-left: 36pt;margin-bottom: 12pt;">

 
−

    <table border="0" cellspacing="0" cellpadding="0" width="99%" summary="">

 
−

      <tr valign="baseline">

 
−

        <td style="width: 18pt"><div style="font-family: &quot;Times New Roman&quot;; font-size: 11pt; text-align: justify;"><span style="font-family: Calibri; font-size: 10pt;">4. </span></div></td>

 
−

        <td><div style="font-family: &quot;Times New Roman&quot;; font-size: 11pt; text-align: justify;"><span id="wwpID0E0NU0HA">Click </span><span style="font-weight: bold;">Create QuickBooks Entries Now</span>.</div></td>

 
−

      </tr>

 
−

    </table>

 
−

  </div>

 
−

  <div style="margin-left: 36pt;margin-bottom: 12pt;">

 
−

    <table border="0" cellspacing="0" cellpadding="0" width="99%" summary="">

 
−

      <tr valign="baseline">

 
−

        <td style="width: 18pt"><div style="font-family: &quot;Times New Roman&quot;; font-size: 11pt; text-align: justify;"><span style="font-family: Calibri; font-size: 10pt;">5. </span></div></td>

 
−

        <td><div style="font-family: &quot;Times New Roman&quot;; font-size: 11pt; text-align: justify;"><span id="wwpID0E0MU0HA">Make desired changes in the </span><span style="font-weight: bold;">Invoice Options</span> area.</div></td>

 
−

      </tr>

 
−

    </table>

 
−

  </div>

 
−

  <div style="font-family: &quot;Times New Roman&quot;; font-size: 11pt; margin-bottom: 12pt; margin-left: 36pt; text-align: justify;"><span id="wwpID0E0LU0HA">[[Image:Events-Create_Event_Invoices_2fSales_Receipts_when_QuickB-image74.png|event invoices]]</span></div>

 
−

  <div style="color: #000000; font-family: &quot;Times New Roman&quot;; font-size: 10pt; font-weight: normal; margin-bottom: 12pt; margin-left: 54pt; text-align: justify;"><span style="font-size: 10pt;"><span id="wwpID0E0KU0HA">Figure 3-15</span></span> Invoice options</div>

 
−

  <div style="margin-left: 36pt;margin-bottom: 12pt;">

 
−

    <table border="0" cellspacing="0" cellpadding="0" width="99%" summary="">

 
−

      <tr valign="baseline">

 
−

        <td style="width: 18pt"><div style="font-family: &quot;Times New Roman&quot;; font-size: 11pt; text-align: justify;"><span style="font-family: Calibri; font-size: 10pt;">6. </span></div></td>

 
−

        <td><div style="font-family: &quot;Times New Roman&quot;; font-size: 11pt; text-align: justify;"><span id="wwpID0E0JU0HA">Click </span><span style="font-weight: bold;">Create QuickBooks Entries Now</span>.  [[Image:Events-Create_Event_Invoices_2fSales_Receipts_when_QuickB-image75.png|create invoices now icon]]</div></td>

 
−

      </tr>

 
−

    </table>

 
−

  </div>

 
−

  <div style="color: #5F497A; font-family: Calibri; font-size: 9pt; margin-bottom: 12pt; margin-left: 54pt;"><span id="wwpID0E0IU0HA">If the </span><span style="font-weight: bold;">Create QuickBooks Entries Now</span> button is not available (dimmed out), you may need to verify your QuickBooks connection.  This may be done at the top of the <span style="font-weight: bold;">Event Invoices</span> tab or by selecting <span style="font-weight: bold;">QuickBooks Connection Settings</span> in the <span style="font-weight: bold;">Setup</span> module.</div>

 
−

  <div style="font-family: &quot;Times New Roman&quot;; font-size: 11pt; margin-bottom: 12pt; margin-left: 36pt; text-align: justify;"><span id="wwpID0E0HU0HA">[[Image:Events-Create_Event_Invoices_2fSales_Receipts_when_QuickB-image76.png|invoice creation]]</span></div>

 
−

  <div style="color: #000000; font-family: &quot;Times New Roman&quot;; font-size: 10pt; font-weight: normal; margin-bottom: 12pt; margin-left: 54pt; text-align: justify;"><span style="font-size: 10pt;"><span id="wwpID0E0GU0HA">Figure 3-16</span></span> Create Invoices</div>

 
−

  <div style="margin-left: 36pt;margin-bottom: 12pt;">

 
−

    <table border="0" cellspacing="0" cellpadding="0" width="99%" summary="">

 
−

      <tr valign="baseline">

 
−

        <td style="width: 18pt"><div style="font-family: &quot;Times New Roman&quot;; font-size: 11pt; text-align: justify;"><span style="font-family: Calibri; font-size: 10pt;">7. </span></div></td>

 
−

        <td><div style="font-family: &quot;Times New Roman&quot;; font-size: 11pt; text-align: justify;"><span id="wwpID0E0FU0HA">Invoice creation begins.  Click </span><span style="font-weight: bold;">Refresh Status Now</span> to display the current status for completed invoices.  When <span style="font-weight: bold;">Invoicing Complete</span> appears, click <span style="font-weight: bold;">Refresh Status Now</span> to view a complete status list of all invoices.</div></td>

 
−

      </tr>

 
−

    </table>

 
−

  </div>

 
−

  <div style="font-family: &quot;Times New Roman&quot;; font-size: 11pt; margin-bottom: 12pt; margin-left: 36pt; text-align: justify;"><span id="wwpID0E0EU0HA">[[Image:Events-Create_Event_Invoices_2fSales_Receipts_when_QuickB-image77.png|invoice status]]</span></div>

 
−

  <div style="color: #000000; font-family: &quot;Times New Roman&quot;; font-size: 10pt; font-weight: normal; margin-bottom: 12pt; margin-left: 54pt; text-align: justify;"><span style="font-size: 10pt;"><span id="wwpID0E0DU0HA">Figure 3-17</span></span> Invoice status</div>

 
−

  <div style="margin-left: 36pt;margin-bottom: 12pt;">

 
−

    <table border="0" cellspacing="0" cellpadding="0" width="99%" summary="">

 
−

      <tr valign="baseline">

 
−

        <td style="width: 18pt"><div style="font-family: &quot;Times New Roman&quot;; font-size: 11pt; text-align: justify;"><span style="font-family: Calibri; font-size: 10pt;">8. </span></div></td>

 
−

        <td><div style="font-family: &quot;Times New Roman&quot;; font-size: 11pt; text-align: justify;"><span id="wwpID0E0CU0HA">Click </span><span style="font-weight: bold;">Finish</span>.</div></td>

 
−

      </tr>

 
−

    </table>

 
−

  </div>

 
−

  <div style="color: #5F497A; font-family: Calibri; font-size: 9pt; margin-bottom: 12pt; margin-left: 54pt;"><span id="wwpID0E0BU0HA">In many versions of QuickBooks you may print the batch of invoices by clicking </span><span style="font-weight: bold;">Invoices</span>. Then click the <span style="font-weight: bold;">Print </span>drop-down arrow [[Image:Events-Create_Event_Invoices_2fSales_Receipts_when_QuickB-image78.png|print batch]]. Click <span style="font-weight: bold;">Print Batch</span></div>

 
−

  <div style="margin-left: 36pt;margin-bottom: 12pt;">

 
−

    <table border="0" cellspacing="0" cellpadding="0" width="99%" summary="">

 
−

      <tr valign="baseline">

 
−

        <td style="width: 18pt"><div style="font-family: &quot;Times New Roman&quot;; font-size: 11pt; text-align: justify;"><span style="font-family: Calibri; font-size: 10pt;">9. </span></div></td>

 
−

        <td><div style="font-family: &quot;Times New Roman&quot;; font-size: 11pt; text-align: justify;"><span id="wwpID0E0AU0HA">These invoices now exist in QuickBooks and are marked to be printed. You may view and print them in QuickBooks according to standard QuickBooks procedures. </span></div></td>

 
−

      </tr>

 
−

    </table>

 
−

</div>

 
−

====Create Event Invoices Using Integrated Billing Module====

 
−

<div style="font-family: &quot;Times New Roman&quot;; font-size: 11pt; margin-bottom: 12pt; margin-left: 18pt;"><span id="wwpID0E05T0HA">If a payment method of </span><span style="font-weight: bold;">Invoice</span> is selected, this invoice will be queued and then created at a time of your choosing.  If a payment method of <span style="font-weight: bold;">Credit Card</span> is selected, one of three results will happen depending on your choice:  an invoice and payment will be automatically created, a sales receipt will automatically be created, or no transaction will happen.  Make these selections for each event on the <span style="font-weight: bold;">Fees</span> tab of the desired Event.</div>

 
−

  <div style="font-family: &quot;Times New Roman&quot;; font-size: 11pt; margin-bottom: 12pt; margin-left: 18pt;"><span id="wwpID0E04T0HA">Event invoices may be created from within the </span><span style="font-weight: bold;">Events</span> module or from the <span style="font-weight: bold;">Billing</span> module.  Either way of creating invoices accomplishes the same task.</div>

 
−

  <div style="color: #808080; font-family: Cambria; font-size: 14pt; margin-bottom: 0pt; margin-left: 36pt; margin-top: 10pt;"><span id="wwpID0E03T0HA">Create event invoices</span></div>

 
−

  <div style="margin-left: 36pt;margin-bottom: 12pt;">

 
−

    <table border="0" cellspacing="0" cellpadding="0" width="99%" summary="">

 
−

      <tr valign="baseline">

 
−

        <td style="width: 18pt"><div style="font-family: &quot;Times New Roman&quot;; font-size: 11pt; text-align: justify;"><span style="font-family: Calibri; font-size: 10pt;">1. </span></div></td>

 
−

        <td><div style="font-family: &quot;Times New Roman&quot;; font-size: 11pt; text-align: justify;"><span id="wwpID0E02T0HA">Select the desired event.</span></div></td>

 
−

      </tr>

 
−

    </table>

 
−

  </div>

 
−

  <div style="margin-left: 36pt;margin-bottom: 12pt;">

 
−

    <table border="0" cellspacing="0" cellpadding="0" width="99%" summary="">

 
−

      <tr valign="baseline">

 
−

        <td style="width: 18pt"><div style="font-family: &quot;Times New Roman&quot;; font-size: 11pt; text-align: justify;"><span style="font-family: Calibri; font-size: 10pt;">2. </span></div></td>

 
−

        <td><div style="font-family: &quot;Times New Roman&quot;; font-size: 11pt; text-align: justify;"><span id="wwpID0E01T0HA">Click the </span><span style="font-weight: bold;">Account</span> tab.</div></td>

 
−

      </tr>

 
−

    </table>

 
−

  </div>

 
−

  <div style="color: #5F497A; font-family: Calibri; font-size: 9pt; margin-bottom: 12pt; margin-left: 54pt;"><span id="wwpID0E0ZT0HA">If the </span><span style="font-weight: bold;">Create Invoices Now</span> button does not appear, there are no invoices to be created at this time.</div>

 
−

  <div style="margin-left: 36pt;margin-bottom: 12pt;">

 
−

    <table border="0" cellspacing="0" cellpadding="0" width="99%" summary="">

 
−

      <tr valign="baseline">

 
−

        <td style="width: 18pt"><div style="font-family: &quot;Times New Roman&quot;; font-size: 11pt; text-align: justify;"><span style="font-family: Calibri; font-size: 10pt;">3. </span></div></td>

 
−

        <td><div style="font-family: &quot;Times New Roman&quot;; font-size: 11pt; text-align: justify;"><span id="wwpID0E0YT0HA">If registrations have specified a payment method that should result in a transaction, a selection will appear indicating the number of invoices that need to be created.</span></div></td>

 
−

      </tr>

 
−

    </table>

 
−

  </div>

 
−

  <div style="font-family: &quot;Times New Roman&quot;; font-size: 11pt; margin-bottom: 12pt; margin-left: 36pt; text-align: justify;"><span id="wwpID0E0XT0HA">[[Image:Events-Create_Event_Invoices_using_integrated_Billing_m-image79.png]]</span></div>

 
−

  <div style="color: #000000; font-family: &quot;Times New Roman&quot;; font-size: 10pt; font-weight: normal; margin-bottom: 12pt; margin-left: 54pt; text-align: justify;"><span style="font-size: 10pt;"><span id="wwpID0E0WT0HA">Figure 3-18</span></span> Create Invoices Now</div>

 
−

  <div style="margin-left: 36pt;margin-bottom: 12pt;">

 
−

    <table border="0" cellspacing="0" cellpadding="0" width="99%" summary="">

 
−

      <tr valign="baseline">

 
−

        <td style="width: 18pt"><div style="font-family: &quot;Times New Roman&quot;; font-size: 11pt; text-align: justify;"><span style="font-family: Calibri; font-size: 10pt;">4. </span></div></td>

 
−

        <td><div style="font-family: &quot;Times New Roman&quot;; font-size: 11pt; text-align: justify;"><span id="wwpID0E0VT0HA">Click </span><span style="font-weight: bold;">Create Invoices Now</span>.</div></td>

 
−

      </tr>

 
−

    </table>

 
−

  </div>

 
−

  <div style="margin-left: 36pt;margin-bottom: 12pt;">

 
−

    <table border="0" cellspacing="0" cellpadding="0" width="99%" summary="">

 
−

      <tr valign="baseline">

 
−

        <td style="width: 18pt"><div style="font-family: &quot;Times New Roman&quot;; font-size: 11pt; text-align: justify;"><span style="font-family: Arial; font-size: 12pt;">5. </span></div></td>

 
−

        <td><div style="font-family: &quot;Times New Roman&quot;; font-size: 11pt; text-align: justify;"><span style="font-family: Arial; font-size: 12pt;"><span id="wwpID0E0UT0HA">Make any desired selections in the </span></span><span style="font-family: Arial; font-size: 12pt; font-weight: bold;">Bill To:</span><span style="font-family: Arial; font-size: 12pt;"> box for who the invoice should be addressed to and what items should appear on the invoice line.</span></div></td>

 
−

      </tr>

 
−

    </table>

 
−

  </div>

 
−

  <div style="color: #5F497A; font-family: Calibri; font-size: 9pt; margin-bottom: 12pt; margin-left: 54pt;"><span id="wwpID0E0TT0HA">The</span><span style="font-weight: bold;"> Bill To: </span>selection of<span style="font-weight: bold;"> Line Item Description</span> will display the content of the <span style="font-weight: bold;">Description</span> field of the Fee item.</div>

 
−

  <div style="margin-left: 36pt;margin-bottom: 12pt;">

 
−

    <table border="0" cellspacing="0" cellpadding="0" width="99%" summary="">

 
−

      <tr valign="baseline">

 
−

        <td style="width: 18pt"><div style="font-family: &quot;Times New Roman&quot;; font-size: 11pt; text-align: justify;"><span style="font-family: Arial; font-size: 10pt;">6. </span></div></td>

 
−

        <td><div style="font-family: &quot;Times New Roman&quot;; font-size: 11pt; text-align: justify;"><span id="wwpID0E0ST0HA">If you wish to apply any available credits a member may have available on their account,</span><span style="font-family: Arial; font-size: 10pt;"> </span><span style="font-family: Arial;">click to select the </span><span style="font-family: Arial; font-weight: bold;">Auto-apply available credits on invoices</span><span style="font-family: Arial;"> checkbox.</span></div></td>

 
−

      </tr>

 
−

    </table>

 
−

  </div>

 
−

  <div style="margin-left: 36pt;margin-bottom: 12pt;">

 
−

    <table border="0" cellspacing="0" cellpadding="0" width="99%" summary="">

 
−

      <tr valign="baseline">

 
−

        <td style="width: 18pt"><div style="font-family: &quot;Times New Roman&quot;; font-size: 11pt; text-align: justify;"><span style="font-family: Calibri; font-size: 10pt;">7. </span></div></td>

 
−

        <td><div style="font-family: &quot;Times New Roman&quot;; font-size: 11pt; text-align: justify;"><span id="wwpID0E0RT0HA">If desired, select a message that will be printed on each invoice.  Note: click edit to modify the message or create a one-time custom message to display on all invoices.</span></div></td>

 
−

      </tr>

 
−

    </table>

 
−

  </div>

 
−

  <div style="margin-left: 36pt;margin-bottom: 12pt;">

 
−

    <table border="0" cellspacing="0" cellpadding="0" width="99%" summary="">

 
−

      <tr valign="baseline">

 
−

        <td style="width: 18pt"><div style="font-family: &quot;Times New Roman&quot;; font-size: 11pt; text-align: justify;"><span style="font-family: Calibri; font-size: 10pt;">8. </span></div></td>

 
−

        <td><div style="font-family: &quot;Times New Roman&quot;; font-size: 11pt; text-align: justify;"><span id="wwpID0E0QT0HA">Complete the rest of the fields including </span><span style="font-weight: bold;">Invoice Date</span>, <span style="font-weight: bold;">Date Due</span>, and <span style="font-weight: bold;">Payment Terms</span>.</div></td>

 
−

      </tr>

 
−

    </table>

 
−

  </div>

 
−

  <div style="font-family: &quot;Times New Roman&quot;; font-size: 11pt; margin-bottom: 12pt; margin-left: 36pt; text-align: justify;"><span id="wwpID0E0PT0HA">[[Image:Events-Create_Event_Invoices_using_integrated_Billing_m-image80.png]]</span></div>

 
−

  <div style="color: #000000; font-family: &quot;Times New Roman&quot;; font-size: 10pt; font-weight: normal; margin-bottom: 12pt; margin-left: 54pt; text-align: justify;"><span style="font-size: 10pt;"><span id="wwpID0E0OT0HA">Figure</span></span><span style="font-size: 12pt; text-transform: uppercase;"> </span>3-19 Event Invoicing</div>

 
−

  <div style="margin-left: 36pt;margin-bottom: 12pt;">

 
−

    <table border="0" cellspacing="0" cellpadding="0" width="99%" summary="">

 
−

      <tr valign="baseline">

 
−

        <td style="width: 18pt"><div style="font-family: &quot;Times New Roman&quot;; font-size: 11pt; text-align: justify;"><span style="font-family: Calibri; font-size: 10pt;">9. </span></div></td>

 
−

        <td><div style="font-family: &quot;Times New Roman&quot;; font-size: 11pt; text-align: justify;"><span id="wwpID0E0NT0HA">Uncheck any invoices that should be excluded from this Batch.  Note: All excluded invoices may be added to this batch later.</span></div></td>

 
−

      </tr>

 
−

    </table>

 
−

  </div>

 
−

  <div style="color: #5F497A; font-family: Calibri; font-size: 9pt; margin-bottom: 12pt; margin-left: 54pt;"><span id="wwpID0E0MT0HA">Changes made to the </span><span style="font-weight: bold;">Contact Name</span> or address on the <span style="font-weight: bold;">Deliver Customer Invoices</span> window does not modify the Member's <span style="font-weight: bold;">Account</span> information.  Permanent Billing Rep or address changes must be made in the <span style="font-weight: bold;">Members</span> module. </div>

 
−

  <div style="margin-left: 36pt;margin-bottom: 12pt;">

 
−

    <table border="0" cellspacing="0" cellpadding="0" width="99%" summary="">

 
−

      <tr valign="baseline">

 
−

        <td style="width: 18pt"><div style="font-family: &quot;Times New Roman&quot;; font-size: 11pt; text-align: justify;"><span style="font-family: Calibri; font-size: 10pt;">10. </span></div></td>

 
−

        <td><div style="font-family: &quot;Times New Roman&quot;; font-size: 11pt; text-align: justify;"><span id="wwpID0E0LT0HA">Click </span><span style="font-weight: bold;">Save Batch</span> or <span style="font-weight: bold;">Deliver Invoices</span>.  If clicking <span style="font-weight: bold;">Save Batch</span>, you can return to a batch of invoices at any time to deliver them (email or print them).  If clicking <span style="font-weight: bold;">Deliver Invoices</span>, you can also return to the batch at any time but this will proceed to the Deliver Customer Invoices screen now.</div></td>

 
−

      </tr>

 
−

    </table>

 
−

  </div>

 
−

  <div style="color: #5F497A; font-family: Calibri; font-size: 9pt; margin-bottom: 12pt; margin-left: 54pt;"><span id="wwpID0E0KT0HA">Either choice, </span><span style="font-weight: bold;">Save Batch</span> or <span style="font-weight: bold;">Deliver Invoices,</span> will create the batch of invoices.  <span style="font-weight: bold;">Deliver Invoices</span> will create the invoices and immediately open a window with options to print and/or email the invoices. </div>

 
−

  <div style="margin-left: 36pt;margin-bottom: 12pt;">

 
−

    <table border="0" cellspacing="0" cellpadding="0" width="99%" summary="">

 
−

      <tr valign="baseline">

 
−

        <td style="width: 18pt"><div style="font-family: &quot;Times New Roman&quot;; font-size: 11pt; text-align: justify;"><span style="font-family: Calibri; font-size: 10pt;">11. </span></div></td>

 
−

        <td><div style="font-family: &quot;Times New Roman&quot;; font-size: 11pt; text-align: justify;"><span id="wwpID0E0JT0HA">The </span><span style="font-weight: bold;">Deliver Customer Invoices</span> window will appear.  Make appropriate <span style="font-weight: bold;">Delivery Method</span> selections and follow the instructions on the screen.  Refer to "Recurring Member Invoices" in the Billing online help section for more detailed instructions on <span style="font-weight: bold;">Delivery Method</span> selections.</div></td>

 
−

      </tr>

 
−

    </table>

 
−

  </div>

 
−

  <div style="color: #808080; font-family: Cambria; font-size: 14pt; margin-bottom: 0pt; margin-left: 36pt; margin-top: 10pt;"><span id="wwpID0E0IT0HA">Create event invoices (starting within the Billing module)</span></div>

 
−

  <div style="margin-left: 36pt;margin-bottom: 12pt;">

 
−

    <table border="0" cellspacing="0" cellpadding="0" width="99%" summary="">

 
−

      <tr valign="baseline">

 
−

        <td style="width: 18pt"><div style="font-family: &quot;Times New Roman&quot;; font-size: 11pt; text-align: justify;"><span style="font-family: Calibri; font-size: 10pt;">1. </span></div></td>

 
−

        <td><div style="font-family: &quot;Times New Roman&quot;; font-size: 11pt; text-align: justify;"><span id="wwpID0E0HT0HA">Click </span><span style="font-weight: bold;">Billing</span> in the left-hand menu.</div></td>

 
−

      </tr>

 
−

    </table>

 
−

  </div>

 
−

  <div style="margin-left: 36pt;margin-bottom: 12pt;">

 
−

    <table border="0" cellspacing="0" cellpadding="0" width="99%" summary="">

 
−

      <tr valign="baseline">

 
−

        <td style="width: 18pt"><div style="font-family: &quot;Times New Roman&quot;; font-size: 11pt; text-align: justify;"><span style="font-family: Calibri; font-size: 10pt;">2. </span></div></td>

 
−

        <td><div style="font-family: &quot;Times New Roman&quot;; font-size: 11pt; text-align: justify;"><span id="wwpID0E0GT0HA">Click the </span><span style="font-weight: bold;">Invoices</span> tab.</div></td>

 
−

      </tr>

 
−

    </table>

 
−

  </div>

 
−

  <div style="margin-left: 36pt;margin-bottom: 12pt;">

 
−

    <table border="0" cellspacing="0" cellpadding="0" width="99%" summary="">

 
−

      <tr valign="baseline">

 
−

        <td style="width: 18pt"><div style="font-family: &quot;Times New Roman&quot;; font-size: 11pt; text-align: justify;"><span style="font-family: Calibri; font-size: 10pt;">3. </span></div></td>

 
−

        <td><div style="font-family: &quot;Times New Roman&quot;; font-size: 11pt; text-align: justify;"><span id="wwpID0E0FT0HA">From the </span><span style="font-weight: bold;">Batch Type</span> drop down menu, select <span style="font-weight: bold;">Event</span>.</div></td>

 
−

      </tr>

 
−

    </table>

 
−

  </div>

 
−

  <div style="margin-left: 36pt;margin-bottom: 12pt;">

 
−

    <table border="0" cellspacing="0" cellpadding="0" width="99%" summary="">

 
−

      <tr valign="baseline">

 
−

        <td style="width: 18pt"><div style="font-family: &quot;Times New Roman&quot;; font-size: 11pt; text-align: justify;"><span style="font-family: Calibri; font-size: 10pt;">4. </span></div></td>

 
−

        <td><div style="font-family: &quot;Times New Roman&quot;; font-size: 11pt; text-align: justify;"><span id="wwpID0E0ET0HA">Select the desired event by clicking the </span><span style="font-weight: bold;">Event Name</span> title.</div></td>

 
−

      </tr>

 
−

    </table>

 
−

  </div>

 
−

  <div style="font-family: Calibri; font-size: 11pt; margin-bottom: 10pt; margin-left: 72pt;"><span style="font-family: Arial;"><span id="wwpID0E0DT0HA">- If invoicing for the renewal month has been completed you will see a message that says:</span></span><span style="color: #8B0000; font-family: Arial; font-size: 8.5pt; font-style: italic; font-weight: bold;"> Match Found</span></div>

 
−

  <div style="font-family: Calibri; font-size: 11pt; margin-bottom: 6pt; margin-left: 72pt;"><span style="color: #8B0000; font-family: Arial; font-size: 8.5pt; font-style: italic; font-weight: bold;"><span id="wwpID0E0CT0HA"> </span></span><span style="font-family: Arial; font-size: 8.5pt;">- If invoices have not been created you will see a message that says: </span><span style="color: #8B0000; font-family: Arial; font-size: 8.5pt; font-style: italic; font-weight: bold;">New Batch</span><span style="font-family: Arial; font-size: 8.5pt;"> </span></div>

 
−

  <div style="font-family: &quot;Times New Roman&quot;; font-size: 11pt; margin-bottom: 12pt; margin-left: 36pt; text-align: justify;"><span id="wwpID0E0BT0HA">[[Image:Events-Create_Event_Invoices_using_integrated_Billing_m-image81.png]]</span></div>

 
−

  <div style="color: #000000; font-family: &quot;Times New Roman&quot;; font-size: 10pt; font-weight: normal; margin-bottom: 12pt; margin-left: 54pt; text-align: justify;"><span id="wwpID0E0AT0HA">Figure 3-20 Selecting Event Name</span></div>

 
−

  <div style="margin-left: 36pt;margin-bottom: 12pt;">

 
−

    <table border="0" cellspacing="0" cellpadding="0" width="99%" summary="">

 
−

      <tr valign="baseline">

 
−

        <td style="width: 18pt"><div style="font-family: &quot;Times New Roman&quot;; font-size: 11pt; text-align: justify;"><span style="font-family: Calibri; font-size: 10pt;">5. </span></div></td>

 
−

        <td><div style="font-family: &quot;Times New Roman&quot;; font-size: 11pt; text-align: justify;"><span id="wwpID0E06S0HA">Select </span><span style="font-weight: bold;">Display uninvoiced registrations</span> only if desired.</div></td>

 
−

      </tr>

 
−

    </table>

 
−

  </div>

 
−

  <div style="margin-left: 36pt;margin-bottom: 12pt;">

 
−

    <table border="0" cellspacing="0" cellpadding="0" width="99%" summary="">

 
−

      <tr valign="baseline">

 
−

        <td style="width: 18pt"><div style="font-family: &quot;Times New Roman&quot;; font-size: 11pt; text-align: justify;"><span style="font-family: Arial; font-size: 10pt;">6. </span></div></td>

 
−

        <td><div style="font-family: &quot;Times New Roman&quot;; font-size: 11pt; text-align: justify;"><span style="font-family: Arial;"><span id="wwpID0E05S0HA">Follow the same steps #5-11 in previous section "Create event invoices (starting from the Events module)".</span></span></div></td>

 
−

      </tr>

 
−

    </table>

 
−

  </div>

 
−

  <div style="font-family: Calibri; font-size: 11pt; margin-bottom: 2pt; margin-left: 18pt; text-indent: -18pt;"><span id="wwpID0E04S0HA"> </span>

 
−

</div>

 
−

 
−

==Sponsors==

 
−

<div style="font-family: Tahoma; font-size: 11pt; margin-bottom: 12pt;"><span id="wwpID0E02S0HA">Event sponsors may be added to an event and is managed on the </span><span style="font-weight: bold;">Sponsors</span> tab where <span style="font-weight: bold;">Sponsor Web Display Options</span>, <span style="font-weight: bold;">Contact Information</span>, and <span style="font-weight: bold;">Fee Information</span> areas may be configured as desired.</div>

 
−

  <div style="font-family: Tahoma; font-size: 11pt; margin-bottom: 12pt;"><span id="wwpID0E01S0HA">When adding a sponsor, you simply fill in the requested information as the wizard walks you through three information screens.  You will be asked to fill in the following information screens:</span></div>

 
−

  <div style="margin-left: 18pt;margin-bottom: 12pt;">

 
−

    <table border="0" cellspacing="0" cellpadding="0" width="99%" summary="">

 
−

      <tr valign="baseline">

 
−

        <td style="width: 18pt"><div style="font-family: Calibri; font-size: 11pt;">[[Image:Events-rd_bullet.jpg|9px]]</div></td>

 
−

        <td><div style="font-family: Calibri; font-size: 11pt;"><span id="wwpID0E0ZS0HA">Contact Information</span></div></td>

 
−

      </tr>

 
−

    </table>

 
−

  </div>

 
−

  <div style="margin-left: 18pt;margin-bottom: 12pt;">

 
−

    <table border="0" cellspacing="0" cellpadding="0" width="99%" summary="">

 
−

      <tr valign="baseline">

 
−

        <td style="width: 18pt"><div style="font-family: Calibri; font-size: 11pt;">[[Image:Events-rd_bullet.jpg|9px]]</div></td>

 
−

        <td><div style="font-family: Calibri; font-size: 11pt;"><span id="wwpID0E0YS0HA">Fee Information</span></div></td>

 
−

      </tr>

 
−

    </table>

 
−

  </div>

 
−

  <div style="margin-left: 18pt;margin-bottom: 12pt;">

 
−

    <table border="0" cellspacing="0" cellpadding="0" width="99%" summary="">

 
−

      <tr valign="baseline">

 
−

        <td style="width: 18pt"><div style="font-family: Calibri; font-size: 11pt;">[[Image:Events-rd_bullet.jpg|9px]]</div></td>

 
−

        <td><div style="font-family: Calibri; font-size: 11pt;"><span id="wwpID0E0XS0HA">Payment Options</span></div></td>

 
−

      </tr>

 
−

    </table>

 
−

  </div>

 
−

  <div style="font-family: Tahoma; font-size: 11pt; margin-bottom: 12pt;"><span id="wwpID0E0WS0HA">When you click </span><span style="font-weight: bold;">Finish</span>, your sponsor is automatically added to the designated event in the Sponsor List and the Guest List (if desired).</div>

 
−

  <div style="font-family: Tahoma; font-size: 11pt; margin-bottom: 12pt;"><span id="wwpID0E0VS0HA">A sponsor may also be added to your Sponsors list automatically if the registrant selects a fee that you have marked to add them automatically to the sponsor list. </span></div>

 
−

  <div style="font-family: Tahoma; font-size: 11pt; margin-bottom: 12pt;"><span id="wwpID0E0US0HA">Sponsor logos may be uploaded and placement determined.  In addition, a logo website link for the sponsor may be activated.  Sponsorship levels may also be determined and assigned to a particular sponsor.  Applicable event fees can be assigned to sponsors and additional fees applied as well.</span></div>

 
−

===Managing Sponsors===

 
−

  <div style="font-family: Tahoma; font-size: 11pt; margin-bottom: 12pt;"><span id="wwpID0E0SS0HA">Managing sponsors include the ability to: </span></div>

 
−

  <div style="margin-left: 18pt;margin-bottom: 12pt;">

 
−

    <table border="0" cellspacing="0" cellpadding="0" width="99%" summary="">

 
−

      <tr valign="baseline">

 
−

        <td style="width: 18pt"><div style="font-family: Calibri; font-size: 11pt;">[[Image:Events-rd_bullet.jpg|9px]]</div></td>

 
−

        <td><div style="font-family: Calibri; font-size: 11pt;"><span id="wwpID0E0RS0HA">Add a sponsor</span></div></td>

 
−

      </tr>

 
−

    </table>

 
−

  </div>

 
−

  <div style="margin-left: 18pt;margin-bottom: 12pt;">

 
−

    <table border="0" cellspacing="0" cellpadding="0" width="99%" summary="">

 
−

      <tr valign="baseline">

 
−

        <td style="width: 18pt"><div style="font-family: Calibri; font-size: 11pt;">[[Image:Events-rd_bullet.jpg|9px]]</div></td>

 
−

        <td><div style="font-family: Calibri; font-size: 11pt;"><span id="wwpID0E0QS0HA">Remove a sponsor</span></div></td>

 
−

      </tr>

 
−

    </table>

 
−

  </div>

 
−

  <div style="margin-left: 18pt;margin-bottom: 12pt;">

 
−

    <table border="0" cellspacing="0" cellpadding="0" width="99%" summary="">

 
−

      <tr valign="baseline">

 
−

        <td style="width: 18pt"><div style="font-family: Calibri; font-size: 11pt;">[[Image:Events-rd_bullet.jpg|9px]]</div></td>

 
−

        <td><div style="font-family: Calibri; font-size: 11pt;"><span id="wwpID0E0PS0HA">Add additional attendees with a sponsor</span></div></td>

 
−

      </tr>

 
−

    </table>

 
−

  </div>

 
−

  <div style="margin-left: 18pt;margin-bottom: 12pt;">

 
−

    <table border="0" cellspacing="0" cellpadding="0" width="99%" summary="">

 
−

      <tr valign="baseline">

 
−

        <td style="width: 18pt"><div style="font-family: Calibri; font-size: 11pt;">[[Image:Events-rd_bullet.jpg|9px]]</div></td>

 
−

        <td><div style="font-family: Calibri; font-size: 11pt;"><span id="wwpID0E0OS0HA">Remove an additional attendee with a sponsor</span></div></td>

 
−

      </tr>

 
−

    </table>

 
−

  </div>

 
−

  <div style="margin-left: 18pt;margin-bottom: 12pt;">

 
−

    <table border="0" cellspacing="0" cellpadding="0" width="99%" summary="">

 
−

      <tr valign="baseline">

 
−

        <td style="width: 18pt"><div style="font-family: Calibri; font-size: 11pt;">[[Image:Events-rd_bullet.jpg|9px]]</div></td>

 
−

        <td><div style="font-family: Calibri; font-size: 11pt;"><span id="wwpID0E0NS0HA">Add additional fee items for a sponsor</span></div></td>

 
−

      </tr>

 
−

    </table>

 
−

  </div>

 
−

  <div style="margin-left: 18pt;margin-bottom: 12pt;">

 
−

    <table border="0" cellspacing="0" cellpadding="0" width="99%" summary="">

 
−

      <tr valign="baseline">

 
−

        <td style="width: 18pt"><div style="font-family: Calibri; font-size: 11pt;">[[Image:Events-rd_bullet.jpg|9px]]</div></td>

 
−

        <td><div style="font-family: Calibri; font-size: 11pt;"><span id="wwpID0E0MS0HA">Remove an additional fee item</span></div></td>

 
−

      </tr>

 
−

    </table>

 
−

  </div>

 
−

====Add a Sponsor====

 
−

  <div style="font-family: &quot;Times New Roman&quot;; font-size: 11pt; margin-bottom: 12pt; margin-left: 18pt;"><span id="wwpID0E0KS0HA">Sponsors may be added to your sponsor list in one of two ways:</span></div>

 
−

  <div style="margin-left: 18pt;margin-bottom: 12pt;">

 
−

    <table border="0" cellspacing="0" cellpadding="0" width="99%" summary="">

 
−

      <tr valign="baseline">

 
−

        <td style="width: 18pt"><div style="font-family: Calibri; font-size: 11pt;">[[Image:Events-rd_bullet.jpg|9px]]</div></td>

 
−

        <td><div style="font-family: Calibri; font-size: 11pt;"><span id="wwpID0E0JS0HA">manually by you or </span></div></td>

 
−

      </tr>

 
−

    </table>

 
−

  </div>

 
−

  <div style="margin-left: 18pt;margin-bottom: 12pt;">

 
−

    <table border="0" cellspacing="0" cellpadding="0" width="99%" summary="">

 
−

      <tr valign="baseline">

 
−

        <td style="width: 18pt"><div style="font-family: Calibri; font-size: 11pt;">[[Image:Events-rd_bullet.jpg|9px]]</div></td>

 
−

        <td><div style="font-family: Calibri; font-size: 11pt;"><span id="wwpID0E0IS0HA">automatically added to your list upon registration</span></div></td>

 
−

      </tr>

 
−

    </table>

 
−

  </div>

 
−

  <div style="color: #5F497A; font-family: Cambria; font-size: 11pt; font-weight: bold; margin-bottom: 0pt; margin-left: 18pt;"><span id="wwpID0E0HS0HA">Add a sponsor manually</span></div>

 
−

  <div style="margin-left: 18pt;margin-bottom: 0pt;">

 
−

    <table border="0" cellspacing="0" cellpadding="0" width="99%" summary="">

 
−

      <tr valign="baseline">

 
−

        <td style="width: 18pt"><div style="font-family: Calibri; font-size: 11pt;">1. </div></td>

 
−

        <td><div style="font-family: Calibri; font-size: 11pt;"><span id="wwpID0E0GS0HA">On the </span><span style="font-weight: bold;">Sponsors</span> tab, click <span style="font-weight: bold;">Add a Sponsor</span> in the <span style="font-weight: bold;">List of Sponsors</span> area.</div></td>

 
−

      </tr>

 
−

    </table>

 
−

  </div>

 
−

  <div style="margin-left: 18pt;margin-bottom: 0pt;">

 
−

    <table border="0" cellspacing="0" cellpadding="0" width="99%" summary="">

 
−

      <tr valign="baseline">

 
−

        <td style="width: 18pt"><div style="font-family: Calibri; font-size: 11pt;">2. </div></td>

 
−

        <td><div style="font-family: Calibri; font-size: 11pt;"><span id="wwpID0E0FS0HA">Complete the </span><span style="font-weight: bold;">Contact Information</span> screen or click to select a member, representative, or a participant from the current database.</div></td>

 
−

      </tr>

 
−

    </table>

 
−

  </div>

 
−

  <div style="font-family: &quot;Times New Roman&quot;; font-size: 11pt; margin-bottom: 12pt; margin-left: 36pt; text-align: justify;"><span id="wwpID0E0ES0HA">[[Image:Events-Add_a_sponsor-image82.png]]</span></div>

 
−

  <div style="color: #000000; font-family: &quot;Times New Roman&quot;; font-size: 10pt; font-weight: normal; margin-bottom: 12pt; margin-left: 54pt; text-align: justify;"><span style="font-size: 10pt;"><span id="wwpID0E0DS0HA">Figure 4-1</span></span> Adding Sponsor – Step 1: Contact Information</div>

 
−

  <div style="margin-left: 18pt;margin-bottom: 0pt;">

 
−

    <table border="0" cellspacing="0" cellpadding="0" width="99%" summary="">

 
−

      <tr valign="baseline">

 
−

        <td style="width: 18pt"><div style="font-family: Calibri; font-size: 11pt;">3. </div></td>

 
−

        <td><div style="font-family: Calibri; font-size: 11pt;"><span id="wwpID0E0CS0HA">If choosing from a current member, representative, or participant, click the appropriate select button ([[Image:Events-Add_a_sponsor-image83.png|select member]] for example), click to select the desired sponsor and then click </span><span style="font-weight: bold;">Continue</span>. Click <span style="font-weight: bold;">Next</span> to continue.</div></td>

 
−

      </tr>

 
−

    </table>

 
−

  </div>

 
−

  <div style="margin-left: 18pt;margin-bottom: 0pt;">

 
−

    <table border="0" cellspacing="0" cellpadding="0" width="99%" summary="">

 
−

      <tr valign="baseline">

 
−

        <td style="width: 18pt"><div style="font-family: Calibri; font-size: 11pt;">4. </div></td>

 
−

        <td><div style="font-family: Calibri; font-size: 11pt;"><span id="wwpID0E0BS0HA">Complete the </span><span style="font-weight: bold;">Fee Information</span> screen and then click <span style="font-weight: bold;">Next</span> to continue.</div></td>

 
−

      </tr>

 
−

    </table>

 
−

  </div>

 
−

  <div style="color: #5F497A; font-family: Calibri; font-size: 9pt; margin-bottom: 12pt; margin-left: 36pt;"><span id="wwpID0E0AS0HA">If the </span><span style="font-weight: bold;">Base Fee</span> drop down list does not display and you wish to assess fees, you need to assign the fees to this event by selecting <span style="font-weight: bold;">Assign Fee Items</span> on the <span style="font-weight: bold;">Fees</span> tab.  In addition, <span style="font-weight: bold;">Assign a Fee Item</span> will only display if fees have been assigned to this event.  </div>

 
−

  <div style="font-family: &quot;Times New Roman&quot;; font-size: 11pt; margin-bottom: 12pt; margin-left: 36pt; text-align: justify;"><span id="wwpID0E06R0HA">[[Image:Events-Add_a_sponsor-image84.png]]</span></div>

 
−

  <div style="color: #000000; font-family: &quot;Times New Roman&quot;; font-size: 10pt; font-weight: normal; margin-bottom: 12pt; margin-left: 54pt; text-align: justify;"><span style="font-size: 10pt;"><span id="wwpID0E05R0HA">Figure 4-2</span></span> Adding a Sponsor – Step 2: Fee Information</div>

 
−

  <div style="margin-left: 18pt;margin-bottom: 0pt;">

 
−

    <table border="0" cellspacing="0" cellpadding="0" width="99%" summary="">

 
−

      <tr valign="baseline">

 
−

        <td style="width: 18pt"><div style="font-family: Calibri; font-size: 11pt;">5. </div></td>

 
−

        <td><div style="font-family: Calibri; font-size: 11pt;"><span id="wwpID0E04R0HA">Complete the </span><span style="font-weight: bold;">Payment Options</span> screen and then click <span style="font-weight: bold;">Finish</span>.</div></td>

 
−

      </tr>

 
−

    </table>

 
−

  </div>

 
−

  <div style="color: #5F497A; font-family: Calibri; font-size: 9pt; margin-bottom: 12pt; margin-left: 18pt;"><span id="wwpID0E03R0HA">Note: A logo for this sponsor will automatically be added under Sponsor Web Display Options if a logo has been used with this member before on a prior event or if the member has a logo uploaded for their member logo.  The default will load the logo with placement on the right-hand column of the event page.  However, you can modify those settings as desired.</span></div>

 
−

  <div style="font-family: &quot;Times New Roman&quot;; font-size: 11pt; margin-bottom: 12pt; margin-left: 36pt; text-align: justify;"><span id="wwpID0E02R0HA">[[Image:Events-Add_a_sponsor-image85.png]]</span></div>

 
−

  <div style="color: #000000; font-family: &quot;Times New Roman&quot;; font-size: 10pt; font-weight: normal; margin-bottom: 12pt; margin-left: 54pt; text-align: justify;"><span style="font-size: 10pt;"><span id="wwpID0E01R0HA">Figure 4-3</span></span> Adding a sponsor – Step 3: Payment Options</div>

 
−

  <div style="color: #5F497A; font-family: Cambria; font-size: 11pt; font-weight: bold; margin-bottom: 0pt; margin-left: 18pt;"><span id="wwpID0E0ZR0HA">Add a sponsor automatically upon registration</span></div>

 
−

  <div style="margin-left: 18pt;margin-bottom: 0pt;">

 
−

    <table border="0" cellspacing="0" cellpadding="0" width="99%" summary="">

 
−

      <tr valign="baseline">

 
−

        <td style="width: 18pt"><div style="font-family: &quot;Times New Roman&quot;; font-size: 11pt;">1. </div></td>

 
−

        <td><div style="font-family: &quot;Times New Roman&quot;; font-size: 11pt;"><span id="wwpID0E0YR0HA">On the </span><span style="font-weight: bold;">Fees</span> tab, click <span style="font-weight: bold;">Assign Fee Items</span> in the <span style="font-weight: bold;">Event Registration Fees </span>area (or click the <span style="font-weight: bold;">Display Name</span> of an existing sponsor fee to edit)</div></td>

 
−

      </tr>

 
−

    </table>

 
−

  </div>

 
−

  <div style="font-family: &quot;Times New Roman&quot;; font-size: 11pt; margin-bottom: 12pt; margin-left: 54pt; text-align: justify;"><span id="wwpID0E0XR0HA">[[Image:Events-Add_a_sponsor-image86.png]]</span></div>

 
−

  <div style="margin-left: 18pt;margin-bottom: 0pt;">

 
−

    <table border="0" cellspacing="0" cellpadding="0" width="99%" summary="">

 
−

      <tr valign="baseline">

 
−

        <td style="width: 18pt"><div style="font-family: &quot;Times New Roman&quot;; font-size: 11pt;">2. </div></td>

 
−

        <td><div style="font-family: &quot;Times New Roman&quot;; font-size: 11pt;"><span id="wwpID0E0WR0HA">Select the check box "Fee item automatically adds registrant as sponsor."</span></div></td>

 
−

      </tr>

 
−

    </table>

 
−

  </div>

 
−

  <div style="margin-left: 18pt;margin-bottom: 0pt;">

 
−

    <table border="0" cellspacing="0" cellpadding="0" width="99%" summary="">

 
−

      <tr valign="baseline">

 
−

        <td style="width: 18pt"><div style="font-family: &quot;Times New Roman&quot;; font-size: 11pt;">3. </div></td>

 
−

        <td><div style="font-family: &quot;Times New Roman&quot;; font-size: 11pt;"><span id="wwpID0E0VR0HA">Click </span><span style="font-weight: bold;">Save &amp; Exit</span>.</div></td>

 
−

      </tr>

 
−

    </table>

 
−

  </div>

 
−

  <div style="margin-left: 18pt;margin-bottom: 0pt;">

 
−

    <table border="0" cellspacing="0" cellpadding="0" width="99%" summary="">

 
−

      <tr valign="baseline">

 
−

        <td style="width: 18pt"><div style="font-family: &quot;Times New Roman&quot;; font-size: 11pt;">4. </div></td>

 
−

        <td><div style="font-family: &quot;Times New Roman&quot;; font-size: 11pt;"><span id="wwpID0E0UR0HA">Going forward, anyone that registers and selects that fee will automatically be included on the </span><span style="font-weight: bold;">Sponsors</span> tab.</div></td>

 
−

      </tr>

 
−

    </table>

 
−

  </div>

 
−

  <div style="color: #5F497A; font-family: Calibri; font-size: 9pt; margin-bottom: 12pt; margin-left: 36pt;"><span id="wwpID0E0TR0HA">Note: Duplicate sponsors would be allowed if multiple duplicate registrants select this fee.</span></div>

 
−

  <div style="color: #5F497A; font-family: Cambria; font-size: 11pt; font-weight: bold; margin-bottom: 0pt; margin-left: 18pt;"><span id="wwpID0E0SR0HA"> </span></div>

 
−

 
−

====Remove a Sponsor====

 
−

  <div style="margin-left: 18pt;margin-bottom: 0pt;">

 
−

    <table border="0" cellspacing="0" cellpadding="0" width="99%" summary="">

 
−

      <tr valign="baseline">

 
−

        <td style="width: 18pt"><div style="font-family: Calibri; font-size: 11pt;"><span style="color: #000000; font-family: Garamond; font-size: 11.5pt;">1. </span></div></td>

 
−

        <td><div style="font-family: Calibri; font-size: 11pt;"><span id="wwpID0E0QR0HA">On the </span><span style="font-weight: bold;">Sponsors</span> tab, click the check box in front of the desired sponsor's name in the <span style="font-weight: bold;">List of Sponsors </span>area </div></td>

 
−

      </tr>

 
−

    </table>

 
−

  </div>

 
−

  <div style="margin-left: 18pt;margin-bottom: 0pt;">

 
−

    <table border="0" cellspacing="0" cellpadding="0" width="99%" summary="">

 
−

      <tr valign="baseline">

 
−

        <td style="width: 18pt"><div style="font-family: Calibri; font-size: 11pt;"><span style="color: #000000; font-family: Garamond; font-size: 11.5pt;">2. </span></div></td>

 
−

        <td><div style="font-family: Calibri; font-size: 11pt;"><span style="color: #000000; font-family: Garamond; font-size: 11.5pt;"><span id="wwpID0E0PR0HA">Click </span></span><span style="color: #000000; font-family: Garamond; font-size: 11.5pt; font-weight: bold;">Remove Selected Sponsors</span><span style="color: #000000; font-family: Garamond; font-size: 11.5pt;">. </span></div></td>

 
−

      </tr>

 
−

    </table>

 
−

  </div>

 
−

 
−

====Add Additional Attendees with a Sponsor====

 
−

  <div style="margin-left: 18pt;margin-bottom: 0pt;">

 
−

    <table border="0" cellspacing="0" cellpadding="0" width="99%" summary="">

 
−

      <tr valign="baseline">

 
−

        <td style="width: 18pt"><div style="font-family: Calibri; font-size: 11pt;"><span style="color: #000000; font-family: Garamond; font-size: 11.5pt;">1. </span></div></td>

 
−

        <td><div style="font-family: Calibri; font-size: 11pt;"><span id="wwpID0E0NR0HA">On the </span><span style="font-weight: bold;">Sponsors</span> tab, click the desired sponsor's name in the <span style="font-weight: bold;">List of Sponsors </span>area. The selected row will show in yellow.</div></td>

 
−

      </tr>

 
−

    </table>

 
−

  </div>

 
−

  <div style="margin-left: 18pt;margin-bottom: 0pt;">

 
−

    <table border="0" cellspacing="0" cellpadding="0" width="99%" summary="">

 
−

      <tr valign="baseline">

 
−

        <td style="width: 18pt"><div style="font-family: Calibri; font-size: 11pt;">2. </div></td>

 
−

        <td><div style="font-family: Calibri; font-size: 11pt;"><span id="wwpID0E0MR0HA">Click </span><span style="font-weight: bold;">Add Additional Attendee</span> in the <span style="font-weight: bold;">Fees</span> area.</div></td>

 
−

      </tr>

 
−

    </table>

 
−

  </div>

 
−

  <div style="margin-left: 18pt;margin-bottom: 0pt;">

 
−

    <table border="0" cellspacing="0" cellpadding="0" width="99%" summary="">

 
−

      <tr valign="baseline">

 
−

        <td style="width: 18pt"><div style="font-family: Calibri; font-size: 11pt;">3. </div></td>

 
−

        <td><div style="font-family: Calibri; font-size: 11pt;"><span id="wwpID0E0LR0HA">Complete the </span><span style="font-weight: bold;">Add Additional Attendee</span> screen.</div></td>

 
−

      </tr>

 
−

    </table>

 
−

  </div>

 
−

  <div style="margin-left: 18pt;margin-bottom: 0pt;">

 
−

    <table border="0" cellspacing="0" cellpadding="0" width="99%" summary="">

 
−

      <tr valign="baseline">

 
−

        <td style="width: 18pt"><div style="font-family: Calibri; font-size: 11pt;">4. </div></td>

 
−

        <td><div style="font-family: Calibri; font-size: 11pt;"><span id="wwpID0E0KR0HA">Click </span><span style="font-weight: bold;">Continue</span>.</div></td>

 
−

      </tr>

 
−

    </table>

 
−

  </div>

 
−

  <div style="font-family: &quot;Times New Roman&quot;; font-size: 11pt; margin-bottom: 12pt; margin-left: 36pt; text-align: justify;"><span id="wwpID0E0JR0HA">[[Image:Events-Add_additional_attendees_with_a_sponsor-image87.png|fees area]]</span></div>

 
−

  <div style="color: #000000; font-family: &quot;Times New Roman&quot;; font-size: 10pt; font-weight: normal; margin-bottom: 12pt; margin-left: 54pt; text-align: justify;"><span style="font-size: 10pt;"><span id="wwpID0E0IR0HA">Figure 4-4</span></span> Fees area for sponsors</div>

 
−

 
−

====Remove an Additional Attendee with a Sponsor====

 
−

  <div style="margin-left: 18pt;margin-bottom: 0pt;">

 
−

    <table border="0" cellspacing="0" cellpadding="0" width="99%" summary="">

 
−

      <tr valign="baseline">

 
−

        <td style="width: 18pt"><div style="font-family: Calibri; font-size: 11pt;"><span style="color: #000000; font-family: Garamond; font-size: 11.5pt;">1. </span></div></td>

 
−

        <td><div style="font-family: Calibri; font-size: 11pt;"><span id="wwpID0E0GR0HA">On the </span><span style="font-weight: bold;">Sponsors</span> tab, click the desired sponsor's name in the <span style="font-weight: bold;">List of Sponsors </span>area. The selected row will show in yellow.</div></td>

 
−

      </tr>

 
−

    </table>

 
−

  </div>

 
−

  <div style="margin-left: 18pt;margin-bottom: 0pt;">

 
−

    <table border="0" cellspacing="0" cellpadding="0" width="99%" summary="">

 
−

      <tr valign="baseline">

 
−

        <td style="width: 18pt"><div style="font-family: Calibri; font-size: 11pt;">2. </div></td>

 
−

        <td><div style="font-family: Calibri; font-size: 11pt;"><span id="wwpID0E0FR0HA">Click the [[Image:Events-Remove_an_additional_attendee_with_a_sponsor-image88.png|x]] at the end of the row of the desired attendee to be deleted in the </span><span style="font-weight: bold;">Fees</span> area.</div></td>

 
−

      </tr>

 
−

    </table>

 
−

  </div>

 
−

 
−

====Add Additional Fee Items to a Sponsor====

 
−

  <div style="margin-left: 18pt;margin-bottom: 0pt;">

 
−

    <table border="0" cellspacing="0" cellpadding="0" width="99%" summary="">

 
−

      <tr valign="baseline">

 
−

        <td style="width: 18pt"><div style="font-family: Calibri; font-size: 11pt;"><span style="color: #000000; font-family: Garamond; font-size: 11.5pt;">1. </span></div></td>

 
−

        <td><div style="font-family: Calibri; font-size: 11pt;"><span id="wwpID0E0DR0HA">On the </span><span style="font-weight: bold;">Sponsors</span> tab, click the desired sponsor's name in the <span style="font-weight: bold;">List of Sponsors </span>area. The selected row will show in yellow.</div></td>

 
−

      </tr>

 
−

    </table>

 
−

  </div>

 
−

  <div style="margin-left: 18pt;margin-bottom: 0pt;">

 
−

    <table border="0" cellspacing="0" cellpadding="0" width="99%" summary="">

 
−

      <tr valign="baseline">

 
−

        <td style="width: 18pt"><div style="font-family: Calibri; font-size: 11pt;"><span style="color: #000000; font-family: Garamond; font-size: 11.5pt;">2. </span></div></td>

 
−

        <td><div style="font-family: Calibri; font-size: 11pt;"><span id="wwpID0E0CR0HA">Click </span><span style="font-weight: bold;">Add Fee Item</span>.</div></td>

 
−

      </tr>

 
−

    </table>

 
−

  </div>

 
−

  <div style="margin-left: 18pt;margin-bottom: 0pt;">

 
−

    <table border="0" cellspacing="0" cellpadding="0" width="99%" summary="">

 
−

      <tr valign="baseline">

 
−

        <td style="width: 18pt"><div style="font-family: Calibri; font-size: 11pt;"><span style="color: #000000; font-family: Garamond;">3. </span></div></td>

 
−

        <td><div style="font-family: Calibri; font-size: 11pt;"><span style="color: #000000; font-family: Garamond;"><span id="wwpID0E0BR0HA">Complete the </span></span><span style="color: #000000; font-family: Garamond; font-weight: bold;">Add Fee Item</span><span style="color: #000000; font-family: Garamond;"> screen.</span></div></td>

 
−

      </tr>

 
−

    </table>

 
−

  </div>

 
−

  <div style="margin-left: 18pt;margin-bottom: 0pt;">

 
−

    <table border="0" cellspacing="0" cellpadding="0" width="99%" summary="">

 
−

      <tr valign="baseline">

 
−

        <td style="width: 18pt"><div style="font-family: Calibri; font-size: 11pt;"><span style="color: #000000; font-family: Garamond;">4. </span></div></td>

 
−

        <td><div style="font-family: Calibri; font-size: 11pt;"><span style="color: #000000; font-family: Garamond;"><span id="wwpID0E0AR0HA">Click </span></span><span style="color: #000000; font-family: Garamond; font-weight: bold;">Continue</span><span style="color: #000000; font-family: Garamond;">.</span></div></td>

 
−

      </tr>

 
−

    </table>

 
−

  </div>

 
−

 
−

====Remove an Additional Fee Item====

 
−

  <div style="margin-left: 18pt;margin-bottom: 0pt;">

 
−

    <table border="0" cellspacing="0" cellpadding="0" width="99%" summary="">

 
−

      <tr valign="baseline">

 
−

        <td style="width: 18pt"><div style="font-family: Calibri; font-size: 11pt;"><span style="color: #000000; font-family: Garamond; font-size: 11.5pt;">1. </span></div></td>

 
−

        <td><div style="font-family: Calibri; font-size: 11pt;"><span id="wwpID0E05Q0HA">On the </span><span style="font-weight: bold;">Sponsors</span> tab, click the desired sponsor's name in the <span style="font-weight: bold;">List of Sponsors </span>area. The selected row will show in yellow.</div></td>

 
−

      </tr>

 
−

    </table>

 
−

  </div>

 
−

  <div style="margin-left: 18pt;margin-bottom: 0pt;">

 
−

    <table border="0" cellspacing="0" cellpadding="0" width="99%" summary="">

 
−

      <tr valign="baseline">

 
−

        <td style="width: 18pt"><div style="font-family: Calibri; font-size: 11pt;">2. </div></td>

 
−

        <td><div style="font-family: Calibri; font-size: 11pt;"><span id="wwpID0E04Q0HA">Click the [[Image:Events-Remove_an_additional_fee_item-image88.png|x]] at the end of the row of the desired additional fee item to be deleted in the </span><span style="font-weight: bold;">Fees</span> area.</div></td>

 
−

      </tr>

 
−

    </table>

 
−

  </div>

 
−

 
−

===Sponsor Web Display Options===

 
−

  <div style="font-family: Tahoma; font-size: 11pt; margin-bottom: 12pt;"><span><span id="wwpID0E02Q0HA">Sponsor logos may be uploaded</span></span> and placement determined.  In addition, a logo website link for the sponsor may be activated.  </div>

 
−

  <div style="font-family: Tahoma; font-size: 11pt; margin-bottom: 12pt;"><span id="wwpID0E01Q0HA">A sponsor logo will automatically be displayed for the Sponsor Logo if a logo has been displayed for this sponsor-member before on any other event or if the member has a logo uploaded for their member logo in the Member Information Center.</span></div>

 
−

  <div style="font-family: Tahoma; font-size: 11pt; margin-bottom: 12pt;"><span><span id="wwpID0E0ZQ0HA">Sponsorship levels</span></span> may also be created and assigned appropriately to each sponsor.  Sponsors may also be assigned a certain sort order.  </div>

 
−

====Add a Sponsor Logo====

 
−

  <div style="font-family: &quot;Times New Roman&quot;; font-size: 11pt; margin-bottom: 12pt; margin-left: 18pt;"><span id="wwpID0E0XQ0HA">A sponsor logo will automatically be displayed if a logo has been displayed for this sponsor-member before on any other event or if the member has a logo uploaded for their member logo in the Member Information Center.  </span></div>

 
−

  <div style="font-family: &quot;Times New Roman&quot;; font-size: 11pt; margin-bottom: 12pt; margin-left: 18pt;"><span id="wwpID0E0WQ0HA">The default settings will load the sponsor logo with placement on the right-hand column of the event page.  However, you can modify those settings as desired.</span></div>

 
−

  <div style="color: #5F497A; font-family: Cambria; font-size: 11pt; font-weight: bold; margin-bottom: 0pt; margin-left: 18pt;"><span id="wwpID0E0VQ0HA">To upload a sponsor logo</span></div>

 
−

  <div style="margin-left: 18pt;margin-bottom: 0pt;">

 
−

    <table border="0" cellspacing="0" cellpadding="0" width="99%" summary="">

 
−

      <tr valign="baseline">

 
−

        <td style="width: 18pt"><div style="font-family: Calibri; font-size: 11pt;">1. </div></td>

 
−

        <td><div style="font-family: Calibri; font-size: 11pt;"><span id="wwpID0E0UQ0HA">On the </span><span style="font-weight: bold;">Sponsors</span> tab, click the desired sponsor's name in the <span style="font-weight: bold;">List of Sponsors </span>area. The selected row will show in yellow. </div></td>

 
−

      </tr>

 
−

    </table>

 
−

  </div>

 
−

  <div style="margin-left: 18pt;margin-bottom: 0pt;">

 
−

    <table border="0" cellspacing="0" cellpadding="0" width="99%" summary="">

 
−

      <tr valign="baseline">

 
−

        <td style="width: 18pt"><div style="font-family: Calibri; font-size: 11pt;">2. </div></td>

 
−

        <td><div style="font-family: Calibri; font-size: 11pt;"><span id="wwpID0E0TQ0HA">Click </span><span style="font-weight: bold;">Add Image</span> in the <span style="font-weight: bold;">Sponsor Web Display Options</span> area.</div></td>

 
−

      </tr>

 
−

    </table>

 
−

  </div>

 
−

  <div style="font-family: &quot;Times New Roman&quot;; font-size: 11pt; margin-bottom: 12pt; margin-left: 36pt; text-align: justify;"><span id="wwpID0E0SQ0HA">[[Image:Events-Add_a_sponsor_logo-image89.png]]</span></div>

 
−

  <div style="color: #000000; font-family: &quot;Times New Roman&quot;; font-size: 10pt; font-weight: normal; margin-bottom: 12pt; margin-left: 54pt; text-align: justify;"><span style="font-size: 10pt;"><span id="wwpID0E0RQ0HA">Figure 4-4</span></span> Add sponsor logo</div>

 
−

  <div style="margin-left: 18pt;margin-bottom: 0pt;">

 
−

    <table border="0" cellspacing="0" cellpadding="0" width="99%" summary="">

 
−

      <tr valign="baseline">

 
−

        <td style="width: 18pt"><div style="font-family: Calibri; font-size: 11pt;">3. </div></td>

 
−

        <td><div style="font-family: Calibri; font-size: 11pt;"><span id="wwpID0E0QQ0HA">Type the path and filename of the desired graphic file or click </span><span style="font-weight: bold;">Browse </span>to locate and click <span style="font-weight: bold;">Open </span>when desired graphic is located. </div></td>

 
−

      </tr>

 
−

    </table>

 
−

  </div>

 
−

  <div style="margin-left: 18pt;margin-bottom: 0pt;">

 
−

    <table border="0" cellspacing="0" cellpadding="0" width="99%" summary="">

 
−

      <tr valign="baseline">

 
−

        <td style="width: 18pt"><div style="font-family: Calibri; font-size: 11pt;">4. </div></td>

 
−

        <td><div style="font-family: Calibri; font-size: 11pt;"><span id="wwpID0E0PQ0HA">Click </span><span style="font-weight: bold;">Upload Image</span>. </div></td>

 
−

      </tr>

 
−

    </table>

 
−

  </div>

 
−

  <div style="margin-left: 18pt;margin-bottom: 0pt;">

 
−

    <table border="0" cellspacing="0" cellpadding="0" width="99%" summary="">

 
−

      <tr valign="baseline">

 
−

        <td style="width: 18pt"><div style="font-family: Calibri; font-size: 11pt;">5. </div></td>

 
−

        <td><div style="font-family: Calibri; font-size: 11pt;"><span id="wwpID0E0OQ0HA">Click </span><span style="font-weight: bold;">Close Window</span>.</div></td>

 
−

      </tr>

 
−

    </table>

 
−

  </div>

 
−

  <div style="margin-left: 18pt;margin-bottom: 0pt;">

 
−

    <table border="0" cellspacing="0" cellpadding="0" width="99%" summary="">

 
−

      <tr valign="baseline">

 
−

        <td style="width: 18pt"><div style="font-family: Calibri; font-size: 11pt;">6. </div></td>

 
−

        <td><div style="font-family: Calibri; font-size: 11pt;"><span id="wwpID0E0NQ0HA">Select logo placement by clicking the </span><span style="font-weight: bold;">Logo Placement</span> arrow.  Select from <span style="font-weight: bold;">Right Column, Page Bottom </span>or<span style="font-weight: bold;"> Do Not Display</span>.</div></td>

 
−

      </tr>

 
−

    </table>

 
−

  </div>

 
−

  <div style="font-family: &quot;Times New Roman&quot;; font-size: 11pt; margin-bottom: 12pt; margin-left: 36pt; text-align: justify;"><span id="wwpID0E0MQ0HA">[[Image:Events-Add_a_sponsor_logo-image90.png]]</span></div>

 
−

  <div style="color: #000000; font-family: &quot;Times New Roman&quot;; font-size: 10pt; font-weight: normal; margin-bottom: 12pt; margin-left: 54pt; text-align: justify;"><span style="font-size: 10pt;"><span id="wwpID0E0LQ0HA">Figure 4-5</span></span> Sponsor logo placement</div>

 
−

  <div style="margin-left: 18pt;margin-bottom: 0pt;">

 
−

    <table border="0" cellspacing="0" cellpadding="0" width="99%" summary="">

 
−

      <tr valign="baseline">

 
−

        <td style="width: 18pt"><div style="font-family: Calibri; font-size: 11pt;">7. </div></td>

 
−

        <td><div style="font-family: Calibri; font-size: 11pt;"><span id="wwpID0E0KQ0HA">Click </span><span style="font-weight: bold;">Save</span>.</div></td>

 
−

      </tr>

 
−

    </table>

 
−

  </div>

 
−

====Remove a Sponsor Logo====

 
−

  <div style="margin-left: 18pt;margin-bottom: 0pt;">

 
−

    <table border="0" cellspacing="0" cellpadding="0" width="99%" summary="">

 
−

      <tr valign="baseline">

 
−

        <td style="width: 18pt"><div style="font-family: Calibri; font-size: 11pt;"><span style="font-family: Garamond; font-size: 11.5pt;">1. </span></div></td>

 
−

        <td><div style="font-family: Calibri; font-size: 11pt;"><span id="wwpID0E0IQ0HA">On the </span><span style="font-weight: bold;">Sponsors</span> tab, click the desired sponsor's name in the <span style="font-weight: bold;">List of Sponsors </span>area. The selected row will show in yellow.</div></td>

 
−

      </tr>

 
−

    </table>

 
−

  </div>

 
−

  <div style="margin-left: 18pt;margin-bottom: 0pt;">

 
−

    <table border="0" cellspacing="0" cellpadding="0" width="99%" summary="">

 
−

      <tr valign="baseline">

 
−

        <td style="width: 18pt"><div style="font-family: Calibri; font-size: 11pt;"><span style="font-family: Garamond; font-size: 11.5pt;">2. </span></div></td>

 
−

        <td><div style="font-family: Calibri; font-size: 11pt;"><span id="wwpID0E0HQ0HA">Click </span><span style="font-weight: bold;">Remove Image</span> in the <span style="font-weight: bold;">Action</span> column of the <span style="font-weight: bold;">Image Type</span> that you wish to remove in the <span style="font-weight: bold;">Sponsor Web Display Options</span> area<span style="font-family: Garamond; font-size: 11.5pt;">. </span></div></td>

 
−

      </tr>

 
−

    </table>

 
−

  </div>

 
−

  <div style="font-family: &quot;Times New Roman&quot;; font-size: 11pt; margin-bottom: 12pt; margin-left: 36pt; text-align: justify;"><span id="wwpID0E0GQ0HA">[[Image:Events-Remove_a_sponsor_logo-image91.png]]</span></div>

 
−

  <div style="color: #000000; font-family: &quot;Times New Roman&quot;; font-size: 10pt; font-weight: normal; margin-bottom: 12pt; margin-left: 54pt; text-align: justify;"><span style="font-size: 10pt;"><span id="wwpID0E0FQ0HA">Figure 4-6 </span></span>Change or remove sponsor logo</div>

 
−

====Change an Existing Sponsor Logo====

 
−

  <div style="margin-left: 18pt;margin-bottom: 0pt;">

 
−

    <table border="0" cellspacing="0" cellpadding="0" width="99%" summary="">

 
−

      <tr valign="baseline">

 
−

        <td style="width: 18pt"><div style="font-family: Calibri; font-size: 11pt;">1. </div></td>

 
−

        <td><div style="font-family: Calibri; font-size: 11pt;"><span id="wwpID0E0DQ0HA">On the </span><span style="font-weight: bold;">Sponsors </span>tab, click the desired sponsor's name in the <span style="font-weight: bold;">List of Sponsors </span>area. The selected row will show in yellow.</div></td>

 
−

      </tr>

 
−

    </table>

 
−

  </div>

 
−

  <div style="margin-left: 18pt;margin-bottom: 0pt;">

 
−

    <table border="0" cellspacing="0" cellpadding="0" width="99%" summary="">

 
−

      <tr valign="baseline">

 
−

        <td style="width: 18pt"><div style="font-family: Calibri; font-size: 11pt;">2. </div></td>

 
−

        <td><div style="font-family: Calibri; font-size: 11pt;"><span id="wwpID0E0CQ0HA">Click </span><span style="font-weight: bold;">Change Image </span>in the <span style="font-weight: bold;">Action </span>column of the <span style="font-weight: bold;">Image Type </span>that you wish to change in the <span style="font-weight: bold;">Sponsor Web Display Options </span>area. </div></td>

 
−

      </tr>

 
−

    </table>

 
−

  </div>

 
−

  <div style="margin-left: 18pt;margin-bottom: 0pt;">

 
−

    <table border="0" cellspacing="0" cellpadding="0" width="99%" summary="">

 
−

      <tr valign="baseline">

 
−

        <td style="width: 18pt"><div style="font-family: Calibri; font-size: 11pt;">3. </div></td>

 
−

        <td><div style="font-family: Calibri; font-size: 11pt;"><span id="wwpID0E0BQ0HA">Type the path and filename of the desired graphic file or click </span><span style="font-weight: bold;">Browse </span>to locate and click <span style="font-weight: bold;">Open </span>when desired graphic is located. </div></td>

 
−

      </tr>

 
−

    </table>

 
−

  </div>

 
−

  <div style="margin-left: 18pt;margin-bottom: 0pt;">

 
−

    <table border="0" cellspacing="0" cellpadding="0" width="99%" summary="">

 
−

      <tr valign="baseline">

 
−

        <td style="width: 18pt"><div style="font-family: Calibri; font-size: 11pt;">4. </div></td>

 
−

        <td><div style="font-family: Calibri; font-size: 11pt;"><span id="wwpID0E0AQ0HA">Click </span><span style="font-weight: bold;">Upload Image</span>. </div></td>

 
−

      </tr>

 
−

    </table>

 
−

  </div>

 
−

  <div style="margin-left: 18pt;margin-bottom: 0pt;">

 
−

    <table border="0" cellspacing="0" cellpadding="0" width="99%" summary="">

 
−

      <tr valign="baseline">

 
−

        <td style="width: 18pt"><div style="font-family: Calibri; font-size: 11pt;">5. </div></td>

 
−

        <td><div style="font-family: Calibri; font-size: 11pt;"><span id="wwpID0E06P0HA">Click </span><span style="font-weight: bold;">Close Window</span>. </div></td>

 
−

      </tr>

 
−

    </table>

 
−

  </div>

 
−

====Create Sponsorship Levels====

 
−

<div style="font-family: &quot;arial&quot;; font-size: 11pt; margin-bottom: 12pt; margin-left: 18pt;"><span id="wwpID0E04P0HA">Sponsorship levels are part of what determine the order that sponsor logos or names display on the website.  In addition, sponsors may be sorted within that level by assigning a Logo Sort Order.  Sort order is determined as follows:</span></div>

 
−

  <div style="margin-left: 72pt;margin-bottom: 12pt;">

 
−

    <table border="0" cellspacing="0" cellpadding="0" width="99%" summary="">

 
−

      <tr valign="baseline">

 
−

        <td style="width: 18pt"><div style="font-family: &quot;arial&quot;; font-size: 11pt;">[[Image:Events-rd_bullet.jpg|9px]]</div></td>

 
−

        <td><div style="font-family: &quot;arial&quot;; font-size: 11pt;"><span id="wwpID0E03P0HA">Sponsorship level</span></div></td>

 
−

      </tr>

 
−

    </table>

 
−

  </div>

 
−

  <div style="margin-left: 72pt;margin-bottom: 12pt;">

 
−

    <table border="0" cellspacing="0" cellpadding="0" width="99%" summary="">

 
−

      <tr valign="baseline">

 
−

        <td style="width: 18pt"><div style="font-family: &quot;arial&quot;; font-size: 11pt;">[[Image:Events-rd_bullet.jpg|9px]]</div></td>

 
−

        <td><div style="font-family: &quot;arial&quot;; font-size: 11pt;"><span id="wwpID0E02P0HA">Logo sort order assignment</span></div></td>

 
−

      </tr>

 
−

    </table>

 
−

  </div>

 
−

  <div style="margin-left: 72pt;margin-bottom: 12pt;">

 
−

    <table border="0" cellspacing="0" cellpadding="0" width="99%" summary="">

 
−

      <tr valign="baseline">

 
−

        <td style="width: 18pt"><div style="font-family: &quot;arial&quot;; font-size: 11pt;">[[Image:Events-rd_bullet.jpg|9px]]</div></td>

 
−

        <td><div style="font-family: &quot;arial&quot;; font-size: 11pt;"><span id="wwpID0E01P0HA">Alphabetical by member name</span></div></td>

 
−

      </tr>

 
−

    </table>

 
−

  </div>

 
−

  <div style="font-family: &quot;arial&quot;; font-size: 11pt; margin-bottom: 12pt; margin-left: 18pt;"><span id="wwpID0E0ZP0HA">If no sponsorship levels are assigned, logo sort order will be the priority sort.  If no sort orders are assigned, then the order will be displayed alphabetically.</span></div>

 
−

  <div style="font-family: &quot;arial&quot;; font-size: 11pt; margin-bottom: 12pt; margin-left: 18pt;"><span id="wwpID0E0YP0HA">In this example, with Gold, Silver, and Bronze sponsorship levels created and ordered respectively, the sponsors' name and logo will appear on the website as follows:  A Rental Place, Creative Ink Advertising, Clarity Fireplace, Inc., Little World Child Care, LearyCorp, ABC Rentals, Natural Foods, Inc.</span></div>

 
−

  <div style="font-family: &quot;arial&quot;; font-size: 11pt; margin-bottom: 12pt; margin-left: 18pt;"><span id="wwpID0E0XP0HA">[[Image:Events-Create_Sponsorship_Levels-image92.png]]</span></div>

 
−

  <div style="font-family: &quot;arial&quot;; font-size: 11pt; margin-bottom: 12pt; margin-left: 18pt;"><span id="wwpID0E0WP0HA">Sponsorship level titles may also display on the website if desired and is selected to "Display Heading" or "Do Not Display" on a level by level basis.</span></div>

 
−

  <div style="font-family: &quot;arial&quot;; font-size: 11pt; margin-bottom: 12pt; margin-left: 18pt;"><span id="wwpID0E0VP0HA">Default sponsorship levels may be created to use on events as desired (so that you only create the levels once and may use multiple times). Also, each event may have a unique set of sponsorship levels defined.</span></div>

 
−

  <div style="color: #5F497A; font-family: arial; font-size: 11pt; font-weight: bold; margin-bottom: 0pt; margin-left: 18pt;"><span id="wwpID0E0UP0HA">Create default sponsorship levels</span></div>

 
−

  <div style="font-family: &quot;arial&quot;; font-size: 11pt; margin-bottom: 12pt; margin-left: 18pt;"><span id="wwpID0E0TP0HA">Default sponsorship levels will be available to use on each event if desired.  For each level, select whether the Sponsorship Level Name should display on the website as a heading for those listed under this sponsorship level. </span></div>

 
−

  <div style="margin-left: 18pt;margin-bottom: 0pt;">

 
−

    <table border="0" cellspacing="0" cellpadding="0" width="99%" summary="">

 
−

      <tr valign="baseline">

 
−

        <td style="width: 18pt"><div style="font-family: arial; font-size: 11pt;">1. </div></td>

 
−

        <td><div style="font-family: arial; font-size: 11pt;"><span id="wwpID0E0SP0HA">Login with administrator permissions.</span></div></td>

 
−

      </tr>

 
−

    </table>

 
−

  </div>

 
−

  <div style="margin-left: 18pt;margin-bottom: 0pt;">

 
−

    <table border="0" cellspacing="0" cellpadding="0" width="99%" summary="">

 
−

      <tr valign="baseline">

 
−

        <td style="width: 18pt"><div style="font-family: arial; font-size: 11pt;">2. </div></td>

 
−

        <td><div style="font-family: arial; font-size: 11pt;"><span id="wwpID0E0RP0HA">Click </span><span style="font-weight: bold;">Setup</span> in the left-hand menu.</div></td>

 
−

      </tr>

 
−

    </table>

 
−

  </div>

 
−

  <div style="margin-left: 18pt;margin-bottom: 0pt;">

 
−

    <table border="0" cellspacing="0" cellpadding="0" width="99%" summary="">

 
−

      <tr valign="baseline">

 
−

        <td style="width: 18pt"><div style="font-family: arial; font-size: 11pt;">3. </div></td>

 
−

        <td><div style="font-family: arial; font-size: 11pt;"><span id="wwpID0E0QP0HA">Click </span><span style="font-weight: bold;">Event Options and Settings</span>.</div></td>

 
−

      </tr>

 
−

    </table>

 
−

  </div>

 
−

  <div style="margin-left: 18pt;margin-bottom: 0pt;">

 
−

    <table border="0" cellspacing="0" cellpadding="0" width="99%" summary="">

 
−

      <tr valign="baseline">

 
−

        <td style="width: 18pt"><div style="font-family: arial; font-size: 11pt;">4. </div></td>

 
−

        <td><div style="font-family: arial; font-size: 11pt;"><span id="wwpID0E0PP0HA">Click </span><span style="font-weight: bold;">Edit Default Levels</span> in the <span style="font-weight: bold;">Sponsors</span> area.</div></td>

 
−

      </tr>

 
−

    </table>

 
−

  </div>

 
−

  <div style="margin-left: 18pt;margin-bottom: 0pt;">

 
−

    <table border="0" cellspacing="0" cellpadding="0" width="99%" summary="">

 
−

      <tr valign="baseline">

 
−

        <td style="width: 18pt"><div style="font-family: arial; font-size: 11pt;">5. </div></td>

 
−

        <td><div style="font-family: arial; font-size: 11pt;"><span id="wwpID0E0OP0HA">Click </span><span style="font-weight: bold;">Add New Level</span>.</div></td>

 
−

      </tr>

 
−

    </table>

 
−

  </div>

 
−

  <div style="font-family: &quot;arial&quot;; font-size: 11pt; margin-bottom: 12pt; margin-left: 36pt; text-align: justify;"><span id="wwpID0E0NP0HA">[[Image:Events-Create_Sponsorship_Levels-image93.png]]</span></div>

 
−

  <div style="color: #000000; font-family: &quot;arial&quot;; font-size: 10pt; font-weight: normal; margin-bottom: 12pt; margin-left: 54pt; text-align: justify;"><span id="wwpID0E0MP0HA">Figure 4-6a Editing default sponsorship levels</span></div>

 
−

  <div style="margin-left: 18pt;margin-bottom: 0pt;">

 
−

    <table border="0" cellspacing="0" cellpadding="0" width="99%" summary="">

 
−

      <tr valign="baseline">

 
−

        <td style="width: 18pt"><div style="font-family: arial; font-size: 11pt;">6. </div></td>

 
−

        <td><div style="font-family: arial; font-size: 11pt;"><span id="wwpID0E0LP0HA">Type the name of the new sponsorship level in the </span><span style="font-weight: bold;">Name</span> field.</div></td>

 
−

      </tr>

 
−

    </table>

 
−

  </div>

 
−

  <div style="margin-left: 18pt;margin-bottom: 0pt;">

 
−

    <table border="0" cellspacing="0" cellpadding="0" width="99%" summary="">

 
−

      <tr valign="baseline">

 
−

        <td style="width: 18pt"><div style="font-family: arial; font-size: 11pt;">7. </div></td>

 
−

        <td><div style="font-family: arial; font-size: 11pt;"><span id="wwpID0E0KP0HA">Select the desired </span><span style="font-weight: bold;">Appearance</span> option of "Display Heading" or "Do Not Display".</div></td>

 
−

      </tr>

 
−

    </table>

 
−

  </div>

 
−

  <div style="margin-left: 18pt;margin-bottom: 0pt;">

 
−

    <table border="0" cellspacing="0" cellpadding="0" width="99%" summary="">

 
−

      <tr valign="baseline">

 
−

        <td style="width: 18pt"><div style="font-family: arial; font-size: 11pt;">8. </div></td>

 
−

        <td><div style="font-family: arial; font-size: 11pt;"><span id="wwpID0E0JP0HA">Optional: Change the order for the sponsorship levels to appear on the website.</span></div></td>

 
−

      </tr>

 
−

    </table>

 
−

  </div>

 
−

  <div style="margin-left: 18pt;margin-bottom: 0pt;">

 
−

    <table border="0" cellspacing="0" cellpadding="0" width="99%" summary="">

 
−

      <tr valign="baseline">

 
−

        <td style="width: 18pt"><div style="font-family: arial; font-size: 11pt;">9. </div></td>

 
−

        <td><div style="font-family: arial; font-size: 11pt;"><span id="wwpID0E0IP0HA">Click </span><span style="font-weight: bold;">Save Changes</span>.</div></td>

 
−

      </tr>

 
−

    </table>

 
−

  </div>

 
−

  <div style="color: #5F497A; font-family: arial; font-size: 11pt; font-weight: bold; margin-bottom: 0pt; margin-left: 18pt;"><span id="wwpID0E0HP0HA"> </span></div>

 
−

  <div style="color: #5F497A; font-family: arial; font-size: 11pt; font-weight: bold; margin-bottom: 0pt; margin-left: 18pt;"><span id="wwpID0E0GP0HA">Create unique sponsorship levels for each event</span></div>

 
−

  <div style="margin-left: 18pt;margin-bottom: 0pt;">

 
−

    <table border="0" cellspacing="0" cellpadding="0" width="99%" summary="">

 
−

      <tr valign="baseline">

 
−

        <td style="width: 18pt"><div style="font-family: arial; font-size: 11pt;">1. </div></td>

 
−

        <td><div style="font-family: arial; font-size: 11pt;"><span id="wwpID0E0FP0HA">Click </span><span style="font-weight: bold;">Events</span> in the left-hand menu.</div></td>

 
−

      </tr>

 
−

    </table>

 
−

  </div>

 
−

  <div style="margin-left: 18pt;margin-bottom: 0pt;">

 
−

    <table border="0" cellspacing="0" cellpadding="0" width="99%" summary="">

 
−

      <tr valign="baseline">

 
−

        <td style="width: 18pt"><div style="font-family: arial; font-size: 11pt;">2. </div></td>

 
−

        <td><div style="font-family: arial; font-size: 11pt;"><span id="wwpID0E0EP0HA">Select the desired event.</span></div></td>

 
−

      </tr>

 
−

    </table>

 
−

  </div>

 
−

  <div style="margin-left: 18pt;margin-bottom: 0pt;">

 
−

    <table border="0" cellspacing="0" cellpadding="0" width="99%" summary="">

 
−

      <tr valign="baseline">

 
−

        <td style="width: 18pt"><div style="font-family: arial; font-size: 11pt;">3. </div></td>

 
−

        <td><div style="font-family: arial; font-size: 11pt;"><span id="wwpID0E0DP0HA">Click the </span><span style="font-weight: bold;">Sponsors</span> tab.</div></td>

 
−

      </tr>

 
−

    </table>

 
−

  </div>

 
−

  <div style="margin-left: 18pt;margin-bottom: 0pt;">

 
−

    <table border="0" cellspacing="0" cellpadding="0" width="99%" summary="">

 
−

      <tr valign="baseline">

 
−

        <td style="width: 18pt"><div style="font-family: arial; font-size: 11pt;">4. </div></td>

 
−

        <td><div style="font-family: arial; font-size: 11pt;"><span id="wwpID0E0CP0HA">Click </span><span style="font-weight: bold;">Edit Sponsorship Levels</span> in the <span style="font-weight: bold;">Sponsor Web Display Options</span> area.</div></td>

 
−

      </tr>

 
−

    </table>

 
−

  </div>

 
−

  <div style="margin-left: 18pt;margin-bottom: 0pt;">

 
−

    <table border="0" cellspacing="0" cellpadding="0" width="99%" summary="">

 
−

      <tr valign="baseline">

 
−

        <td style="width: 18pt"><div style="font-family: arial; font-size: 11pt;">5. </div></td>

 
−

        <td><div style="font-family: arial; font-size: 11pt;"><span id="wwpID0E0BP0HA">Click </span><span style="font-weight: bold;">Add New Level</span> to create a unique sponsorship level for this event or click <span style="font-weight: bold;">Use Defaults</span> to automatically display the default list of sponsorship levels that were created in the Setup module. (See "Create default sponsorship levels" above.)</div></td>

 
−

      </tr>

 
−

    </table>

 
−

  </div>

 
−

  <div style="font-family: &quot;arial&quot;; font-size: 11pt; margin-bottom: 12pt; margin-left: 36pt; text-align: justify;"><span id="wwpID0E0AP0HA">[[Image:Events-Create_Sponsorship_Levels-image94.png]]</span></div>

 
−

  <div style="color: #000000; font-family: &quot;arial&quot;; font-size: 10pt; font-weight: normal; margin-bottom: 12pt; margin-left: 54pt; text-align: justify;"><span id="wwpID0E06O0HA">Figure 4-6b Editing sponsorship levels for a particular event</span></div>

 
−

  <div style="margin-left: 18pt;margin-bottom: 0pt;">

 
−

    <table border="0" cellspacing="0" cellpadding="0" width="99%" summary="">

 
−

      <tr valign="baseline">

 
−

        <td style="width: 18pt"><div style="font-family: Calibri; font-size: 11pt;">6. </div></td>

 
−

        <td><div style="font-family: Calibri; font-size: 11pt;"><span id="wwpID0E05O0HA">Continue adding, editing, and removing sponsorship levels until the list is as desired for this particular event.  Note: any editing here does not affect the default sponsorship levels list created in the Setup module.</span></div></td>

 
−

      </tr>

 
−

    </table>

 
−

  </div>

 
−

  <div style="margin-left: 18pt;margin-bottom: 0pt;">

 
−

    <table border="0" cellspacing="0" cellpadding="0" width="99%" summary="">

 
−

      <tr valign="baseline">

 
−

        <td style="width: 18pt"><div style="font-family: Calibri; font-size: 11pt;">7. </div></td>

 
−

        <td><div style="font-family: Calibri; font-size: 11pt;"><span id="wwpID0E04O0HA">Click </span><span style="font-weight: bold;">Save Changes</span>.</div></td>

 
−

      </tr>

 
−

    </table>

 
−

 
−

===Create Output from the Sponsor List (print, download, name tags, labels etc.)===

 
−

  <div style="margin-left: 18pt;margin-bottom: 0pt;">

 
−

    <table border="0" cellspacing="0" cellpadding="0" width="99%" summary="">

 
−

      <tr valign="baseline">

 
−

        <td style="width: 18pt"><div style="font-family: Calibri; font-size: 11pt;">1. </div></td>

 
−

        <td><div style="font-family: Calibri; font-size: 11pt;"><span id="wwpID0E02O0HA">On the </span><span style="font-weight: bold;">Sponsors</span> tab, click the <span style="font-weight: bold;">Reports</span> arrow.</div></td>

 
−

      </tr>

 
−

    </table>

 
−

  </div>

 
−

  <div style="margin-left: 18pt;margin-bottom: 0pt;">

 
−

    <table border="0" cellspacing="0" cellpadding="0" width="99%" summary="">

 
−

      <tr valign="baseline">

 
−

        <td style="width: 18pt"><div style="font-family: Calibri; font-size: 11pt;">2. </div></td>

 
−

        <td><div style="font-family: Calibri; font-size: 11pt;"><span id="wwpID0E01O0HA">Select the desired output.</span></div></td>

 
−

      </tr>

 
−

    </table>

 
−

  </div>

 
−

  <div style="margin-left: 18pt;margin-bottom: 0pt;">

 
−

    <table border="0" cellspacing="0" cellpadding="0" width="99%" summary="">

 
−

      <tr valign="baseline">

 
−

        <td style="width: 18pt"><div style="font-family: Calibri; font-size: 11pt;">3. </div></td>

 
−

        <td><div style="font-family: Calibri; font-size: 11pt;"><span id="wwpID0E0ZO0HA">Complete any screens that may follow.  If printed output is desired, you may choose </span><span style="font-weight: bold;">Print</span> from the <span style="font-weight: bold;">File</span> menu.</div></td>

 
−

      </tr>

 
−

    </table>

 
−

  </div>

 
−

  <div style="font-family: &quot;Times New Roman&quot;; font-size: 11pt; margin-bottom: 12pt; margin-left: 36pt; text-align: justify;"><span id="wwpID0E0YO0HA">[[Image:Events-Create_output_from_the_sponsor_list_(print_down-image95.png|sponsor output options]]</span></div>

 
−

  <div style="color: #000000; font-family: &quot;Times New Roman&quot;; font-size: 10pt; font-weight: normal; margin-bottom: 12pt; margin-left: 54pt; text-align: justify;"><span style="font-size: 10pt;"><span id="wwpID0E0XO0HA">Figure 4-7</span></span> Sponsor output options</div>

 
−

 
−

==Guest List==

 
−

  <div style="font-family: Tahoma; font-size: 11pt; margin-bottom: 12pt;"><span id="wwpID0E0VO0HA">When registration rosters and attendee lists must be tracked, a complete solution for managing participants is provided through the </span><span style="font-weight: bold;">Guest List</span> tab.  </div>

 
−

  <div style="font-family: Tahoma; font-size: 11pt; margin-bottom: 12pt;"><span id="wwpID0E0UO0HA">Participants may be added using member or representative names in the current database, added as new by a chamber employee, or automatically entered by the participant if online registration is enabled.  </span></div>

 
−

  <div style="font-family: Tahoma; font-size: 11pt; margin-bottom: 12pt;"><span id="wwpID0E0TO0HA">In addition, invitations may be sent to prospective attendees, resent to those who have not responded, and continually monitored, sorted, and reported on using the registration status column in the </span><span style="font-weight: bold;">Guest List</span>.</div>

 
−

  <div style="font-family: Tahoma; font-size: 11pt; margin-bottom: 12pt;"><span id="wwpID0E0SO0HA">Output from the registration list consists of a roster sheet, mailing labels, name tags, and a printed list.  Filter options may be applied to any output, filtered by registration status, payment status, or other self-selected filters.  For example, emails may be sent, targeting only those registered or those still not registered, or many other combinations using the available filter options. Downloading this same information to a comma separated value (.csv) file is also available.</span></div>

 
−

  <div style="font-family: Tahoma; font-size: 11pt; margin-bottom: 12pt;"><span id="wwpID0E0RO0HA">Sending invitations to attendees is not required in order to maintain a list of participants.  However, if invitations will be sent, it is most helpful to send the invitations before creating the participant list.  Instructions for working with these two areas follow: </span></div>

 
−

  <div style="margin-left: 18pt;margin-bottom: 12pt;">

 
−

    <table border="0" cellspacing="0" cellpadding="0" width="99%" summary="">

 
−

      <tr valign="baseline">

 
−

        <td style="width: 18pt"><div style="font-family: Calibri; font-size: 11pt;">[[Image:Events-rd_bullet.jpg|9px]]</div></td>

 
−

        <td><div style="font-family: Calibri; font-size: 11pt;"><span id="wwpID0E0QO0HA">Invitations </span></div></td>

 
−

      </tr>

 
−

    </table>

 
−

  </div>

 
−

  <div style="margin-left: 18pt;margin-bottom: 12pt;">

 
−

    <table border="0" cellspacing="0" cellpadding="0" width="99%" summary="">

 
−

      <tr valign="baseline">

 
−

        <td style="width: 18pt"><div style="font-family: Calibri; font-size: 11pt;">[[Image:Events-rd_bullet.jpg|9px]]</div></td>

 
−

        <td><div style="font-family: Calibri; font-size: 11pt;"><span id="wwpID0E0PO0HA">Guest List</span></div></td>

 
−

      </tr>

 
−

    </table>

 
−

  </div>

 
−

===Invitations===

 
−

  <div style="font-family: Tahoma; font-size: 11pt; margin-bottom: 12pt;"><span id="wwpID0E0NO0HA">Invitations may be created and sent via email using the </span><span style="font-weight: bold;">Guest List Summary</span> area on the <span style="font-weight: bold;">Guest List</span> tab.  After the invitations are emailed, the invitees are automatically added to the <span style="font-weight: bold;">Guest List</span> where their <span style="font-weight: bold;">Status</span> column will display "Invite Sent".  If no email address is available for the invitees, they are still added to the <span style="font-weight: bold;">Guest List</span> with a <span style="font-weight: bold;">Status</span> column displaying "No Invite Sent".  Mailing labels may be specifically generated for this group using the output options for mailing labels.</div>

 
−

  <div style="font-family: Tahoma; font-size: 11pt; margin-bottom: 12pt;"><span id="wwpID0E0MO0HA">During the course of time, if invitees have still not responded to your invitations, you may decide to resend your invitation.  The database will keep track of who has received an invitation but has not yet registered so that you may easily target those that might need a second or third reminder.</span></div>

 
−

====Send Invitations====

 
−

 
−

====Create Mailing Labels for those with "No Invite Sent" Status====

 
−

 
−

====Register an Invitee====

 
−

 
−

====Resend Invitations to those not yet Registered====

 
−

 
−

===Working with the Guest List===

 
−

 
−

====Creating a Guest List====

 
−

 
−

====Managing the Guest List====

 
−

 
−

====Guest List Output Options====

 
−

 
−

===Send Event Reminders===

 
−

 
−

==Reports and Labels==

 
−

 
−

===Reports===

 
−

 
−

===Generate and Email a List of Events===

 
−

 
−

====Generate List of Events====

 
−

 
−

====Email the Event Listing====

 
−

 
−

===Customize Event Name Tags===

 
−

 
−

==Customize Online Event Calendar Display and Registration Options==

 
−

 
−

===Modify Event Options and Settings===

 
−

 
−

===Modify the list of Event Categories===

 
−

 
−

===Registration Options===

 
−

 
−

<html>

 
−

<!-- copy and paste. Modify height and width if desired. --><iframe class="tscplayer_inline embeddedObject" name="tsc_player" scrolling="no" frameborder="0" type="text/html" style="overflow:hidden;" src="http://www.screencast.com/users/Micronet_Inc/folders/Default/media/90f3832b-0baf-496b-ace8-23346d1ae47e/embed" height="480" width="853" webkitallowfullscreen mozallowfullscreen allowfullscreen></iframe>

 
−

</html>

 
−

 
−

==FAQ==

 
−

*[[Setting up Custom Event Registration Instructions and Confirmation Messages|Can I customize registration instructions and/or confirmation messages for my events?]]

 
−

*[[Setting up Fee Items for Event Registration that has a Quantity Limit|How do I create an event fee item that has limited quantities available?]]

 
−

*[[Setting up Fee Items for Event Registration that Include Multiple Attendees|How do I create an event fee item that will automatically register multiple attendees – a table of 8, team of 4, etc.?]]

 
−

*[[Setting Up Event Custom Registration Fields|How do I gather certain information for an event at the time of registration (meal choice, shirt size, seating preference, etc.)?]]

 
−

*[[Cancelling an Event Registration|How do I cancel an event registration?]]

 
−

*[[Event_FAQs|How do I add photos to an event?]]

 
−

*[[Event_FAQs|Can I edit or add to the event invitation that is created when sending the built-in invitation?]]

 
−

*[[Event_FAQs|Why is my event showing multiple times on the public calendar and I only entered it once?]]

 
−

*[[Event_FAQs|Why does the download of my event guest list include additional columns of items not related to my event?]]

 
−

 
−

==Common Tasks==

 
−

*[[Adding_an_Event|Create an Event]]

 
−

*[[Create_a_Recurring_Event|Create a Recurring Event]]

 
−

*[[Events-Send_invitations|Send Email Invitations for an Event]]

 
−

*[[Customize Event Name Tags]]

 
 
 
 

==Help Documentation==

 

==Help Documentation==

 

Browse [[Events_Topics | Events Help]]

 

Browse [[Events_Topics | Events Help]]
---
Revision as of 15:07, 24 May 2019
Events Module Overview
Understanding the basics of how the Events module is organized will give a foundation for operation. Viewing existing events and learning to display only desired events will also be helpful. Then learn how to create, modify and manage events.
Event Module Organization
To add, edit, and manage the Events, click Events in the left-hand menu where you can select the desired event and desired tab.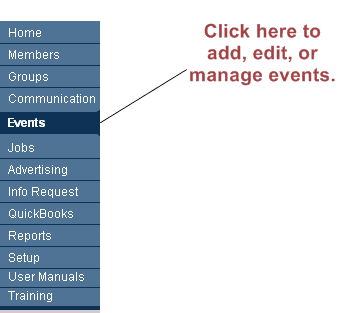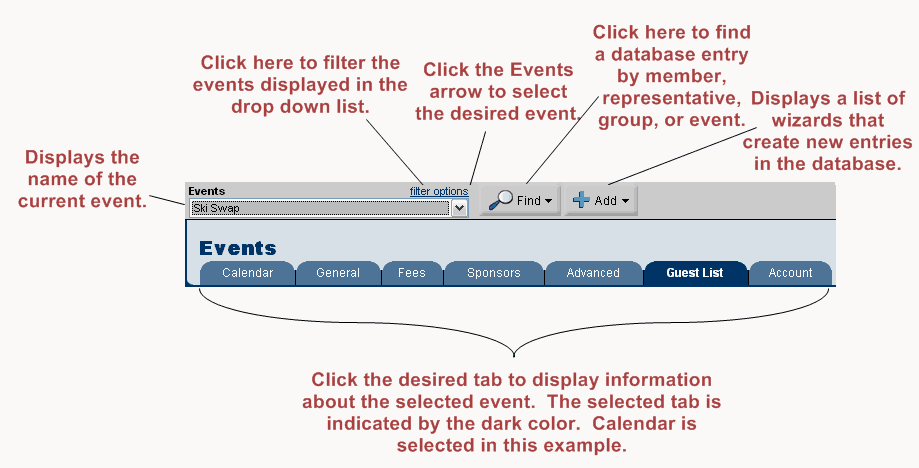 </span>
Event Tabs
Within the Events Module there are nine tabs: General, Fees, Sponsors, Advanced, Guest List, Account, Files, and Tasks.

Calendar: Displays the internal events calendar in one of five views: list, day, month, week, or year view. Filter options may also be selected which would display only user-selected events. New events may be added from this tab by clicking the + sign on the desired date/time
General: Event information, placement options, and photos and images
Fees: Assign event fees, billing preferences, and discounts based on age, date, or volume
Sponsors: Designate event sponsors, logos, fees
Advanced: Specify Locations (if available) and Custom Fields
Guest List: Send invitations; add guests to the roster; print roster sheet, labels, and name tags; send emails; register invitees
Account: View income and payment activity, generate invoices and sales receipts (if applicable)
Files:
Tasks: 'Integration with the Project/Task Manager (Pro edition only) When creating a new event, work with the tabs in order as displayed. For example, after completing the General tab, setup the fees (if applicable) on the Fees tab. The Sponsor tab would be next, the Guest List, and finally the Account tab. You may complete them out-of-order if desired but there is a logical flow if working from left to right.
Event Options and Settings
The display of your online Events calendar may be customized through a number of menu selections in the Setup module. Administrator permissions are required to make these changes. Changes made take effect immediately on your website.
In addition to these selections, there is an option to create your own list of Event Categories that may be used to filter what is seen when visitors search your online calendar. Certain registration options may also be customized such as the available authentication methods for member registrations.
Modify Event Options and Settings
These settings are for public modules version 1 and 2.
Click Setup in the left-hand menu.
Click Event Options and Settings.
Make desired changes.
Click Save.
Allow Public to Submit Events
Click Setup in the left-hand menu.
Check the box for Allow public users to submit events for display (requires approval of each submitted event by chamber staff).
Click Save.
Modify the list of Event Categories
| | |
| --- | --- |
| 1. | Click Setup in the left-hand menu. |
| | |
| --- | --- |
| 2. | Click Events Calendar: View/Edit Event Types. |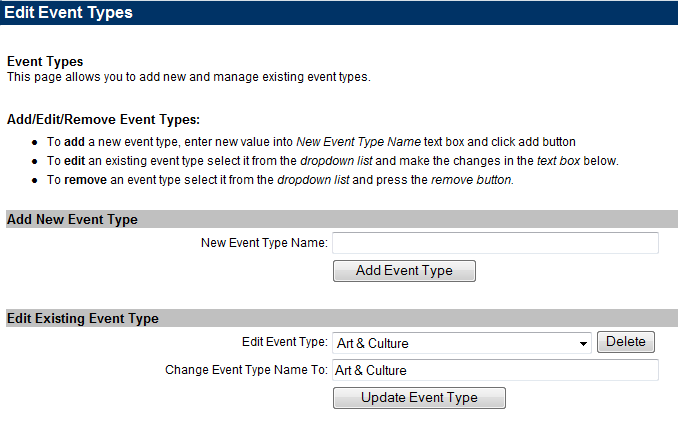 Figure 7-2 Event Type options
Registration Options
Certain registration options may be modified such as:
Member authentication options – what is required of a member in order to register as a member
Which fields are required registrations fields for staff and registrants
Default terminology (phrases used) for members, non-members, payment method wording and registration closed message
Custom message displayed on all event registration confirmations
The default settings when new events are created may be set for:
Automatic registration confirmation and notification emails
Event invoice default
Registration Fees and Billing Preferences
To set custom and default event registration options
Click in the left-hand menu.
Click Event Options and Settings.
Open the Registration and Billing Preferences section.
Make desired changes.
Click Save.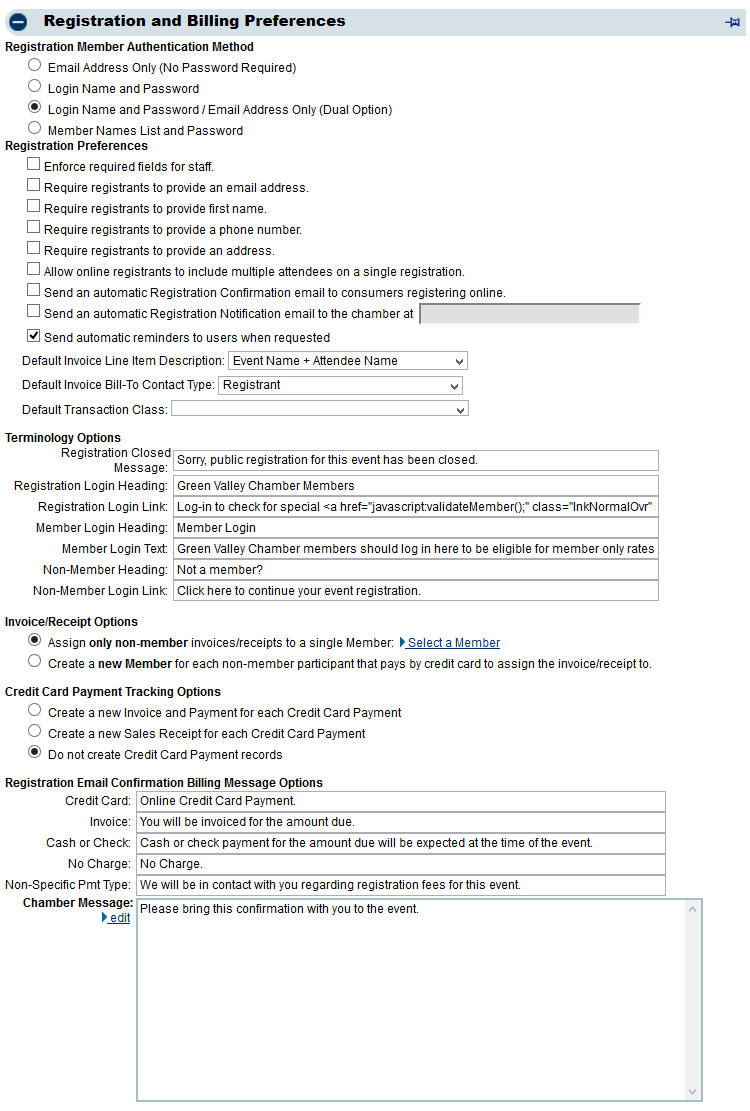 Registration Member Authentication Method

</div></td>
<td>
Registration Preferences
</td>
     </tr>
   </table>
 </div>

| | |
| --- | --- |
| | Enforce required fields for staff – if fields are marked as required, then when staff enters a registration from the Guest List tab, then the fields will also be required for them as well. |