November 2016 Release Notes
From Support Wiki
Waiting List for Event Registrations[1]
Attendees will never be turned away again - allow them to join the waiting list!

Watch this short video to see how.
After setting an attendee limit on the Events->General tab, enable the waiting list.


When the attendee limit is reached your guest will be asked if they'd like to be added to the waiting list (1). When seats become available for your event, staff will manage the waiting attendees from the Guest List (2) where they can easily be contacted if desired and turned into a registration.(3)
Staff can also add to and edit the waiting list from the back office.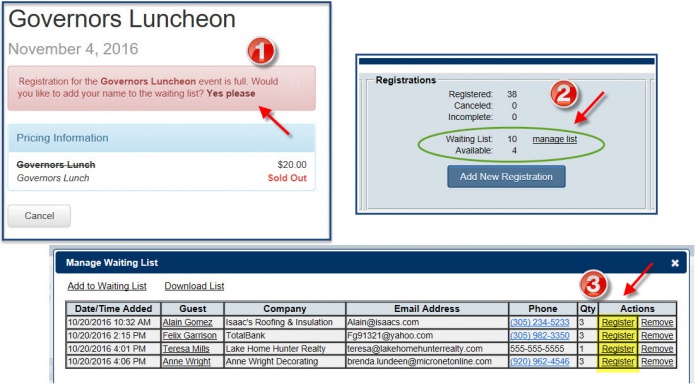 A limit of a certain number of attendees per registration is also a new option with a goal of helping guests not to grab more than their fair share of tickets to a limited availability event. Set this maximum on the Events->General tab.
Turn on the free, updated Event Registration to use these features. How do I do that?
---
Integrated Billing - Journal Entry Export
Updates were made to both Journal Entry Export reports, the Cash and Accrual Basis reports, to reduce errors and assist in a better customer experience. Watch a short video here:
Best Practice steps were added to the export screen, reminding of the need to make your chart of accounts and member names the same in both locations before exporting. Links to applicable database reports where those discrepancies may be viewed are included.
Changes were made to ensure exports do not include transactions that will fail when imported into your 3rd party bookkeeping software. The following transactions will no longer be able to be selected and thus no longer included in the export until an appropriate account has been assigned.

Transactions that do not have an Account assigned (missing account) associated with it
Transactions that have Accounts Receivable as the debit and also as the credit.

The Export button will not allow an export file to be created if no transactions are selected.
Performance enhancements applied when clicking into the details on the JEE Summary view.
Fixed issue on the Journal Entry Export when including deposit transactions. Deposits that include sales receipts for payment of membership applications will now display the amount in the JEE.
Login Permission on-screen clarification
International Settings
Support for displaying the SR (Saudi riyal) currency symbol now exists under Setup->Association Information on the Advanced tab.
Events
Fix of the Calendar view on the Event->Calendar tab so that it all displays columns evenly no matter whether events exist or not.
Updated Event Registration Do I have that version?
Event registrations will now fully carry over 4 decimal places onto invoices created manually and automatically so that rounding matches the way it rounded in the original event registration.
Builders' Edition Export
Customers with the Builder's Edition version of MemberZone will have a new left-hand menu titled WMS / NAHB which provides a new export tool. This Export option will replace the need to run the NAHB/WMS Export File Generator each month. Instead using the new Export tool, you'll be able to create batches from selected transactions in the queue. Watch this video to see how to use the new export tool.
↑
Turn on the free, updated Event Registration to use these features. How do I do that?