Administrator Tasks
Jump to navigation
Jump to search
Getting Started
When your ChamberMaster software if first installed, one or more users will be designated as Administrator. These individuals should ensure that your database is configured with some basic settings. As you continue using your software, you may desire to customize many different settings such as Custom Fields, Online Event Calendar preferences, and Member Information Center options.
If you are just getting started with Admin Tasks, watch this 32 minute overview video

Configuring Basics
The ChamberMaster/MemberZone support team works with your association as your data is converted and imported. Many items will already be customized to you. However, having a comfort level with viewing these selections and knowing where to change them if needed may be desired.
Four areas are commonly referenced in the first weeks of using your software:
Business Information (association name & address etc)
General Options (integration settings)
Employees/Reps (staff login names and passwords)
Business Categories (member online directory categories)
Set Up Organization Information
Information in these fields will be the default business information displayed within your software and on certain integrated web pages.
Click Setup in the left-hand navigation bar.
Click Association Information in the Association Options area.
Edit the desired fields on the General Association Information screen.

Ensure your association's name and address is complete and accurate.
Select the correct country and time zone.
Update your phone numbers and website.
Enter in your association's generic email address.

This email is used when automatic emails are sent from the database as the from address

Upload your association's logo for display at various places through the software.

See Upload Your Logo for details

Click Save.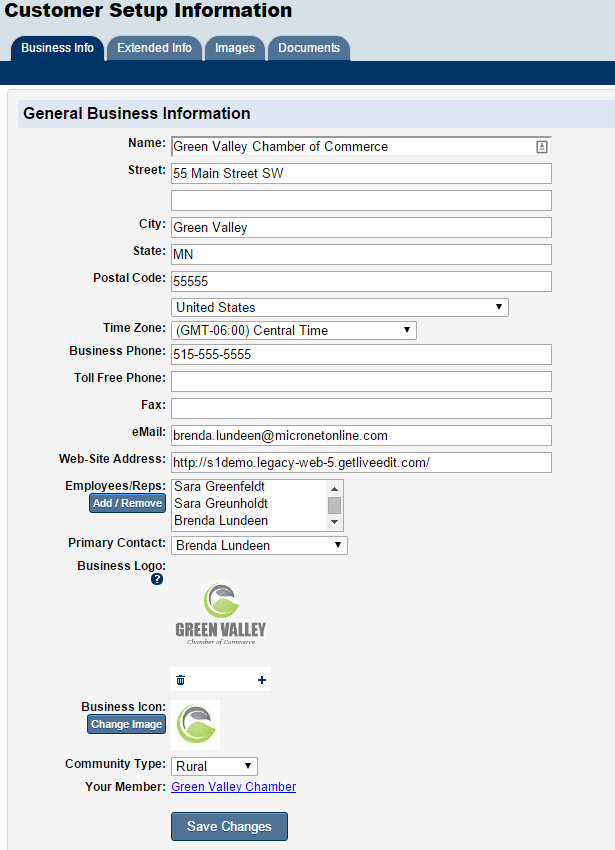 General Options & Settings
Modify Event Categories
Modify Event Options and Settings
Modify the list of Event Categories
Registration Options
Click Setup in the left-hand menu.
Click Event Options and Settings.
Make desired changes.
Click Save.
Commonly Modified Selections
Allow public users to submit events for display: When selected, this checkbox will turn on the "Submit New Event" link that displays on the events calendar on the public website. The general public and members would be allowed to submit events for your consideration through this link.
Registration Preferences: Select the required fields needed when guests register online. These particular selections apply to all online event registrations.

Require online registrants to provide an email address
Require online registrants to provide a first name
Require online registrants to provide a phone number
Require online registrants to provide an address
Note: Some selections are available here and also on the specific event Fees tab. When the selection is available in both locations, the selection on Event Options and Settings is setting the default for all events but may be overridden on a particular event by making a change on the Fees tab.
Chamber Message: Type a message that will appear on every event confirmation email that is sent to all registrants.
Sponsors: Edit/Create this list of Event Sponsor levels that will be available to assign to your event sponsors on the Events->Sponsors tab. Sponsorship levels created here are available as a default set of levels for each event.
When a level is assigned to an event sponsor, that level title, if set to "Display Heading", will also display for the public above the names/logos of those sponsors on the event calendar on the public website. If the level is set to "Do Not Display", the level title will not display on the public website but the designated sponsor names will be displayed in the order of their level of assigned sponsorship.
Modify Business Directory Control Panel
Making Changes
Click Setup in the left-hand menu
Click Directory Control Panel
Click Save
Description of Commonly Modified Selections
When this selection is enabled, website visitors will see links to share the listing/posting on FaceBook, Twitter, LinkedIn or email to a friend. Share links will appear on the member's website Information Page, Hot Deals, Member-to-Member deals, job postings, MarketSpace items, and on event description pages. Note: This selection is only available when your website has been integrated with the SEO module integration.
Filter by Contact Options
Select whether individual representative names should be used as search criteria in the online Directory search. See options below in Figure 2. If this selection is enabled, then the General Filter Options: Contact will also be selected. Note: This selection is only available when your website has been integrated with the SEO module integration.
Filter by Location (Filter by Geographic Proximity)
When the Directory is searched by zip code proximity, member names will now display a distance from that zip code after their member name. Note: Miles will show for all US associations and kilometers will display for all others
Contact Businesses Button
When this checkbox is selected, website visitors will have an option to Contact these Businesses when viewing a list of members in the online Directory, whether searching alphabetically, by category, keyword or any other way. This single message is sent via email to the selected businesses. Each request is tracked in the database as an eReferral, just like any eReferral form completed by your internal staff. Use with Require Staff Approval Before Delivery checkbox if you'd like to approve the message before it is sent.
Require Staff Approval Before Delivery
Select this checkbox if you'd like to approve the Contact These Businesses message before it is delivered to the member. When a lead is received it will appear in the Web Leads Task List.
How to Approve or Reject a Web Lead
1. Click Web Leads in the Task List
2. If a message is awaiting approval, click the Subject/Message.
3. View the content of the message.
4. If this message should be delivered to members, click Approve. The message will be sent immediately.
5. If this message should not be delivered to members, click Reject. The message will not be sent to members. No notice is sent to the sender of your rejection.
6. The recipients of sent messages may be viewed on the Communication➝Member Contact Report.
Hint: Make sure to select "Bulk Mail" and to clear the Staff Contact field and then click Refresh.
Modify Hot Deals Settings
Modify MarketSpace Settings
Credit Card Processing
With ChamberMaster/MemberZone Plus, Premier or Pro editions you have the option to accept credit card payments for event registration, online membership applications, and payment from members within their Member Information Center.



Watch an overview of the Credit Card processing setup and places it is used. About 18 Minutes
Requirements
Must have Plus, Premier or Pro editions of ChamberMaster/MemberZone. Look in the upper left corner of your database to see what version you have and contact support if you need to look at upgrading.
You must use the Integrated Payment Processing embedded in your software, or have a credit card processing gateway that is compatible with our system:

Authorize.net
Note:Authorize.NET Direct Payment Method is now supported. With DPM the consumer's credit card information is transmitted from their browser to Authorize.NET's servers. This will significantly help those in the process of getting PCI certification.
Beanstream/Bambora (and Canadian customers of First Data)
PayPal Website Payments Pro
Any Gateway that supports an AIM Authorize.net Gateway Emulator
PayPal Standard

Limited Functionality with the PayPal standard option
Getting Setup
Contact our support team and we'll get your processing enabled so you can complete the setup.
Using the Credit Card Processing

Watch an overview of the Credit Card processing setup and places it is used. About 18 Minutes
View detailed information about using credit card processing in specific areas of your database.
Internet Fax Service
Without any additional selections, ChamberMaster gives options to save your fax output to a file that is accepted by fax software that you might already have installed, like WinFax Pro. Another option prints the output in a format ready to send with your traditional fax machine. These selections are available under Communication->Form Letters.

Figure 1 – Standard fax options in ChamberMaster

Additional selections may be configured to send your communication piece directly through ChamberMaster via email to your email fax service. (*Note: This requires a separate subscription with one of many well-known internet fax service.) Once ChamberMaster is configured to use your email fax service, faxing your communication can be completed without printing, downloading, or manually faxing. A new selection will be available under Communication->Form Letters.

Figure 2 – Sample of the Send Faxes button when using eFax
What is an email fax service?
Configure ChamberMaster/MemberZone to use my email fax service
Which email fax services are supported?
Miscellaneous Settings
There are a variety of custom settings that may be put in place. Most of these selections are found by clicking Setup in the left-hand menu. A few miscellaneous selections are identified here.
Enable LiveEdit button
Enable Constant Contact synchronization
Upload your logo
Constant Contact Synchronization
The ChamberMaster/MemberZone member management system allows you to connect to your Constant Contact account to automate updates to your Constant Contact lists based on updates made in the database. Once configured representatives that have been added to the database or specific groups will automatically be added to Constant Contact. Any reps that are disabled within in a group will be removed from their respective lists.
Note: Any Representatives that are deleted from the database or removed from a group will still remain in Constant Contact. These contacts would need to be manually removed from Constant Contact in these circumstances. For best results avoid deleting or removing representatives within your database and instead simply disable them within the group.
Constant Contact has a special pricing program for Chambers of Commerce see the details here.
Enable Constant Contact Synchronization
You must have an active account with Constant Contact to setup and use the synchronization tool.
Login to your database with administrator privileges.
Click Setup in the left-hand menu.
Click General Options and Settings in the Association Information (or Chamber Information) area.
Select ConstantContact from the Newsletter Solution drop-down box.
In the Add-On Manager area click the blue link Please click here to authorize the Constant Contact connection.
Follow the prompts to authorize the database with your Constant Contact account.
Choose which items you would like to have automatically synchronize each night. Automatically synchronize membership types daily, Automatically synchronize groups daily, and/or Automatically sync all active reps for active and courtesy members to allow ChamberMaster to pass all ChamberMaster Membership Types, active reps and/or Group updates and additions nightly to your Constant Contact account. To select only specific groups, click the Synch tab in the Groups module.

If you'd rather select only certain groups to be synched, then you'll need to deselect all others on the Synch tab in the Groups module. See Selecting Which Groups to Synchronize below for more info.

Click Save.
Going forward, make any additions to these list or changes to contact information in your software. Each night a synch takes place and any added reps will be added. Any reps disabled will be removed. If a rep is deleted from the database they will not be removed. For best results, manage all additions and updates in ChamberMaster/MemberZone only and don't delete any records.
Note: Reps that have unsubscribed from your database mailing list will not be included in the synch to Constant Contact.
Selecting Which Groups to Synchronize
Once the Constant Contact synchronization is setup you will be able to configure which groups are set to be synchronized each night.
Note: The groups option must be checked off in step #7 above for any groups to synchronize.
View & Remove Groups from the daily synchronization
Select the Groups module.
At the top, select the Synch tab.

All Groups currently set to synchronize will be displayed in a list when you first open this tab.

Uncheck any that you wish to stop Synchronizing and then click Save
Set a group to start synchronizing each day
Option 1 - From the general tab

Select the Groups module.
At the top select the Home tab.
Click on the group name that you'd like to change the setting for.
Click Save Changes

Option 2 - From the Synch tab

Select the Groups module.
At the top, select the Synch tab.
Uncheck Display groups set to synch only.
Check off the groups you wish to synchronize.
Click Save
Synchronize a Group Now
Select the Groups module.
At the top select the Synch tab.
Next to each group that has the synch enabled you can click the Synch Now button.

This will initiate a synch process that will take up to 15 minutes to complete on Constant Contact's end. You can view the Activity report on Constant Contact to see the status of the import.
Manually Export Contacts to Constant Contact
You can manually create a contact list and export it to Constant Contact as well.
If automatic synchronization is not being used, or if manual exporting/updating is desired, use the steps here to export ChamberMaster/MemberZone contacts so that they may be directly imported by Constant Contact.
Click Communication in the left-hand menu.
Click Newsletters / Email Campaigns.
A summary of your selections will appear in the blue box at the bottom of the screen. Click view mailing list to see your results.
Remove any recipients that are not desired by clicking the checkbox in front of their name. Then click Remove Selected Items.
Click Continue.
Repeat steps 3-6 to add any more desired recipients.
Click Create Mailing List when all names have been selected.
The Database will allow you to download and save these names in a file that may be imported into Constant Contact. Follow instructions on the screen to save the file with your desired name and location. Remember this name and location for importing into Constant Contact.
FAQ
Why are there fewer contacts in my Constant Contact list than what is showing in my database?

A) When the data is pushed over to Constant Contact any emails that are invalid are automatically excluded. Any emails that are unsubscribed within Constant Contact would also be excluded from the final list in Constant Contact.

When does the synch happen each day?
A) The synch happens between 11pm and 4am Central Standard Time daily.

What happens when I change a representatives email in ChamberMaster/MemberZone?
A) The representative will be added to anything their previous email was attached to but their previous email will not be removed. If you want their previous email removed you would need to do that directly within Constant Contact.
Upload your logo
Your association logo will appear at designated areas throughout your integrated website and in the Member Information Center if you have it uploaded. If using Integrated Billing, it will also display automatically on default Invoice templates.
Click Setup in the left-hand menu.
Click Organization Information.
Click the + (plus sign) to browse your drive for the desired image.

Note: The folder path that is displayed here is not significant and is not accessible at this time at any other location in the software. Future plans are that these images should be accessible at a common location so they can be used throughout the software. This folder is not visible in the Cloud Drive at this time. You are not able to navigate up to any other folder from this location.

Once you've selected (clicked) the desired image, click Upload.
Click the desired image Name in the list.
Click Crop & Save.
Click Save Changes.
Enable Votility Integration
Help Documentation
Browse the Admin Tasks Table of Contents