Membership Types
From Support Wiki
Membership Types may be created so you can assign them to a drop-down list when creating or modifying your member's record. Selecting your members by Membership Type then is an option that is available throughout the software.
Define Your Own Membership Types
Click

Setup

in the left-hand menu.
Click

Define Membership Types

.

Figure 2-1 Define Membership Types selection
Users of ChamberMaster Plus will have an option to
Set Icon
for each Membership Type. Upload a .jpg or .gif file for each Membership Type which will display next to the name of any member assigned to this Membership Type in the online Business Directory. Maximum graphic size is 30 x 12 pixels.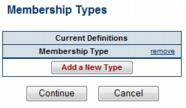 Figure 2-2 Adding new Membership Type
| | |
| --- | --- |
| | Type the desired Membership Type. |
Continue adding new types and then click

Continue

when desired Membership Types have been created.
Assign Membership Type to a Member
Membership Type may also be assigned when a new member is created. This selection is available on the second step of the four in creating a new member.
Click

Members

in the left-hand menu.
| | |
| --- | --- |
| | Select the desired member from the drop-down menu. |
On the

General

tab, click the

Membership Type

arrow in the

Additional Information

area to select the desired Membership Type.

Figure 2-2a Assigning Membership Type to your member
How are Membership Types used?
Membership Types are used throughout the software once defined and assigned to your members. Some common uses of Membership Type:
| | |
| --- | --- |
| • | Reports may be viewed/generated by Membership Type |
| | |
| --- | --- |
| • | Communication may be sent/created by Membership Type |
| | |
| --- | --- |
| • | Event invitations may be sent by Membership Type |