Mobile Apps
From Support Wiki
Overview Video
This 20 minute video will get you started using our mobile apps: GrowthZone and ChamberMaster Staff apps for you and MemberPlus for your members.
MemberPlus: An App for Your Members
A free mobile app is available to all members of associations that use ChamberMaster or GrowthZone software. Click Here to view an online feature sheet for MemberPlus.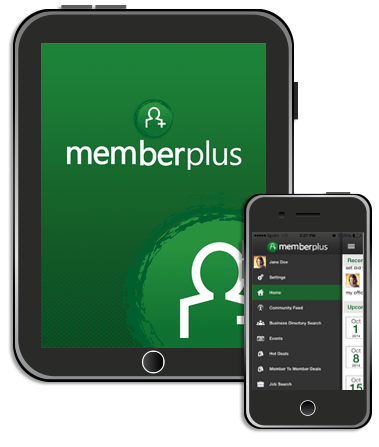 MemberPlus Features
Receive notifications from your association
Link to their Member Information Center
Update their own profile information
Register, pay and check in for events
Interact with other members
Post & view jobs, hot deals and member-to-member specials
What is the cost for MemberPlus? Is it included in our software edition? Does it cost anything to the members?
There's no additional cost to your association or your members. The "MemberPlus" app is available in both the iTunes and Google Play stores. It's designed for your members, much like the ChamberMaster/GrowthZone Staff app was designed for you to use. Essentially we wanted to create an easier way for your members to update their personal and company information, register for events, interact with other members, access the Resource center (where you can upload documents and links for all or groups of members), etc…
What other tips do you have for me as I roll this out?
As you roll it out to members, we suggest adding the direct links to the MemberPlus app download pages in the iTunes app store and Google Play store.
It does require that the member have a rep login to access it so you might want to send out an email with their rep logins merged in – just in case they forgot it. Which is exactly why this is so cool, once they download it, they can click the "remember me" option and it's so much easier to use than going out to a website and trying to remember logins.
Tip: have your staff and board members download it right away and make some posts in the social feed so as soon as members log in, they already see activity and can "like" or add posts of their own. Perhaps have your staff post a question so that members have something to respond to easily. Sometimes it just takes an easy example to get them started. There's an icon in the upper right corner of your database called "MIC". You can click on that to login with staff level access. You'll be able to add posts and as staff, there's a delete post option icon next to each post, should you ever need to remove a post that was made in error.
ChamberMaster/GrowthZone Staff App
A mobile app of ChamberMaster / GrowthZone is available for iOS (iPhone and iPad devices) and for Android devices, giving you and your staff up-to-date membership information right at your fingertips no matter where you are.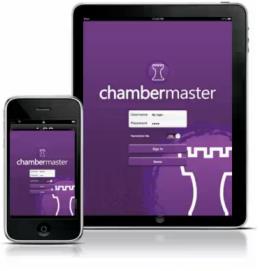 Android devices: Free download available now in the Google Play Store for Android devices: the ChamberMaster and MemberZone mobile apps for your staff.
iOS devices: Download the free app for iOS devices in the Apple iTunes Store] for ChamberMaster and MemberZone staff.
Staff Apps FAQs
Staff App Features
Free Edition
Search for members, prospects and individuals
View member profile, web stats and event activity
Check-in attendees at events
Check account balance and recurring fees amounts
Lookup communication notes
Encourage everyone in the office to download the app –it's free and integrated with your member management software.
Premium Edition
Additional time-saving features are available with the premium edition.
Mark event registrants as paid
Create event billing transactions
Add new notes to communication history
Add new members to the database, either by "quick-add" form or full online application
Auto-selection of random prize winner from event registration list
Approve or decline Task List items
Linked phone numbers that will open the phone dialer (if device has phone capabilities)
Linked email addresses that will open two email options – email through the software or email directly from app
Linked Member Anniversaries on the Dashboard will open to more member details
Simply click Account in your left-hand menu within your database and select the "Mobile Application" tab. Select to "Upgrade to Premium" and click the "Upgrade" button.
Note: The Premium edition of the app is included with Plus, Premier or Pro software editions when purchased or upgraded after the first quarter of 2014.