Does updating the member contact info automatically update my representative contact info
Jump to navigation
Jump to search
Yes, as long as
Auto-update representative contact information when updating members
is selected found under
Setup >General Options and Settings.
When
selected, the member's address, primary phone and fax number is automatically updated on the corresponding fields for the representative's address, work phone or fax number on the
Reps
tab. However, if these representative fields have unique information in them, then they will not automatically be updated.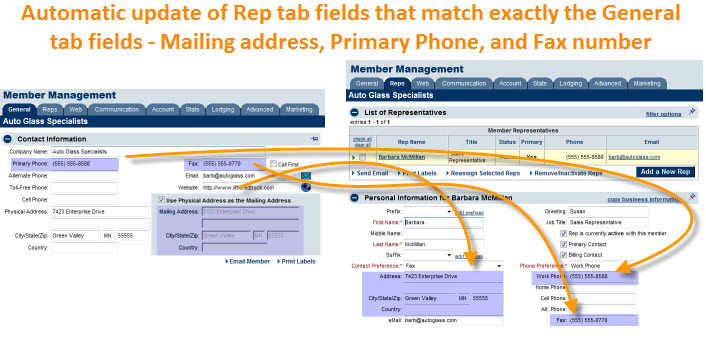 If this is not functioning that way, make sure "
Auto-update representative contact information when updating members
" found under
Setup->General Options and Settings
is selected.
The selection above will be turned on by default for new associations that start June 2011 or later. Existing associations will need to turn on this selection. Administrator permissions are required to access the Setup module.
Other fields like Email address, Alternate phone, and Cell phone number fields from the
General
tab are not copied to the rep record. This ensures that the individual rep information is maintained for these fields.
If it is not desirable to have this auto-update feature turned on, then watch the video below to see how to ensure that reps contact information is updated.