Difference between revisions of "GrowthZone CMS"
Jump to navigation
Jump to search
Line 1:
Line 1:
−

Coming Soon!

+
 
+

 

 
+
 
+

 

 
+
 
+
 
+
 
+

 

 
+
 
+
 
+
 
+
 
+
 
+

 

 
+
 
+

 

 
+
 
+

 

 
+
 
+
 
+
 
+
 
+
 
+
 
+
 
+
 
+
 
+

 

 
+
 
+
 
+

 

 
+

 

 
+
 
+
 
+
 
+
 
+
 
+
 
+
 
+
 
+
 
+
 
+
 
+
 
+

 

 
+
---
Revision as of 21:11, 21 May 2019
Overview of your GrowthZone CMS
GrowthZone has designed and built hundreds of engaging and compelling association websites, to help enhance your brand and drive increased traffic, engagement, and usage of your most important public-facing asset. A wide variety of themes are available for you to choose from. Click Here to view our website gallery.
GrowthZone Content Management System (CMS) puts you in control of your new website 24/7. Your site is built on the WordPress Platform which provides intuitive content editing tools to make it easy to add and manage web pages, as well as incorporate your Chambermaster/MemberZone content into your site in seconds, all from any web browser.
GrowthZone CMS Training Videos - Getting Started
Add Modules to your GrowthZone CMS Website
Several modules from your Chambermaster/MemberZone database can easily be added to your website. You can add the following:
Contact Us
Communication
Events (List View or Calendar View)
Groups
Hot Deals
Job Postings
Member Directory
Member Login
New Member Application
The links have been generated for you and may be accessed through the Message Center in the Customer Service section on the Dashboard of your system.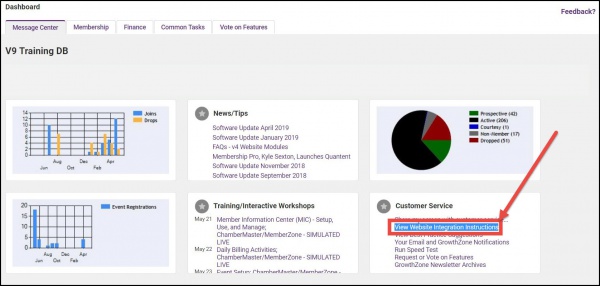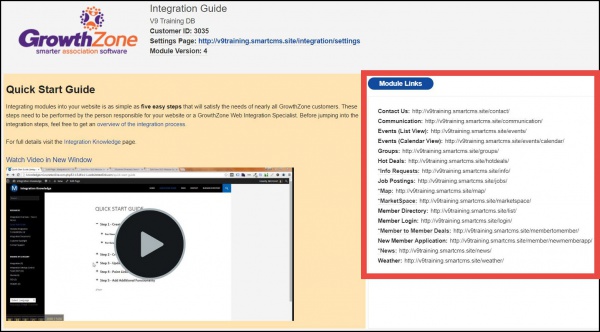 Add a Chambermaster/MemberZone Module as a Menu Item to your GrowthZone CMS website
Copy the url(s) from the Module Links you would like to add to your website.
From the database, click icon in the upper right menu of the database. This will provide an edit mode access to your website.
Paste the previously copied Entire Url in the URL box.
Enter the text you would like to appear on the menu for this item in the Link Text box.
Click Add to Menu.
Repeat steps to add as many Menu items as needed.
Click to save all the changes to your website.
The menu item(s) for your Chambermaster/MemberZone module has now been added to your main menu structure.