Events-Assign Event Fees
From Support Wiki
---
Once created, fees may be assigned to an event. If desired, multiple fees may be assigned to one event giving the ability to have separate pricing for members and non-members, pricing for sponsors, or any desired additional fee item.
Assigning event registration fees may be done
during creation
of a new event by selecting
Assign Fee Items
on Step 3 of 3 or
after creation
on the
Fees
tab. When assigning fees after creation, event registration fees
and
additional fees items may both be assigned. Steps outlined below will specifically address assigning fees after creation but the same concepts can be applied to assigning fees during creation.

Figure 3-4
During creation
Only one event
registration
fee may be selected per registrant. One or more
additional
fee items may be selected per registrant.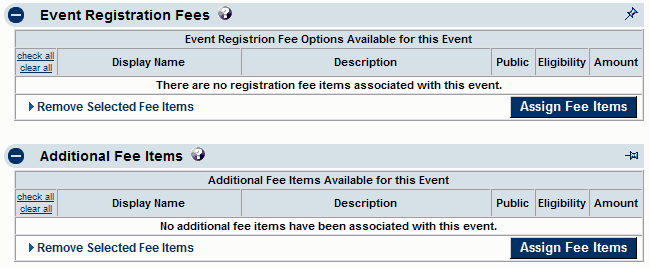 Figure 3-5
After creation