Drop a Member
Jump to navigation
Jump to search
Members who are no longer participating may be dropped (set inactive) but still have their history and information available in the database. Members should only be deleted when history is not necessary or when a member was mistakenly created. Dropped members are still displayed in the Member drop-down list when the Filter Options are set to display Dropped/Inactive members. Dropped/Inactive members will display in red.
How to Drop a Member
1.On the General tab, click the Membership Status arrow in the Additional Information area.

Figure 1-24 Membership Status drop-down list

2. Click Dropped/Inactive.
3.Complete the fields in the Drop Member Options screen. See Figure 1-25 below. For more details on the representative options, see Remove Representatives from a Group When Dropping or Suspending a Member.
Note:If fees are removed from a dropped member's record, the dollar value of the dropped member will not show on the Drop Report. Dropped members are not included in recurring membership billing even if fees are left on their record.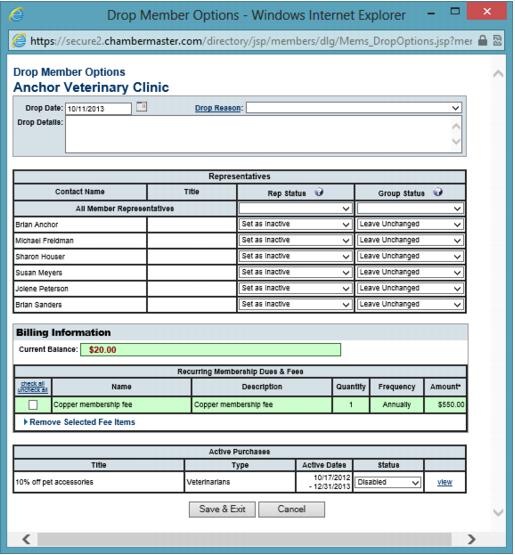 Figure 1-25 Drop Member Options screen

4. Click Save & Exit.
Note: For more details on the representative options, see "Remove representatives from a group when dropping/suspending a member.