Member Information Center (MIC)
Jump to navigation
Jump to search
Overview
---
The Member Information Center is an internal website just for your members. It gives them the ability to manage a variety of member activities.
Access to features within the MIC are controlled by your staff so that, for example, certain representatives may be able to pay bills on the site, but not modify company data. Other reps will only have access to update their personal information and register for events. This is achieved by assigning reps unique login credentials with different permission levels.
Member Information Center Versions
---
Three versions of the Member Information Center are in use at this time – v 1, v 3, and v4 . Most customers will want to use the latest version to take advantage of new features being developed. Upgrading to the new version is available for you to do, without any charge, whenever you are ready to do so by selecting your version in the Setup area.
Member Center Version 1
Member Center Version 1 is the original Member Only login area, with a text-based look and feel. This version still provides many exciting features.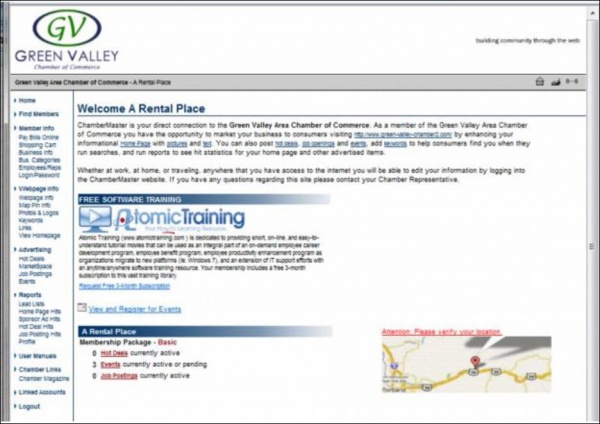 Members may:

Pay bills online
View and modify their own website listing in your member directory
Submit jobs, deals, events, member to member deals, MarketSpace items
View and/or modify their member directory category assignment
View statistical reports on website traffic to their member page, ads, and job postings
Staff may:

Create a custom welcome message
Insert your logo in the upper left-hand corner
Add/remove menu selections
Create custom menu items that link to a URL of your choice

Member Center Version 3
Member Information Center v 3 was introduced in November 2012 and provides a graphic, clean look with advanced features. Available to all of our customers at no charge, switching to this version is as simple as changing a selection in your Setup. NOTE: All members will be required to use an individual rep login to access Member Information Center v3.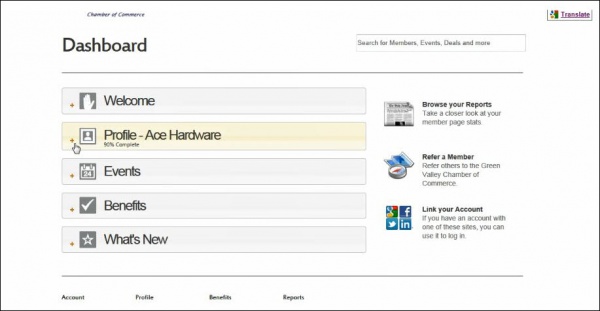 Watch a short video showing an overview of Member Information Center Version 3.
In addition to all the features available in Member Information Center v 1.0, version 3 provides even more:
Members can submit their own News Releases for posting on your website
Custom resource section for members to access uploaded files and links made available by office staff
"Refer a member" selection available for members to recommend their colleagues.
Membership Badge" widget provides member with personalized website code that can be copied onto their own site resulting in a "badge" that shows "Proud member of …" and include your logo.
Rep can upload their photo for a personal touch.
Rep photo can be displayed on your website due to their roster inclusion on any group designated as public (such as your board members or event committee group) (available only with version 3.0 of the public website modules)
Rep photo can also be displayed when members search in the Member Information Center for reps that belong to designated Groups/Interests that is marked as one that can be searched.
Custom representative interests may be collected such as which events they are passionate about and their interest level in different benefits.
Enhanced member search allows members to locate members within a certain committee or group or search by interests that have been asked of your members
Members may copy a past event when submitting their event for inclusion on your calendar
Members may translate the Member Center screen into Spanish or French (Enable under Setup->Member Login Area Options and Settings in the Additional Features section)
Reports now display in a graphic format with a focus on summary information that leads to member action to improve their statistics
Members may upload a graphic header to be used on their Member Information Page.

Public display of the Member header on the Member Information Page is available only to those with an enhanced listing which requires the Marketing Package or Premier edition or greater. Also version 3 of the public website modules must be integrated on your website and the setting to allow display of this header must be set to yes. (Find this setting on the General Settings tab of the Integration Settings Control Panel).

Member profile completion percentage bar gives focus to remind members to update their information. View how percentage is calculated.
Mobile website page view statistics are available on the Member Page Views report.
Member may submit recurring events for your approval (added 10/2014) to both MIC v3/v4
Member Center Version 4
Member Information Center v 4, officially announced in March 2014, is designed to give quick access to the most used features in a way similar to many other popular platforms but also giving more flexibility to the organizations to provide their own links and resources.
In addition to all the features available in Member Information Center (MIC) v 1.0 and MIC 3.0, version 4 provides even more:

Networking between members through posts and highly promoted community content
Videos, websites and document resources may be provided by you to all or select groups
Enhanced search options for member resources and within the member directory
Custom main navigation links provided by you
Custom fields available for members to view, search and edit
Familiar and easy-to-navigate menus
Upgrade MIC Version
---
Click Setup in the left-hand navigation panel.
Click Member Login Area Options & Settings in the Association Options section.
To upgrade, select the desired version. The largest version number has the newest features and provides the best member experience.
| | |
| --- | --- |
| | NOTE: Please do not set this version back to an older version without approval/knowledge of someone on the Product Management team or Customer Service Manager. We want to keep all customers on the new version unless good reason to be on the older version. Version 1 and version 3 were automatically switched to version 4 on 7/10/2015. View FAQ's on this automatic upgrade. |