Member Management-Change a selected rep 2
Jump to navigation
Jump to search
1.

On the

Account

tab, click

change billing rep

in the

General Information

area
2.

Click the desired rep name in the

Select a member representative

list box and then click

Continue

.
You can also change the Billing Rep by selecting the "Billing Rep" checkmark on the Reps tab for the desired individual. Either location will change the billing rep. The member may also select the Billing Rep in the Member Information Center with proper permissions.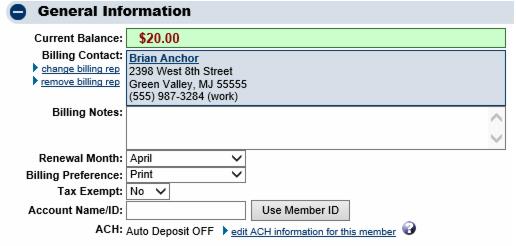 FIGURE 5-7
Account tab – billing rep selected
1.

On the

Account

tab, click

remove billing rep

in the

General Information

area.