QuickBooks Billing-Option 2 3a Create all one-time invoices in a sing
Jump to navigation
Jump to search
Instead of clicking
QB Invoices
on the
Task List
, the same process may be accessed on the
Recurring Invoices
tab in the
QuickBooks
module. In the
Member Renewal Month
drop-down box, select
One-Time Invoices Only
.
1.

Click

QB Invoices

in the

Task List

.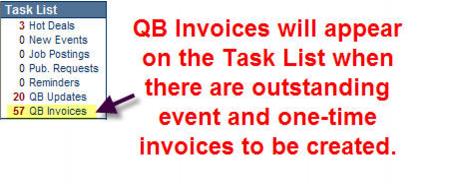 Figure 9-6
QB Invoices in the Task List
The number of invoices displayed in the QB Invoices Task List indicates the number of fee items that will be invoiced – not necessarily the number of invoices that will be created.

Figure 9-7
Pending invoices
3.

The

Recurring Invoices

tab in the QuickBooks module will appear with the

Member Renewal Month

set to One-Time Invoices Only. Change any other desired

Invoice Options

.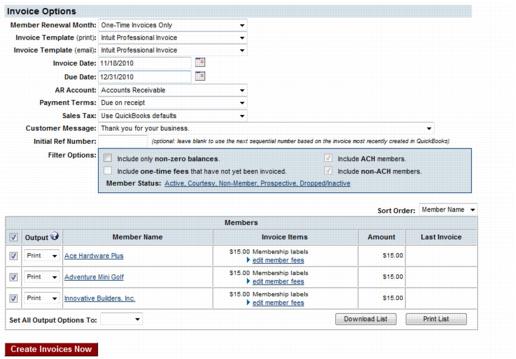 Figure 9-8
One-Time Invoices Only
4.

Preview the list of invoices and click to clear the check box in front of any invoice(s) that you do NOT wish to create. For users of QuickBooks 2007 or higher, you may select the desired output method for invoice distribution. You may also choose to print a list of invoices by clicking

Print List

or you may save and download the list of invoices to a file by clicking

Download List.
If you are using QuickBooks 2006 or earlier, the invoice distribution method will be automatically set as "To be printed", even though the Output column will not be displayed. This selection may be modified for each invoice after creation in QuickBooks.
6.

Invoice creation begins. Click

Refresh every 5 seconds

to automatically view on-going progress.

Figure 9-9
Invoice status
In many versions of QuickBooks you may print the batch of invoices by clicking
Invoices
. Then click the
Print
drop-down arrow

. Click Print Batch.
Those queued to print are invoices that were marked as "To be Printed."
| | |
| --- | --- |
| 8. | These invoices now exist in QuickBooks and are marked to be printed for those with QuickBooks 2006 or earlier. Users of QuickBooks 2007 or higher had the opportunity to select the desired invoice distribution method in step 4. You may view, print and distribute them in QuickBooks according to standard QuickBooks procedures. |