Administrator Tasks
Jump to navigation
Jump to search
Getting Started
When your GrowthZone/ChamberMaster software if first installed, one or more users will be designated as Administrator. These individuals should ensure that your database is configured with some basic settings. As you continue using your software, you may desire to customize many different settings such as Custom Fields, Online Event Calendar preferences, and Member Information Center options.
If you are just getting started with Admin Tasks, watch this 32 minute overview video

Configuring Basics
The GrowthZone support team works with your association as your data is converted and imported. Many items will already be customized to you. However, having a comfort level with viewing these selections and knowing where to change them if needed may be desired.
Four areas are commonly referenced in the first weeks of using your software:
Business Information (association name & address etc)
General Options (integration settings)
Employees/Reps (staff login names and passwords)
Business Categories (member online directory categories)
Set Up Organization Information
Information in these fields will be the default business information displayed within your software and on certain integrated web pages.
Click Setup in the left-hand navigation bar.
Click Association Information in the Association Options area.
Edit the desired fields on the General Association Information screen.

Ensure your association's name and address is complete and accurate.
Select the correct country and time zone.
Update your phone numbers and website.
Enter in your association's generic email address.

This email is used when automatic emails are sent from the database as the from address

Upload your association's logo for display at various places through the software.

See Upload Your Logo for details

Click Save.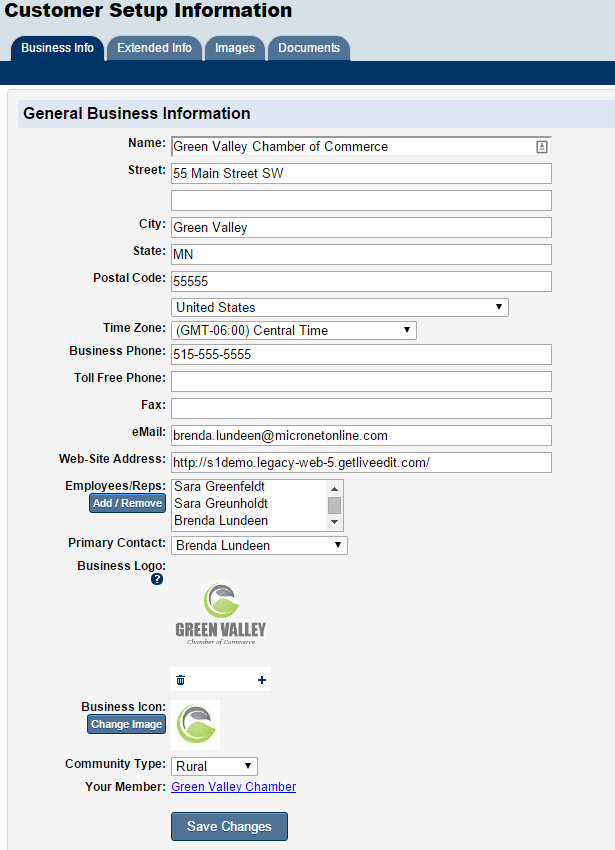 General Options & Settings